Home » Level Up: Inside Columbia College eSports
Level Up: Inside Columbia College eSports

It's late afternoon on Friday, after a week of drills, physical training, and scrimmages. The Columbia College Cougars are getting ready to review game film and amp up their communication skills.
The small, square room is dark, with the exception of the soft glow of the video monitors and the blue light streaming from alien-like tendrils creeping down the walls. Players sit in high-back chairs, donning headphones, and staring intently at the action unfolding before them.
But this is no ordinary locker room. It's the Game Hut, home to the Cougars' new eSports team, where 12 scholarship players and two coaches have come together for one purpose — to win the University League of Legends Campus Series, hosted by Riot Games each spring.
Of more than 4,700 colleges in America, hundreds of which offer informal or club teams, Columbia College was only the fifth school to offer scholarships to "League of Legends" players, and the 2016–17 school year marks their inaugural participation.
"It was a bold move to create eSports under a traditional athletics umbrella and offer scholarships," says Bryan Curtis, assistant director of athletics and director of eSports for the college. He's excited to watch these student athletes thrive in both their gaming and academics.
"Yes, we're a liberal arts school," says CC President Scott Dalrymple, "but a liberal arts school can and should be innovative. I love to have one foot in the past and one foot in the future."
Assembling a Competitive Team
ESports encompass any video game that is played competitively and professionally. Dalrymple, who believes that anything done at a high level is worthy of respect, was excited to recruit elite athletes and launch the eSports program as a way to connect to students on their turf.
Being one of the first colleges to get behind "League of Legends" as a bona fide sport had its perks. "With over 10 million active players in North America and only a few teams offering scholarships," Dalrymple says, "imagine the quality of team we were able to recruit."
Curtis says the initial press release generated over 150 applications, with many players ranked in the top 400 in the country. The scholarships were eventually offered to 12 advanced players, all ranked in the top .01 percent, who met in person for the first time in August. Among the first athletes recruited were junior Connor Doyle and sophomore Jonathan Song.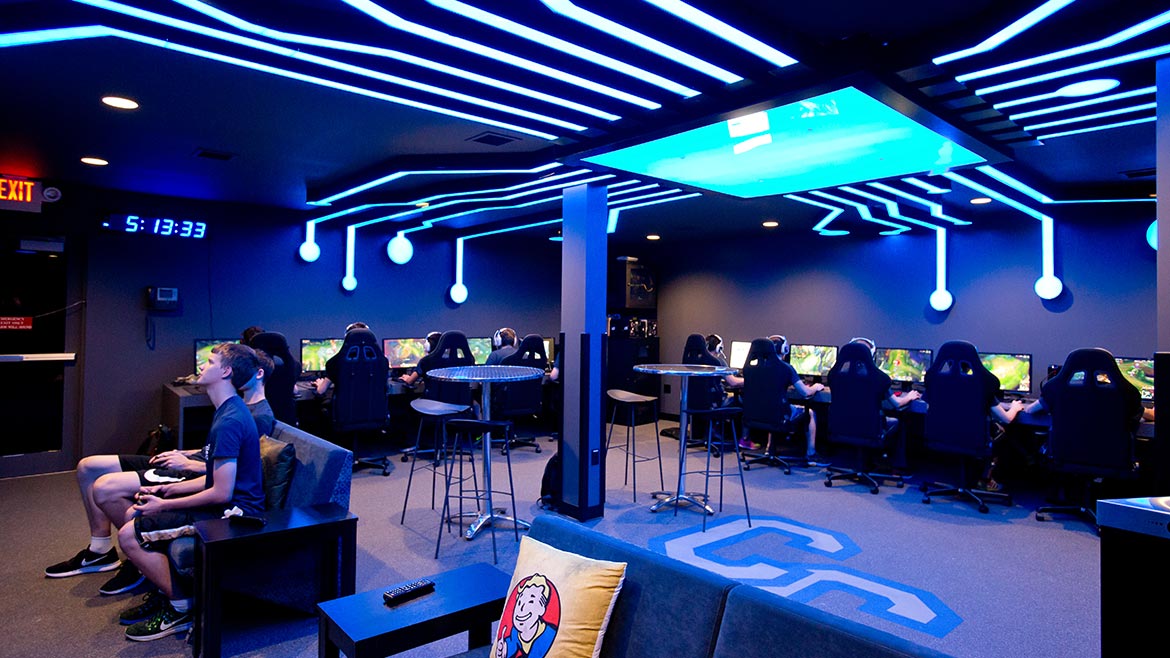 Doyle was a traditional three-sport athlete and team captain in high school and went on to pursue degrees in math and economics from Colby College, in Maine. Doyle admits to going the practical and prudent route, but soon found he needed a change in direction and a competitive outlet.
"Competing is something I need," Doyle says. "It brings out the best in me, and I wanted to be on a team again."
Song says Doyle is the player with the most ambition on the team, but he was surprised to learn that Doyle doesn't play other games. "He's bad at everything else," Song says with a smile.
"That's because 'League of Legends' doesn't feel like a video game," Doyle retorts. "It feels like a competition — that's why I love it."
While the two may rib each other, getting to play together was significant in their decision to join the Cougars. "I played for another scholarship school during their first year," Song says, "but it didn't meet expectations. They didn't take it as seriously as I wanted."
Song, a computer programming major, says coming to Columbia College was the best decision he's made.
"I could tell Jonathan wouldn't settle for second place," Doyle says. "We needed that fire. I knew if we recruited him, we could win."
Coaches Duong Pham and Matt Meininger lead the team. They're another reason Doyle and Song chose to play for the Cougars.
"The coaches care about us as people. They want me to grow as a player and a person," Doyle says. "I've only had one other coach in my life that made me feel that way."
Song agrees. "Columbia College and its coaches stood out," he says.

Pham and Meininger worked in tech services for the college and played the game for fun, so Curtis recruited them to help in the search for a graduate assistant to lead the program.
"Then I realized they were perfectly qualified," Curtis says. "They knew and were passionate about 'League of Legends' and were willing to put in the extra work to make eSports successful."
"It was important to have coaches that believed in the college and its mission," Pham shares. "I had to believe in it to sell it to the potential players." Pham also believes it was critical to have gamers as coaches, especially since Curtis doesn't play.
"We have our eyes set on winning the championship," Pham says. "We want to build a foundation for the eSports program at Columbia College that will have a lasting impact."
Preparing for National Competition
In "League of Legends," a multiplayer, online battle arena game, the team's goal is to bring down the enemy's Nexus, a sort of control base for each team, before the enemy takes down theirs. The 12 players split into two teams of five: a top-laner, mid-laner, bottom-laner, support, and a substitute. Players must build their own characters and perfect their style while learning to maximize their teammates' strengths and weaknesses in order to destroy their opponents.
According to Riot Games, in early 2014, as Dalrymple was assuming the role of CC president, "League of Legends" already had a substantial following. More than 27 million people played "League of Legends" each day, and over 67 million played each month. Today, numbers have increased to more than 100 million players each month. The game is being played professionally on a global scale. The Campus Series is one way to engage a key market, men near college age.
"You have to be versatile and proficient in five to seven different characters," Song explains. "We're constantly determining how to allocate our resources correctly and efficiently."
"You really have to be clever," Dalrymple adds. "'League of Legends' is a complex game of strategy. The only way to understand it is to play it."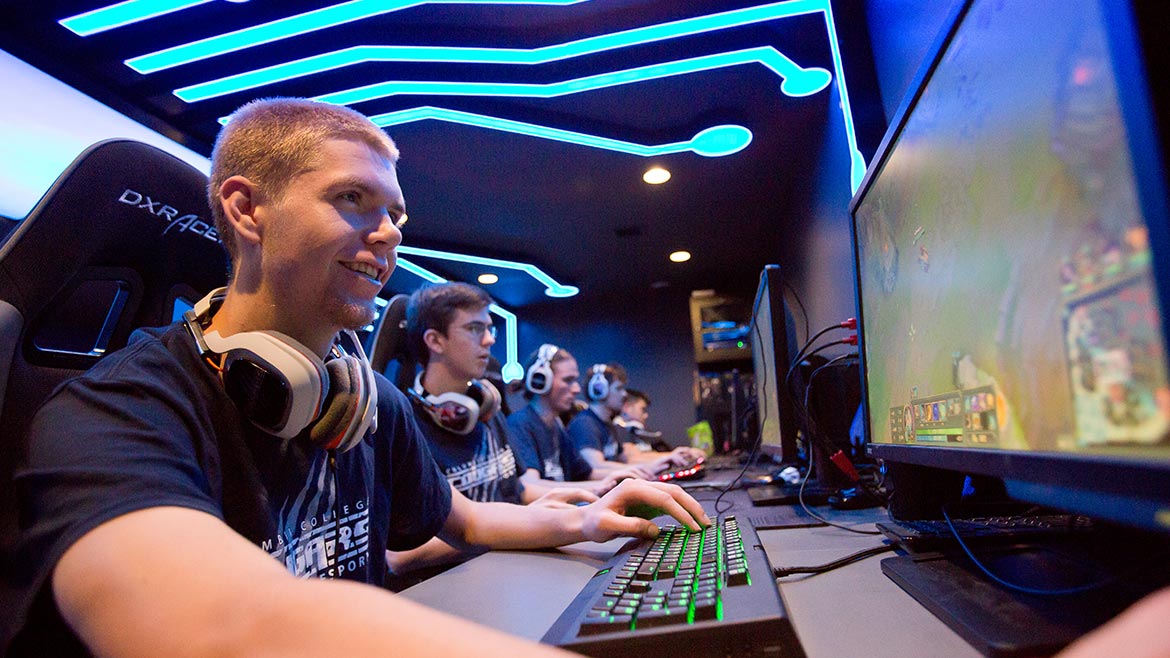 Leading up to the championship this spring, the Cougars will play hours and hours of the game to hone their skills. Currently they battle against some of the best amateur teams in North America and semi-professional teams from South America.
In tournament play, the Cougars will be competing against other schools that have recruited scholarship players, including The University of California – Irvine; Robert Morris University, in Illinois; Miami University, in Ohio; Maryville University and Missouri Baptist University, in St. Louis; and the University of British Columbia, who claimed both the 2015 and 2016 titles.
"The best way to practice is to play and then watch film back," Doyle explains. "We don't want to play other schools until we have to. They could learn too much from us."
The team began qualifying matches for the championship series in October, where over 500 teams engaged in bracket play last year. Their first goal is to advance as one of the top eight schools in their region.
Those eight schools then move forward into regular season play with the hope of claiming one of the top four conference spots and advancing to the playoffs, where teams will compete on an arena stage in front of a live audience next spring.
"We have a highly competitive team," Dalrymple shares. "We have a good shot at being successful right out of the gate."
Song is excited to be part of Columbia's first year in the series, and he hopes the Cougars will be a stealth presence in the tournament. "People don't know who we are," Song explains. "And we don't want them to find out how good we are either."
Planting the Seeds of Innovation
Dalrymple is excited to see how the eSports program progresses in the future. "It's hard for leadership to innovate alone," he says. "The best we can do is to create the conditions for innovation and see what people will do."
Dalrymple says the idea for an eSports program started several years ago, at home. A father of teenagers, he wanted to spend time with his kids and knew understanding video games would help facilitate that connection. Shortly after he was hired, Dalrymple challenged Columbia College students to beat him in a Madden NFL tournament.
"There was so much energy and engagement in the room at Madden that we tried to figure out how to bottle it," Dalrymple says. "That discussion led us to where we are today."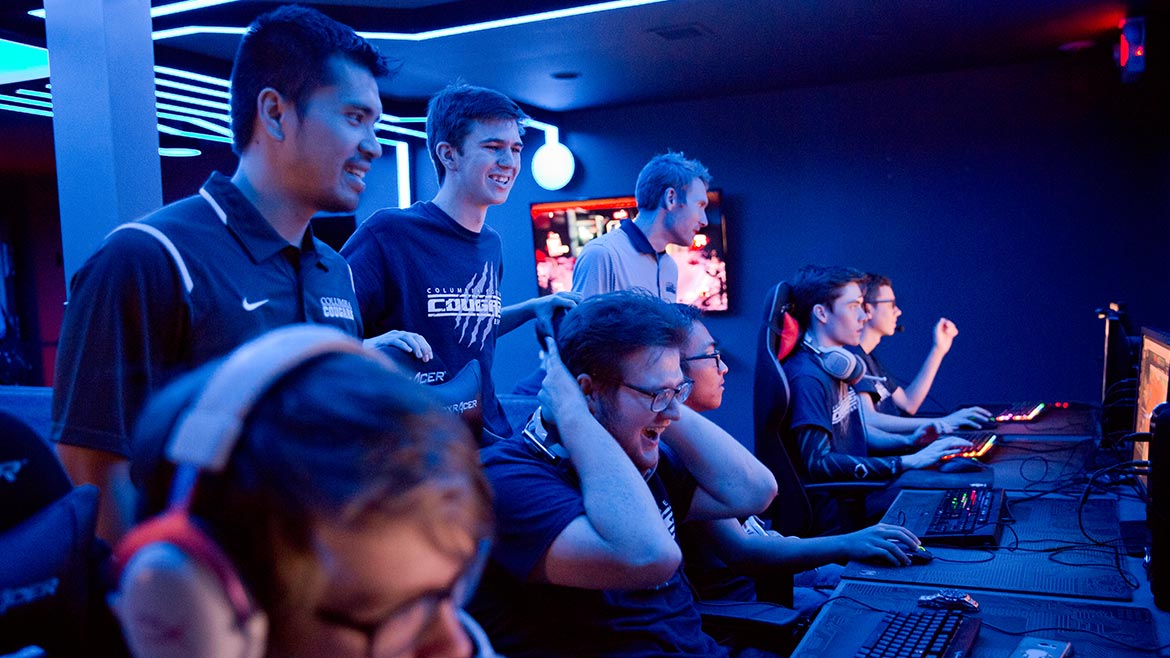 The questioning of eSports' legitimacy doesn't scare Dalrymple. "The current conversation happening about eSports is similar to the conversation 100 years ago about collegiate sports," he says. "Adding collegiate sports was a new, controversial idea. It took a long time for society to catch up."
Dalrymple says many of the big colleges sneered at the idea of sports programs, and those who clung too long were on the wrong side of history. He did not want to make that mistake with eSports.
"I love the ancient next to the modern," Dalrymple explains. "I want eSports players reading Sophocles."
The college's willingness to pioneer in the area of eSports just may earn them name recognition in the near future. If they do well in the tournament, the team will be on ESPN playing against other schools.
"It's not easy to get a national name quickly," Dalrymple says, "but this may do it."