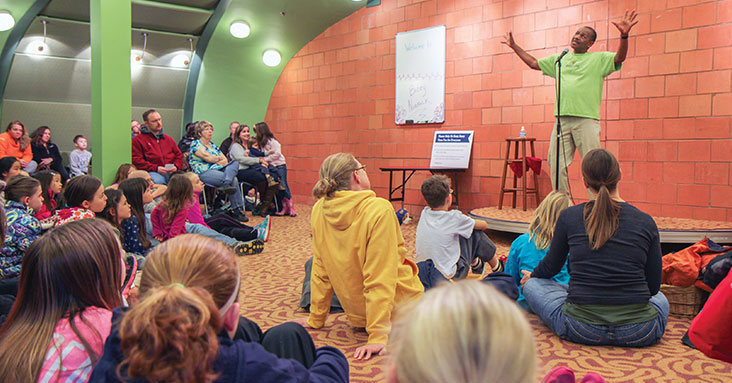 I have a beautiful framed picture on my desk. The image is a silhouette of an open book whose pages have been drawn with feathers to look like the wings of a bird. Next to the picture is a quotation from Jorge Luis Borges, which reads, "I have always imagined paradise will be a kind of library." It's a sentiment I love. Libraries are wonderlands, places of enchantment — and, yes, if you're a bookish sort, something of a paradise.
I'm especially fond of our local library, the Daniel Boone Regional Library, on Broadway. It's a warm, stimulating, vibrant place. I wrote the opening chapters of "A Good American" tucked away at one of the desks on the second floor. I've attended countless seminars, meetings, book sales, and discussions there. My daughter and I visit almost every week. She's 11, and she loves to disappear into the Young Adult section, finally emerging with a stack of books almost as tall as she is. It's cheerful and always busy, full of families, smiling staff, and people chatting happily at the tables of the little cafe just inside the front door.
Not entirely coincidentally, we live a 10-minute walk away.
A good library can be the heart and soul of a community. After the awful events that unfolded in Ferguson two summers ago, one of the most heartwarming stories that came out of that terrible time was about the Ferguson Municipal Public Library. The director of the library (and its sole full-time employee) had been in the job for all of five weeks when Michael Brown was shot. As turmoil unfolded on the streets, he understood that the city needed the library more than ever, and he courageously kept the doors open when most of the public facilities in the town shut down. It became a sanctuary, a place of calm and safety. When the public schools closed, an improvised day care was set up there, where children went to learn. After the violence was over, the library helped heal the community's collective wounds by creating "healing kits," backpacks with information about civil rights history, resources for coping with emotional trauma, and a teddy bear. (Residents could read what they needed and return the backpacks — but they got to keep the teddy bear.) In recognition of all this, the Ferguson Municipal Public Library was named U.S. Library of the Year in 2015 by Library Journal.
All of which is to say: libraries are about so much more than just books. They are a crucial part of the community that surrounds them, and they are a reflection of that community. If you've not been to your local library lately, do yourself a favor and pay a visit. There are whole worlds waiting for you inside those doors. A library card is better than a passport. Wherever you want to go, there's a book to take you there.
Book Suggestion:
"Tiny Beautiful Things"
by Cheryl Strayed
Strayed, of course, is best known for her mega-selling, Oprah-endorsed memoir "Wild," but some will tell you that this quirky collection of advice columns that she wrote as Dear Sugar for the website Rumpus is a more engaging bet. In these letters, which are often funny, sometimes heartbreaking, and always thought-provoking, Strayed practices what she calls "radical empathy," giving generous, robust, and frank advice on a wide range of topics. She's the first one to admit that she's not always an expert on this stuff. What she has, though, is a fierce intelligence and (more importantly yet) a huge heart. You'll laugh, you'll cry, you might even find yourself looking at the world in a slightly different, warmer light. And you'll almost certainly want to give a copy to your best friend.