The Midwest Wedding Crashers: 2016 Wedding Show Season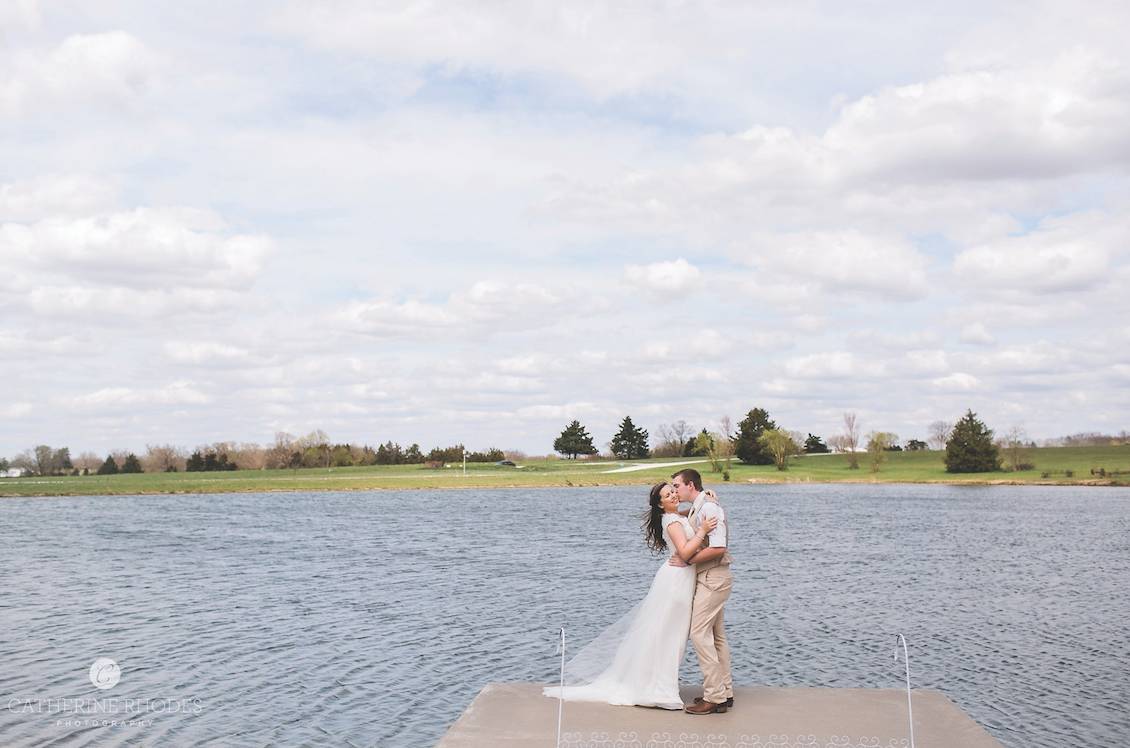 Photos by Catherine Rhodes
Aside from Pinterest and magazines, where else do you look for ideas when planning your big day? Wedding shows are a great place to get ideas and deals. We have been to more than 10 wedding shows in the past year, but this was our first at a local winery.
The show, Weddings, Wine and Happily Ever After, was by far the most enjoyable experience I have had attending a show. We have to give a thumbs up to this bridal show's coordinators: Bleu Events, Serenity Valley Winery, BHive Events and The Ink Café, LLC. Perhaps, the scenery and drinks had a lot to do with that, but the vendors were top notch.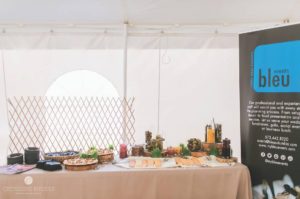 The giveaways from local businesses really made it worth the visit for those getting married in the next year. Keep reading to find out if you were one the lucky brides to win one of these giveaways. But first, we want to give you a glimpse of the show in case you weren't able to make it out.
Serenity Valley Winery is located between Columbia and Fulton. The trees were in full bloom, the pond was a beautiful backdrop for the sunset, the bridal suite was a dream, and the gazebo was picturesque. It is owned by the kindest people, Regina and Lee Ruppert. We loved sampling all of their award-winning wine.
Serenity Valley has partnered with Bleu Events to offer on-site catering for all of their weddings. This makes an essential part of planning for your big day so delicious and easy. At every wedding we have attended that has used Bleu Events, it has outdone itself in service and hospitality. This show was no exception.
Heather and Derrick from A-1 Party & Event Rental tastefully decorated two tents, which each had their own look and fell. A-1 has the largest selection of linens locally in a large variety of colors and fabrics. They also carry a comprehensive inventory of event rentals.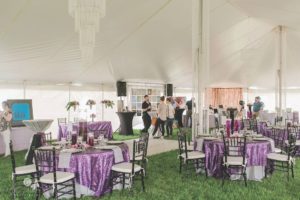 Flowers are also an important part of every wedding. Kent's Floral Gallery added elegance and beauty to each of the tables. I have heard many brides in the past appreciate the attentiveness to details that Kent provides, and it was evident in their displays.
Menus, place cards and table numbers designed by The Ink Café, LLC gracefully adorned each place setting. The glitzy tent contained silver glittered place cards and the earthy tent had custom calligraphy place cards. The Ink Café specializes in branding events through paper goods. Several brides shared how their favorite part about this company is how the small Columbia-based business will address, stamp and send out your invitations.
We also spent a significant time meeting with the wedding planner of BHive Events, Racheal Hollenbeck. Her company is named after her family's honey business, and she had the cutest honey favors for us to take home. She comes highly recommended by her brides and goes above and beyond to help brides make their dreams a reality.
We were very fortunate to have Catherine Rhodes Photography capture the day for us. As one of the vendors of the show, she was delighted to show brides how the elements of photography are one of the most important components of a wedding. Catherine comes with more than six years of experience and has been highlighted in national magazines, such as June Bug.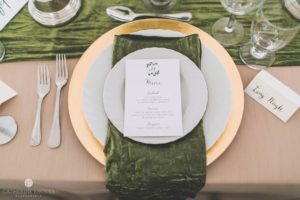 One of my favorite aspects of this show was the representation of Missouri's love for local breweries and distilleries. Among those present were DogMaster Distilleries and Craft Beer Cellar. The idea of having a cigar bar is trending now, and I think brides should consider pairing those cigar bars with these local favorites.
There were plenty of tasty treats to go with our drinks, and we especially loved connecting with Heather Masters from MasterfulTreats. We walked away with a box full of scones, cookies and happy hearts. Heather does an amazing job creating a special niche in Columbia that is greatly needed.
One of my favorite videographers also made an appearance at the show, and we would love the world to know about Bussen Productions. We first heard of Bussen Productions after they worked on all the media videos for Logboat Brewery. They have a unique way of filming weddings that will have you crying and laughing for years to come.
Cindy from TooRooster Artistry had a beautiful display of painted wedding scenes she had done. She even created a masterpiece of the show itself. Within three hours, she had a scene from the show completely finished. What an incredible gift to give a bride!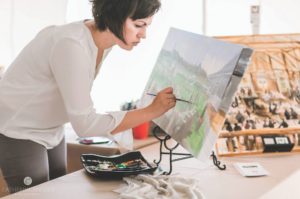 Wedding receptions are one of the only times that you are able to host an extravagant party for all the people you love. From DJs to photo booths, you really want your guest to enjoy your big day as much as you do. J. Kelly Photo Booth had the cutest display with some really great props, and Complete Weddings and Events entertained us the entire time with their musical flair.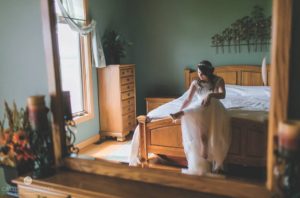 We then headed to the bridal suite located inside a gorgeous two-story home on the Serenity Valley property. We were excited to meet Chrystal from Chrystal L. Hair and Makeup. She does an amazing job in many of the bridal photo shoots in town, and had her work on display for brides to see.
We found a couple modeling wedding attire from Belle Mariée Bridal Boutique near the pond. Jessica Card, owner of Belle Mariée, shared with us that she travels to various markets in Dallas and Chicago to bring back wedding gowns and tuxedos that can't be found anywhere else in town.
On our way out, a horse and carriage escorted us to our car. To all of our engaged couples, we highly recommend attending a wedding show this season. It will inspire you, help you find some amazing vendors and you might even walk away with a giveaway just for attending.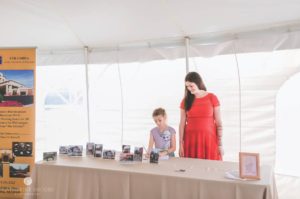 Giveaway Winners
BHive Events Free Consultation Winner: Samantha Wilson
Chrystal L. Hair and Makeup Free Trial Winner: Theresa Oberle
Moonshadow Photography $500 Engagement Session Winner: Barbie Banks
Simple Solutions Fitness Winner: Terry Britt and Sarah Battles
The Ink Cafe $100 Invitation Winner: Peggie White