Artist Profile: Katina Bitsicas, Experimental Documentary and Digital Storytelling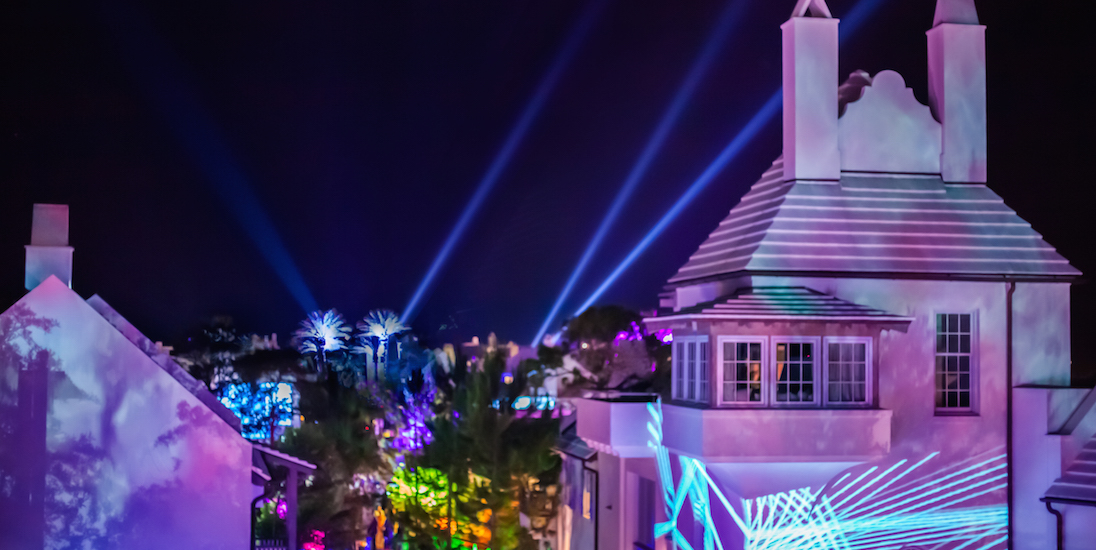 Photos courtesy of Alys Beach
Columbia is chock-full of storytellers. From MU's illustrious School of Journalism to the True/False and Citizen Jane film festivals, Columbia is a city that spins a good yarn. This is what brought Katina Bitsicas to Columbia. As a professor for MU's new Digital Storytelling program, Katina helps students explore new ways to narrate the human experience.
A Shift in Focus
Serious artists often get a bad rap for seeming aloof, but this is not so with Katina Bitsicas. "I can talk forever, so keep me in line!" she jokes at one point in our interview. She tells me she was born in East Lansing, Michigan, and she spent her summers visiting her family's cottage up North near Cheboygan. It wasn't until college that Katina even considered a career in the arts. As she tells it, "I went to Kalamazoo College as a business and accounting major. Halfway through I took my first documentary film class, and I actually withdrew from my accounting course. Don't tell my mom and dad!" she cracks.
Katina took more documentary courses, and one of the advanced classes provided her first encounter with art. The professor, Dhera Stauss, whom would become one of her mentors, took a more experimental approach. "The way she taught her documentary film course was still using stories – nonfiction stories – but using this more metaphorical, experimental, B-roll footage to go over personal narratives." Katina became passionate about this technique and turned it into her life's work. She went on to receive a Post-Baccalaureate degree from SACI in Florence, Italy, and an M.F.A. from the University of South Florida. Her work has been shown in museums and festivals around the world.
Turning an Empathetic Lens on Tragedy
What makes Katina's work so compelling, and so internationally lauded, is her unflinching and unrelenting focus on tragedy; a theme that at once repulses the viewer and inspires empathy for the subjects. One of her pieces, Confound Acts, was born of her need to process the shock of a crime that hit close to home. In 2013, a childhood friend of Katina's, a boy she played with during her summers in Northern Michigan, was charged and convicted along with two others in the murder and dismemberment of a local drug dealer. It shook her that someone she grew up with was capable of such violence. She remembers that at a young age they were "both a little bit edgy, a little bit outside the norm, but in an okay way." After hearing about the murder, she was left with unsettling questions: "How am I different from him? Where did we go off? I could never think he had that much hate in him."
Katina suspected that she was not alone in these feelings, so in Confound Acts she focused on the trauma that this crime caused in so many lives – not just for the victim's family and friends, but in those of the perpetrator as well. In the wake of a violent crime, society often blames or tries to forget those who knew and loved the perpetrator. Katina wanted to show the full scope of the crime, so she turned her lens on all those affected. Confound Acts sorts through the shards of shattered lives: a scrap of red cloth to represent the victim's remains, panning shots of a forest that resembles the scene of the crime ("what matters is what is left of his life, which was strewn out and left behind," she says) and photographs of the two together. The audio consists of court testimony interspersed with an interview with a close friend of the perpetrator, who was also deeply shaken by the crime. It's a heavy piece, but the goal is to create empathy and begin a process of shared healing.
http://katinabitsicas.com/confound-acts
Not everyone can relate to such violent experiences, but Katina also explores more common forms of loss. Another piece, Eidetic, grew out of Katina's love for her grandfather, and her grief at his passing. The video starts with shaky footage of her getting into her car, which is real footage from her trip up to see her grandfather for what turned out to be the last time. There is audio from a Greek Orthodox church service – her grandfather was Greek.The reverent chanting is overlaid with her grandfather's own voice, from home videos of Katina as a toddler. Images and sounds of Katina with her grandparents alternate with images of her grandfather's farm, now overgrown and neglected. The video is sad, of course, but deeply peaceful. At one point, the camera lingers on a linen curtain at a window as we listen to the sounds of a birthday party. Katina's grandfather tells her to blow out the candles. As we hear the rush of air coming from little Katina's lips, the curtain flutters in a light breeze coming through the window. "That was a happy accident," Katina explains. "Sometimes when you're editing, you hear something, and you see something, and you're just like, 'this is going to work.'"
She says that Eidetic is meant to remind us of the lingering presence in our lives of those who have passed. As the video ends, it shifts into a sort of tunnel vision. You can still see Katina as a child, but through a small circle in the middle of the screen, as if from far away. She wanted this to feel cyclical, as we have journeyed from her grandfather, to her, to another generation – perhaps her own hypothetical child. In this piece we can see that, along with the sadness, there is beauty in loss. It reminds us of what is most important in our lives.
http://katinabitsicas.com/eidetic
Digital Graffiti
On May 13th through the 15th, one of Katina's projects showcased at the Digital Graffiti festival in Alys Beach, Florida. The city is full of buildings with blank white walls. At this event, artists are selected to project their digital art onto the buildings – hence the name, Digital Graffiti.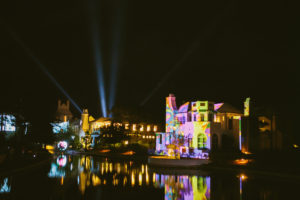 The piece that Katina entered is from a few years ago, titled MMPI. One of her more experimental works, the title stands for Minnesota Multiphasic Personality Inventory, a collection of case studies of various mental illnesses. She points out that the original book is meant for research, "It's not an art book." Katina went through the inventory and chose case studies based on two criteria: the patients were all her age at the time, and they were all female. She spent hours filming herself reenacting the mental illnesses. "Some of them are a minute, some of them are a twenty minute performance, but I edited them down to the essence of the gesture…of whatever the illness is."
She then arranged the clips into a symmetrical pattern and played them all at once, causing a cacophony of distressed voices, all hers. The visual pattern is actually based on the floor plan of the Northern Michigan Asylum in Traverse City, MI, designed by Dr. Thomas Story Kirkbride, a nineteenth century physician who Katina says believed that symmetry would soothe troubled minds. Instead, she explains, it confused many of the patients and worsened their conditions. This project also has a personal connection for her, as most of her projects do. Katina's mother worked for the Michigan Department of Community Health. When many of the state hospitals closed due to changes in treatment policy, it was part of her mother's job to find resources for them. Viewing MMPI is an unsettling, disorienting experience. You might want to cover your ears or look away; but isn't that what we do all too often to those who suffer from mental illness? MMPI dares you to look and invites you to explore your discomfort.
http://katinabitsicas.com/mmpi
When she's not projecting her work onto buildings, Katina helps others share their own stories. Katina is now an Assistant Teaching Professor of Digital Storytelling at MU. Students of varied backgrounds are flocking to this new major. "We have so many different styles of students, "We have those who work more journalistically, [and] we have ones who take more experimental, artistic approaches. It's really up to them," Katina explains. Some of Katina's students projected their own work at Balsamo Gallery Space as part of May's First Fridays Art Crawl. Their work included a fictional story told with only one word of dialogue, a heartbreaking cartoon involving a family of dust bunnies, and a tribute to the bond between a girl and her dog. Through their experiments with film, Katina Bitsicas and her students are carrying the American tradition of storytelling into the 21st century.
Katina's work has been displayed in this piece with her permission. Her other projects can be viewed at KatinaBitsicas.com. More information on the Digital Graffiti festival can be found at www.digitalgraffiti.com. Lastly, more information on First Fridays in the North Village Arts District is available at http://www.northvillageartsdistrict.org/about-first-fridays/
Check out this video from the Digital Graffiti Festival 2015! 
https://vimeo.com/153968997