Hickman Hall, Stephens College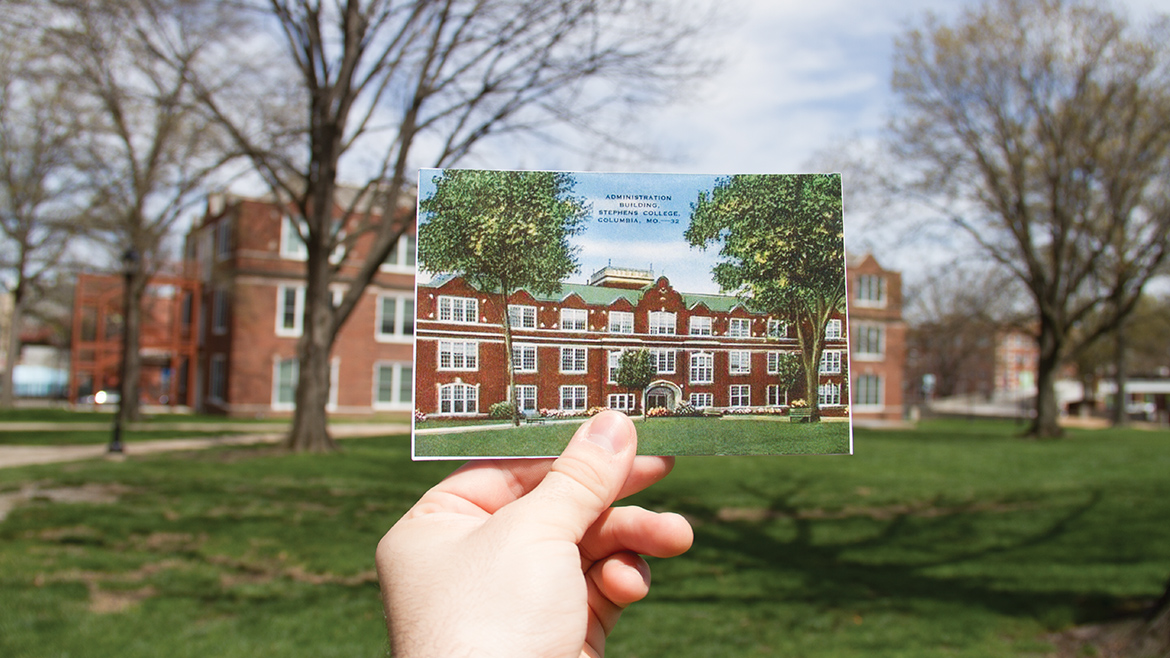 Stephens College, a women's college founded in 1833, is home to Hickman Hall, a building almost 100 years old.
According to the United States Department of the Interior, Hickman Hall was constructed on Stephens' campus in 1922. The hall is one of five buildings in the Stephens College South Campus Historic District, located at 1200 East Broadway. The other four buildings are Senior Hall, Wood Hall, Columbia Hall, and the President's House.
From Broadway, Hickman Hall is the most visible of the buildings. It is a Jacobethan building, meaning it is modeled after the Elizabethan and Jacobean architecture of England, and is located on the western edge of the campus. It is a wide, three-story building originally built to house administrative offices. It has seen no additions or exterior changes of note since its construction.
The hall differs from the other buildings in the area, as it does not use Georgian Revival motifs. It has red brick walls with limestone ornamentation, and a low hipped roof. The archway runs all the way through the building and is the entrance to Hickman Hall.
Stephens hired James Jamieson, a St. Louis architect, for the preliminary sketches of new buildings on Stephens' campus when the school's enrollment began to grow. Jamieson joined with George Spearl in 1918 and formed the firm Jamieson and Spearl. Jamieson designed Wood Hall, Columbia Hall, and Hickman Hall.
The Board of Curators voted to add Hickman Hall in 1922 for administration and classroom space. Originally called Science Hall, it was renamed Hickman Hall, after the first president of the Board of Curators, David H. Hickman. Jamieson and Spearl drew the plans, and the contractor was Davis and Phillips, of Columbia.
Following construction, almost all of the other buildings constructed on campus for the next 20 years used the same Jacobethan style as Hickman Hall. Most of these buildings were designed by Jamieson and Spearl as well. Jamieson and Spearl also designed buildings at Washington University, in St. Louis, Princeton University, Bryn Mawr College, and MU.
The South Campus still serves as the administrative center of the school today. Hickman Hall still holds administrative offices in its building, despite the campus expansions. Some of the buildings in the quadrangle received additions, but it looks mostly the same as it did in the 1940s.