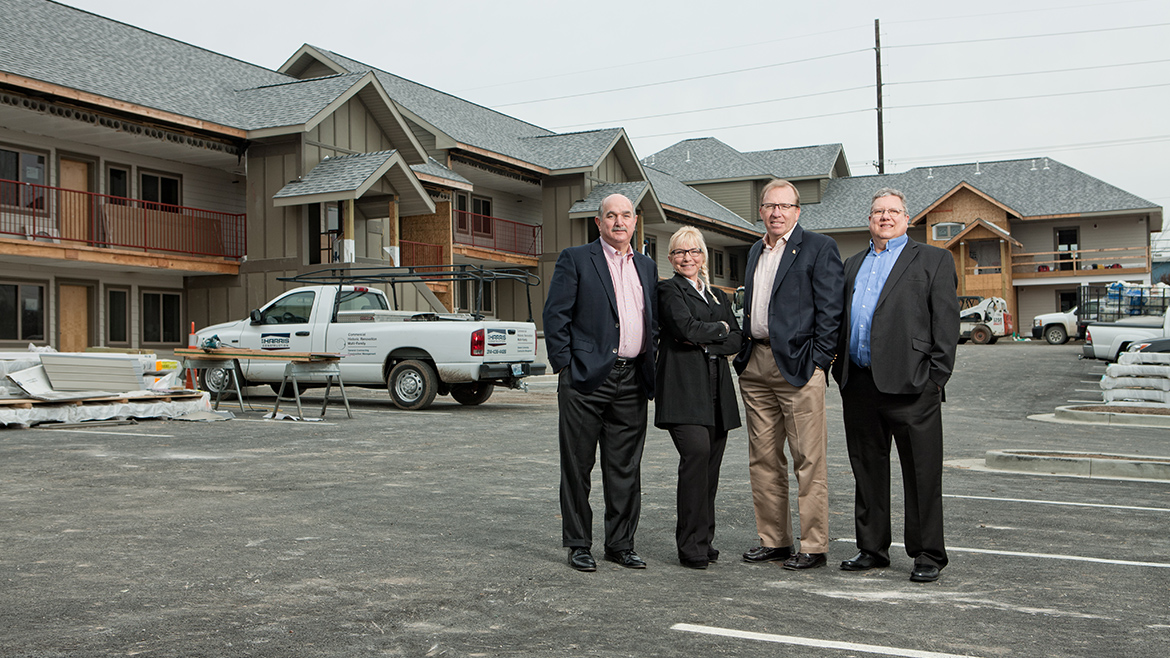 Over the past two years, a group of Columbia institutions have collaborated to create a new housing complex — Patriot Place — to help veterans overcome homelessness.
After he left prison, Danny Yates lived in the Community Release Center, in downtown St. Louis, and tried to stave off addiction. But drugs were pretty much everywhere at the CRC, so he left and took shelter at the Salvation Army. He heard a lot of gunshots. A beggar punched him in the nose.
Danny wondered what he could do. Most of his work experience was in construction, but his left foot was gone. And he was a felon.
But Danny is a veteran, and to him, this meant being able to get yourself out of bad situations. A childhood friend offered him a place to stay and a job, tending a garden on some land outside Columbia, which Danny was proud of. But he and the friend had a falling out. Danny became homeless, again, and he started using methamphetamine.
Since leaving the Army in 1981, Danny had used drugs (mostly alcohol) to self-medicate trauma — trauma from his childhood, but also the trauma of not being in the Army anymore. He was homeless and addicted for most of the '80s, '90s and 2000s. But he didn't look for help. A lot of homeless veterans don't.
"They've been productive, they've committed to something, they've made a sacrifice," Danny told me. "For them to grovel down and ask for help is just extremely hard. Extremely hard."
I met Danny at the Truman Veterans Hospital to talk about veteran homeless and Columbia's bid to help end it. He's 53 now: short, with messy brown hair (covered by a beanie when we talked) and a mustache that covers all of his upper lip. He walks with a cane. He has deep wrinkles and stormy-colored eyes. Using a VA-affiliated voucher from the Department of Housing and Urban Development, Danny's been living in an apartment of his own for almost a year.
We talked about veteran homelessness, but also we also talked, more specifically, about Patriot Place, a 25-unit apartment complex managed by the Columbia Housing Authority in partnership with the VA, purposefully designed to give veterans the support needed to halt chronic homelessness. After more than two years of fundraising and construction, the first group of veterans are scheduled to move in this month. I wanted to know how Danny, as a former homeless veteran, felt.
"I feel enthusiastic — I feel hopeful," he said. "I hope we can get all these veterans off the streets and into jobs. Because they're helpless. And they're not hopeless."]
Phil Steinhaus applied to be CEO of the Columbia Housing Authority in 2006, after 13 years as the city's community services director. Public housing would be an uninviting gig for some. Shortly after he took over, somebody told Steinhaus they'd rather be homeless than live in public housing.
Steinhaus felt motivated to turn the CHA into a model of efficiency. Given a tight budget, he coordinated community relationships and seized opportunities for federal help: tax credits, competitive housing vouchers, and more. Steinhaus' tactics coalesced last year, when the CHA started on a $22 million renovation project.
In 2008, as part of these efforts, the CHA qualified for Veterans Affairs Supportive Housing vouchers, or VASH, which combines the rental programs of HUD with case management and supportive services from the VA; Steinhaus describes it as "Section 8 for veterans."
By that time, after soldiers from Iraq and Afghanistan began returning home, housing administrators had begun to notice increasing numbers of homeless veterans. A study from the University of Missouri– St. Louis found that the number of veterans on the homelessness continuum of care increased 170 percent between 2007 and 2012. Various researchers found that around one-third of all homeless men in the U.S. were veterans.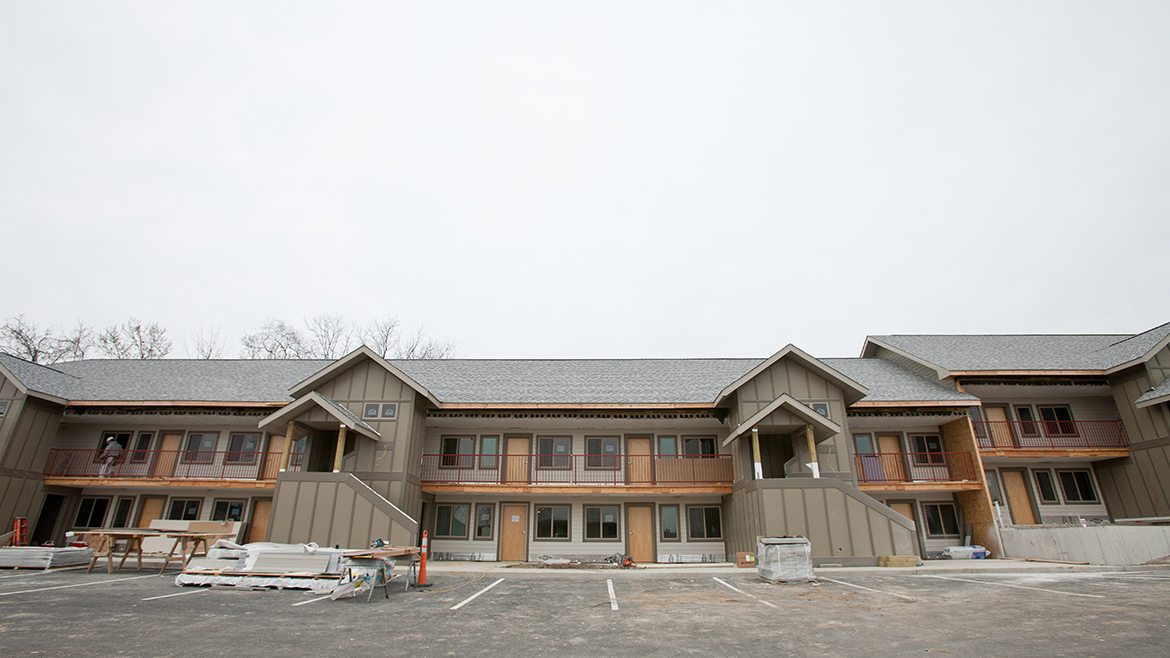 "We know that when veterans are homeless, they run into trouble," Steinhaus told me. If CHA could use VASH to keep trouble from happening, then Steinhaus wanted to do so. In 2014, the CHA applied for new, project-based VASH vouchers, which could help get more veterans off the streets if they had space in a specific project. The application was approved, and the CHA got 25 vouchers to distribute. But Steinhaus had another problem — finding 25 vacant one-bedroom apartments in Columbia.
The CHA didn't have the money to build a new facility from scratch, at least not in the city. And most of the apartments that had been built in the last 15 years were for student housing, with three to five bedrooms per unit and management who might not be keen on renting rooms to homeless people.
"It wasn't for the faint of heart," Steinhaus said. "You know, we kind of took a leap of faith here."
In the spring, they found a place.
It's a two-hour drive from Eureka, Missouri to Columbia, but Tim Sheahan was eager to make it. He's a project superintendent with E.H. Harris Construction, and he was scouting out his next project. Steinhaus had told him it'd be the first thing he'd see when he got off of I-70 at exit 125, Business Loop 70 E.
Sheahan slowed his truck as he rolled down the hill, looking to his left. He thought, that can't possibly be it.
The Deluxe Inn was once part of the thriving string of motels along Highway 40, which would become Business Loop 70, but when the interstate was built and the area's economy started to dive, the motels went with it. The Deluxe Inn slipped into lower occupancy rates with higher crime, and eventually, it closed.
When Sheahan saw it, the inn looked bad. Virtually every exterior surface was in some level of disrepair. The white handrails were rusting. The mint-green doors were chipping. Some windows were cracked. Later, Sheahan would find rampant asbestos inside and an eight-foot burn pile that had hollowed out the middle of the parking lot.
So it was a fixer-upper.
I met Tim and Phil at Patriot Place, formerly the Deluxe Inn, in Febraury, as they were finishing up the exterior features. To me, it looked like a lot of other apartment complexes in Columbia: muted colors, nicely finished brick, lots of windows. It looked nicer and newer than anything in its vicinity. No doors front the street and there's only one entry driveway, giving the complex a protected character. Eventually, there will be gardens and walking trails, but for now there is just the building.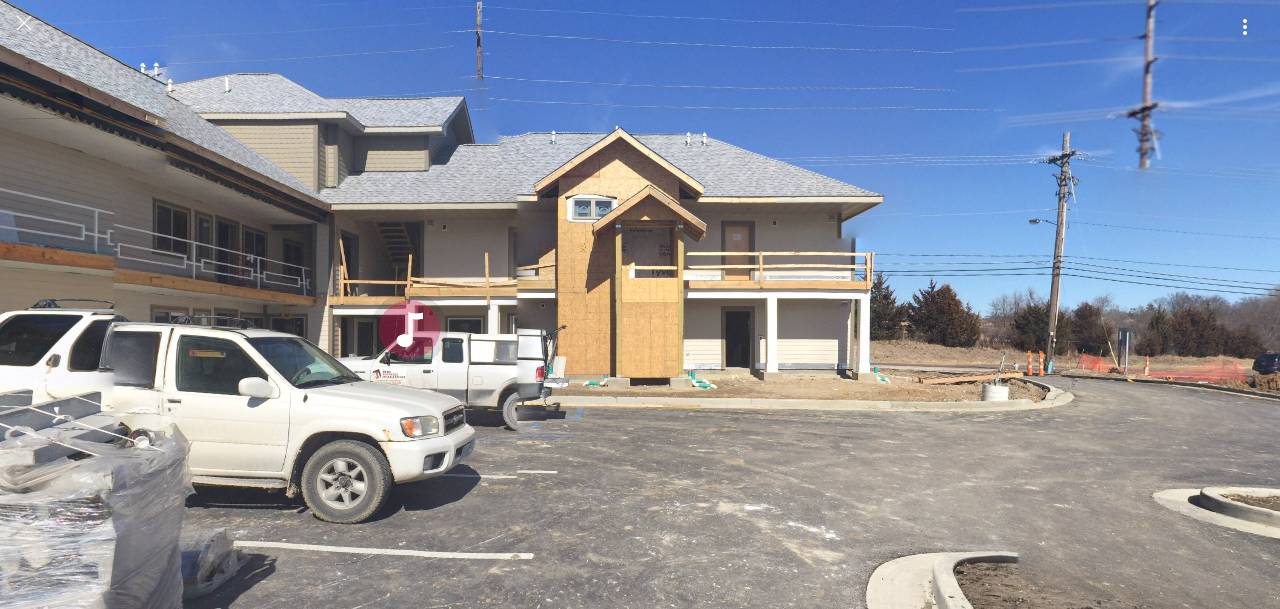 We went to a room on the first floor, with a sheet of paper reading "OFFICE" taped on the door. It was scantly furnished — two foldable tables and a couple foldable chairs — and it was almost entirely concrete. Sheahan was pleasantly surprised to learn that the Deluxe Inn was built on a concrete frame, which maintained structural stability underneath the squalor. Steinhaus told me the place had "good bones."
The building that would become Patriot Place had 50 units, so Sheahan's team knocked out some walls to make 25 one-bedroom apartments. They walked me through the office and pointed out what everything would look like in a few weeks: vinyl plank floors, wood cabinets in the kitchen, a big screen TV on the wall, bar stools along the counter, the main closet, a shelf for knick-knacks — space to make the room feel like home. They restructured the complex's second story to give each apartment a patio space to furnish and decorate.
"The veteran part of it is great," Sheahan told me. "I've got a stepson who has three tours, so — so it really makes it kind of special."
"Everybody's been really happy in town, for the most part." Steinhaus said.
"We've got a good team." Sheahan said.
Danny is the only child of divorced parents. They separated when he was an infant, and until he was 10, Danny bounced between his mom, in California, and his dad, who lived in a small town in northern Missouri (he asked we not include the name of the city). When he was 10, Danny's mom relinquished custody, and he went to live in Missouri full time. He says his stepmother abused him. His grades slipped, and he had to drop out as a junior in high school.
Danny's dad had been a combat engineer in Vietnam; figuring he'd follow in his father's footsteps, Danny enlisted in the Army. He was stationed in Fort Richardson, Alaska — 25,000 acres of what is mostly Alaska wilderness, where it can reach 70 degrees below zero in the winter. Danny loved it there.
After leaving the Army in the early '80s, Danny came back to Missouri and started working in construction. He missed being in the Army. Danny would later tell me that he didn't start to get better until after he began treatment at the VA, where he could be around "brothers and sisters."
"It didn't take long for me to become chemically dependent," Danny said. "And I fought it the whole way. I thought, 'Oh, this is something I do, but it's not who I am. I'm still a good person.'" He made several efforts to stay clean, and he would be successful for up to six months at a time before slipping up.
On the last day of March, in 1994, Danny was drinking, and he started driving down Highway 63.
A violently cold winter storm blew through Columbia in the middle of February 2015. A stiff wind whipped hard, icy snow horizontally through the air. A team of 20 or so Veterans United employees, standing in the parking lot of the Deluxe Inn, were eager to move inside to the dilapidated and asbestos-ridden motel rooms.
Greg Steinhoff, a tall man with wire-frame glasses and a low, smooth voice, stood in one of the rooms with a few other employees. They were doing demolition work — a strong suit for Steinhoff.
"You know," Steinhoff said, "This place used to be a drug den."
The other employees laughed lightly and nodded.
"So…there could be some money in these walls." Steinhoff said.
The team moved a little more eagerly to their work. They broke into a wall and then ripped it off. Thirty or so Playboy magazines fell onto the floor.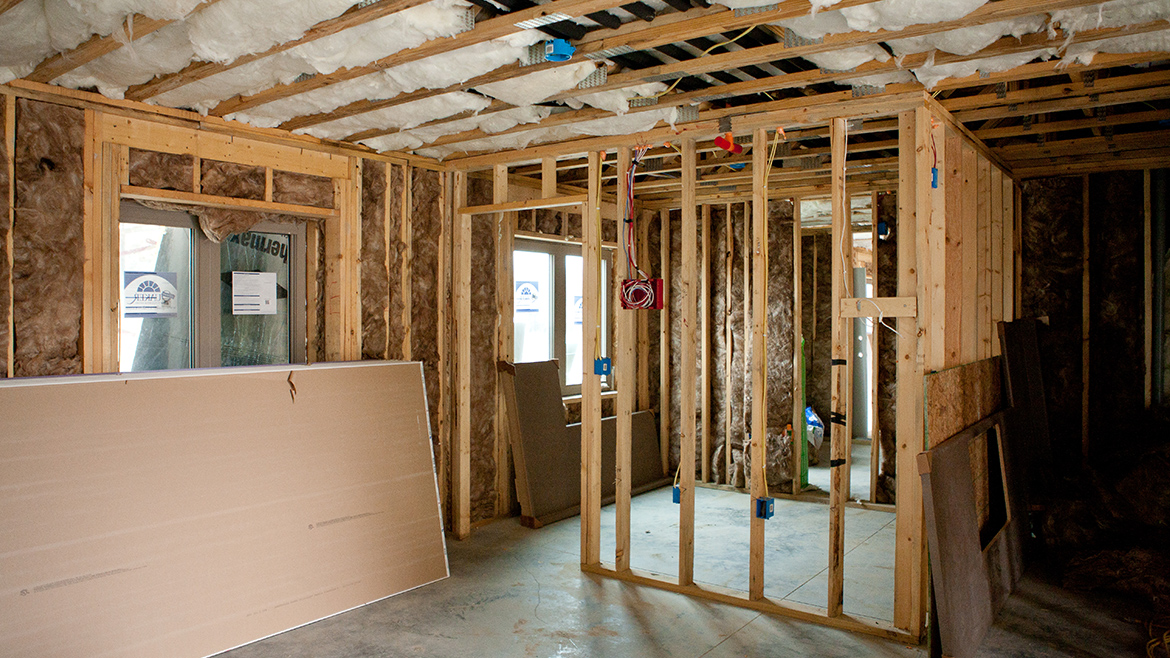 Steinhoff, the director of the Veterans United Foundation and VU's president of strategic operations, was helping lead a work day for the VU crew. Two months earlier, the foundation had put $1 million of support behind the Patriot Place project, nearly a fourth of the overall funding.
"As regular citizens, we see war movies and think we understand what it's like," Steinhoff told me, "but here, you get to see people struggling with everything that service can mean. If you don't have a family support structure, and you go and serve and have a great support system with your buddies, all of a sudden you come back and you don't have anybody. It's really hard. You can see why so many of these guys end up lost."
Steinhoff said the Patriot Place project was a natural fit for VU — they were already well connected with Welcome Home, the local nonprofit that provides shelter and services to homeless veterans in Columbia, which had by then agreed to convert half of the Deluxe Inn property to another shelter, a sister project to Patriot Place. Besides, as several people at VU told me, their mission is to "get veterans into homes."
VU's gift preceded a flurry of private donations to the project. Shortly after VU announced their donation, Shelter Insurance donated $450,000 to the project. The CHA was able to furnish the apartments almost entirely with private donations; in March, the Columbia Community Development Corporation, a coalition of seven area banks, donated more than $81,000 to furnish 13 apartments and construct a picnic pavilion on the Patriot Place campus.
Leading VU's involvement in the project was Jon Galloway, vice president of business development and external affairs. Galloway is earnest and measured in speech, and he smiles a lot. He seemed eager to have a forum to talk about the project.
Before moving to VU, Galloway worked on housing policy in the state treasurer's office. He began noting incongruities between his work and the public perception of homelessness. Veteran homelessness, in particular, interested him.
Galloway traces homelessness across different institutional levels in a community, a hierarchy that homeless people need to conquer, level by level, before they can successfully establish a home and life.
For example, without transportation, a homeless person has no way of getting to a job; without a job, they'd have no means of saving money; without saving money, they can't budget to buy food and pay rent; without that, they're hungry and homeless. The first link in the chain, Galloway figured, was shelter.
"If you can make a difference in just one segment of that, it can have an impact on everything else," Galloway said. "But it starts with housing."
After coming to VU, Galloway immediately pushed for a more developed relationship with Welcome Home. The nonprofit currently works out of one building, at the corner of Business Loop and Rangeline, with rooms upstairs and administrative offices in the basement. If the shelter rooms are filled up, a veteran will occasionally live on the couch in the basement hallway, right outside Sarah Grim's office.
Grim is Welcome Home's CEO. Steinhoff said he doesn't know of any organization that does more with less money than Welcome Home. Councilman Michael Trapp told Grim that Welcome Home was "consistently fighting outside their weight class." Welcome Home's philosophy on homelessness aligned with Galloway's, in what would become the foundational principle for the Patriot Place project: housing first.
"People don't become homeless because they're missing a paycheck," Grim told me. There are more foundational issues: mental health, community support, shelter.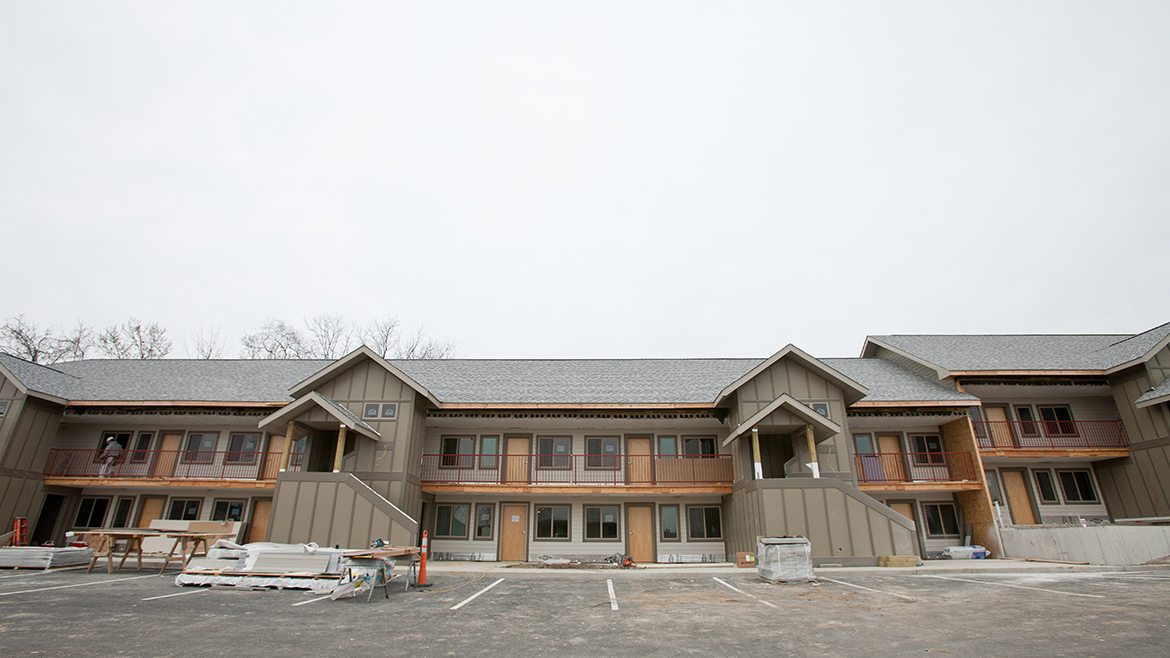 Grim created an archetype of the modern homeless veteran, who she says is very different from the veterans of wars like Vietnam. Now, military service isn't compulsive; the only people in the army are choosing to be in the Army. Many people choose to be in the Army because they're looking for a family, and often, they're not very good with rules. But the military has a lot of rules — so many rules that it stresses a soldier's mental health. If they get deployed, they're likely to add violent physical and mental trauma to that stress. After they're discharged, the soldier has a limited skill set and education, and once again, they're alone and possibly mentally ill. But now they've been indoctrinated with a profound sense of pride and independence, and receiving treatment or charity would threaten that. So, the next best option is to self-medicate, which further limits their chances of living in a stable home.
"There's not one easy fix to beat homelessness," Grim said. "Everyone sees that someone made housing and thinks, 'Hey, we've ended veteran homelessness.'"
Danny woke up in the hospital three weeks later. Doctors had originally thought he was going to die — he'd broken bones, his jaw was wired shut and he had a traumatic brain injury. His mother was in the hospital room, but he didn't know who she was. He tried to get a bearing on his surroundings. He looked down the bed.
"Where's my foot?" he asked.
His mother — a stranger — said, "Well, honey, the doctors had to take it."
Danny started crying. He told me that he had the brain of a six-year-old, and it took weeks for his personality to come back. It would be a little while longer before Danny learned what had happened.
When he was driving down Highway 63, he had hit another car and killed a man. More than 20 years later, he was hesitant to talk about it. He spoke shortly, in a low voice.
"My heart broke, you know? I'd almost died, and add to that that I found I'd killed an innocent man … being responsible for the death of an innocent person isn't something you want to have to deal with. I'm just now at a point where I can deal with it."
He anesthetized the interim period with drugs. It wasn't until Danny got involved with the VA and with Welcome Home that he "got my dignity back, my self-worth back. I just went through 20 years of — I don't know. Beating myself up."
Danny said that he felt guilty, so he pled guilty. He stayed out of prison, on six year's probation. He was chemically dependent and still needed to self-medicate, but he didn't want to drink anymore. That led him to the methamphetamine addiction that would keep him homeless for most of the next two decades. He spent some time in Columbia, but he mostly slept on streets around his hometown.
Sometime during these years, somebody told Danny to talk to the VA if he got in trouble. He brushed them off. But in 2008, after Danny was arrested on meth charges, he called the Truman VA from prison for more information on their addiction treatment program.
"Don't underestimate how hard it is to get off drugs," Sarah Froese told me. "For some of these people, the stigma of receiving help can be overwhelming. The next best thing is self-medication."
Froese leads the psychosocial rehabilitation program at Truman VA, which encompasses treating homeless veterans. As part of the program, Froese helps veterans, including Danny, facilitate housing through the VASH program. It's a taxing job for her team members, mentally and emotionally.
"There are people that I would have laid bets on that they're not going to succeed in housing and they're still in housing" Froese said. "And then there are people who look like shining stars who are some of the toughest cases we've had. There's no predictor."
Placing a veteran, particularly one in recovery, in a home is extremely delicate. If you can't alleviate multiple burdens of chronic homelessness at once — finding housing and an income and mental health services and medical services and community connections — the odds of success go down. Even when she can address all of those, Froese says, there's still no guarantee.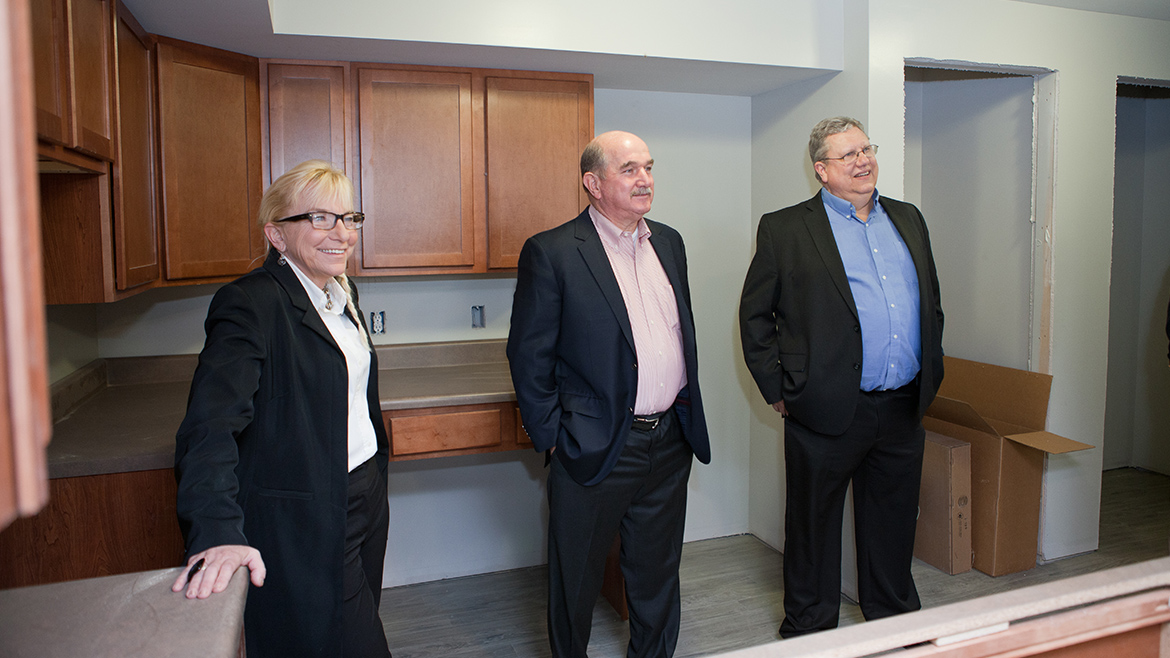 But that's what Patriot Place could provide a veteran: one campus with a community and culture of recovery, complete with social services and a home to make their own. A home base for recovery.
When I talked to her, Froese was in the process of deciding which 25 veterans will move into Patriot Place. The VA uses a "vulnerability index" to determine how likely a veteran is to be on the street and how likely they are to succeed in housing. The higher the score, the better chance of that veteran getting housing assistance. If she comes across a low score, Froese tries to find another solution, because "We're the VA," she said. "If our light isn't always open for a veteran, no matter how many times they fail, we're not doing our job."
Beginning in April, veterans will start moving into Patriot Place in cohorts of four: the VA and the CHA want to be careful and intentional about establishing a positive culture, one group at a time.
"It gives me goosebumps thinking about the day folks move in," Jon Galloway said. "You can say this is your home, this can be your apartment, you're going to have the supportive services to keep you on track … this is going to be a place where veterans come and the community comes and says we care. I think it'll be phenomenal."
In late March, Froese, Steinhoff, Steinhaus and Shelter CEO Rick Means were checking out one of the finished apartments. They poked their heads into different rooms and ran their hands along the wood cabinets. It was hard for me to picture the concrete "bones" that I'd seen a couple weeks before, lying beneath this new apartment.
Sheahan came to show everybody around; Froese smiled at him and said, in a low growl, "This looks great!" The two hugged. Nobody else talked much, but smiled.
"You know, some things feel like they're meant to be" Steinhoff told me, in an earlier conversation. "This project has really taken on that feel."
Danny's favorite place is the VA. Having been clean and in housing for a year, he now wants to help. Over the phone, a couple weeks after I met him, Danny told me he wasn't sure why he survived the car wreck he'd caused — "Just stubborn, maybe," he said. It reminded me of something he said early in our first conversation: "I'm not real sure what my purpose here is, but I'm pretty sure it has something to do with helping my fellow veterans. You may be from different branches or whatever, but you're a family. I don't know how to say it much better than that."