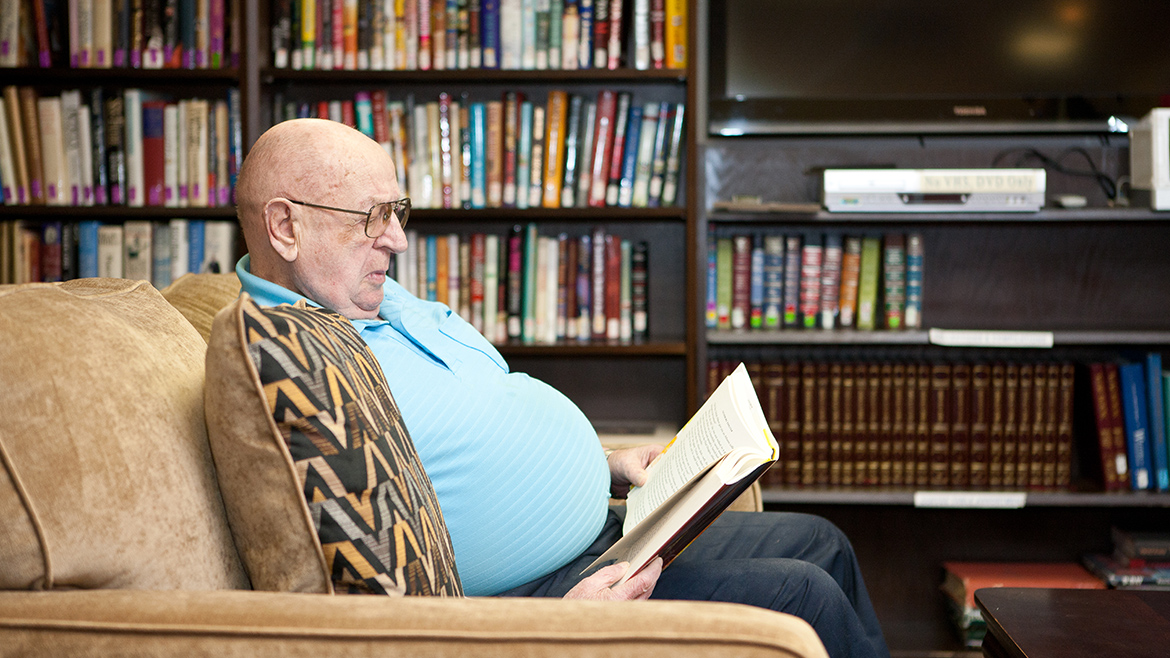 Retirement communities expand to meet the needs of a growing senior population.
Outside, it's a blustery, dreary February day, the wind whipping and snow falling. The stark weather is unwelcoming, beckoning me indoors to seek refuge from the brisk air and plummeting temperatures. The indoors do not disappoint. Walking through the front doors of The Terrace Retirement Community, on Business Loop 70 West, I experience vaulted ceilings, skylights, handsome woodwork and the bustling pace of residents enjoying a late breakfast in the new bistro. Construction workers mingle about, making progress on the renovation of the main dining room.
Although I'm decades younger than the average resident, I feel comfortable, welcome, at home. Marketing Director Ginny Edgar ushers me into a large, well-lit common area, complete with comfortable furniture, a grand piano and tables to play games. There, I meet Paul R. Johnson and John W. Green, two members of Columbia's fast-growing senior population, who are catching up on the latest news while waiting for the Terrace Singers rehearsal to begin.
According to the 2013 Missouri Senior Report, there are now more people age 65 and older living in Missouri than at any time in our state's history. By the year 2030, seniors are expected to make up almost a quarter of our state's population. In Boone County, the percentage of the population aged 65 and older is expected to double from 9.4 percent in 2008 to 18.7 percent in 2030.
Columbia continues to gain recognition as one of the nation's best places to retire. Last August, Kiplinger's listed Columbia in its top 10 retirement cities, alongside cities like Charlotte, Sarasota, Santa Fe and Portland.
Being proactive about meeting the needs of retirees, like Johnson and Green, is the main reason new retirement communities are springing up all over town.
Tried and True
The Terrace has been in business for more than 28 years and is locally managed by Sugar Creek Realty. They specialize in independent living and now have 178 total units. Coil Construction put the final touches on their 48 newest apartments earlier this spring.
The retirement community is currently home to 122 residents and has one-third of the new units rented. In addition to the fresh living space, the Terrace sports a new 3,400-square-foot bistro and pub as well as a newly remodeled kitchen and dining room.
"We were staying pretty full, and as baby boomers age, there will be a bigger need," Edgar says. She believes location is a big determination in where seniors choose to live, and Columbia has a lot going for it.
"Many residents of The Terrace went to school in Columbia, have children living here, or have fond memories of Columbia and chose to return," Edgar says. "It's a diverse town and a great place to retire."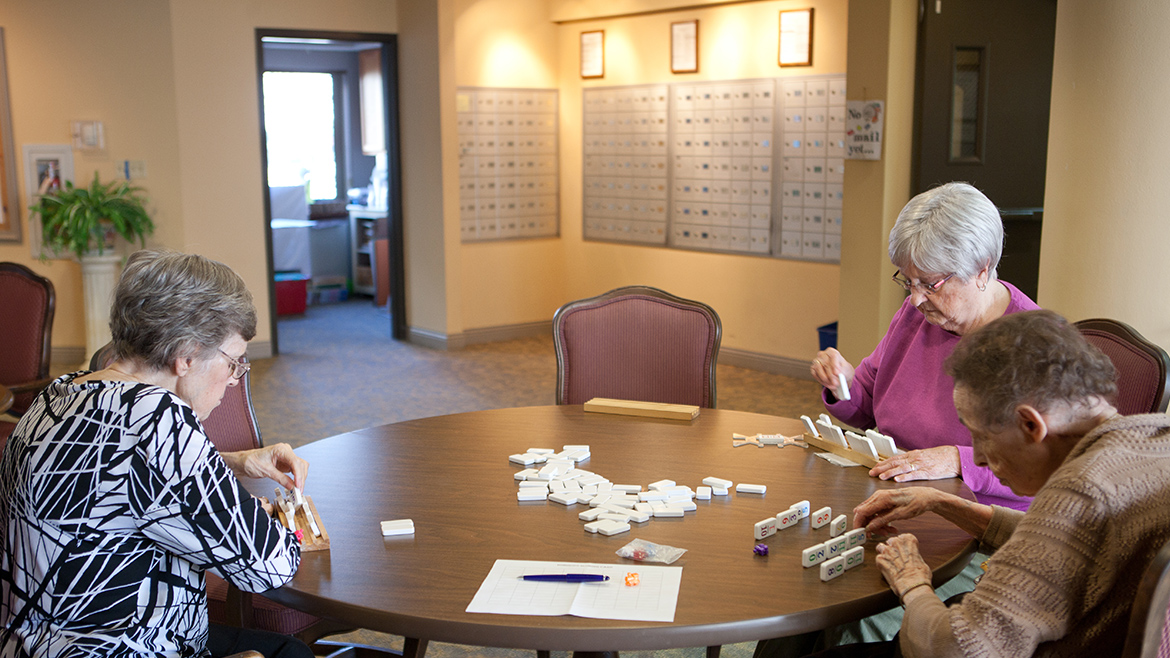 The Terrace's new three-story addition is 43,200 square feet and will feature three apartment sizes. Residents can choose from studios; one-bedroom, one-bath units; or two-bedroom, two-bath apartments. Square footage ranges from 444 to 937, depending on the number of rooms, and monthly rental costs for single occupancy vary from $1,911 to $3,528 and include meals, electricity, cable, Wi-Fi and a variety of other services.
"It is a total shift for long-time homeowners to rent an apartment," Edgar says. "It's an especially difficult move if you're sentimental and have a home full of memories."
Johnson, now 92, says moving out of his house was one of the hardest yet easiest decisions he's ever had to make.
Johnson moved to Columbia from Colorado Springs eight years ago and into the Terrace last June. What sold him on giving up his condo was the food and finding a partner to play Cribbage with. "I think Ginny set me up when she invited me for lunch," he says with a chuckle and a tug on his suspenders. Johnson says he's been treated very well, and he loves the atmosphere and the opportunity to sing each week.
Edgar believes moving is a critical transition to make. "Many seniors age too quickly when they're not being socialized, especially if they're not driving," she says. "Life can become isolating and depressing." Edgar believes that independent living communities are a great solution — a place for seniors like Johnson to enjoy their life without having to worry about the responsibility of owning and maintaining a home.
Coming Soon
Americare Senior Living also finds itself developing more space for seniors in Columbia. The April opening of Mill Creek Village, on Southampton Drive, will mark their fourth campus in town and will feature three of the company's four product lines.
The Village will include 30 assisted living units, 16 memory care units and 16 independent living cottages. The project totals $10 million and over 50,000 square feet. Cottage residents can choose from one-bedroom triplexes, two-bedroom duplexes, or two-bedroom patio homes. Square footage ranges from 598 to 1,720 per unit and rentals vary from $2,400 to $4,400 per month.
"Columbia is booming," shares Pat Cokingtin, senior vice president of marketing. "It's vibrant. People are drawn back here." The Mill Creek project has been on the radar for about three years. Cokingtin says, "We're consistently at 95 to 100 percent occupancy in our other current communities, so we were looking to expand."
Americare is a privately owned, family-operated senior care provider based in Sikeston, Missouri. They have been in business since 1981 and serve five states. They joined the Columbia community in 1996 with Bluff Creek Terrace. They added TigerPlace in 2004 and the Colony Pointe campus in 2012, with several expansions to the campuses in between.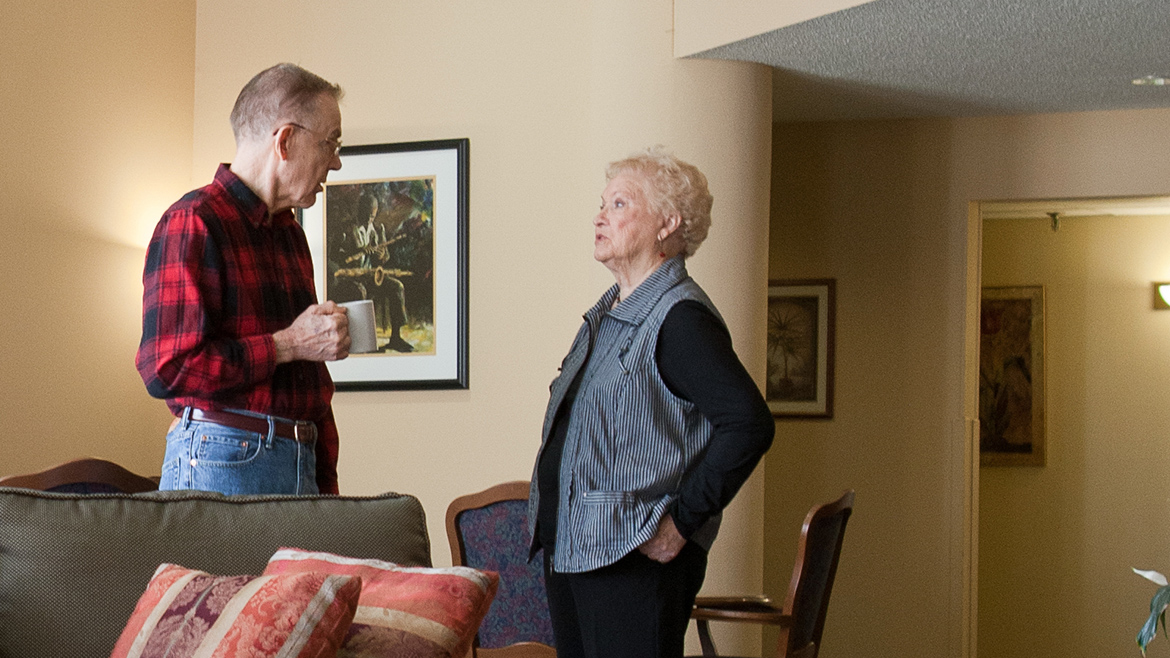 Cokingtin says the company is glad to be building in Columbia again. "Missouri is where we started, and senior housing is all we do."
Cokingtin says while they could build larger, their buildings are intimate and welcoming, usually limited to 30 units. "We're basically in rural America," she says. "Then we brought our small footprint to Columbia, and it was received well."
In February, Americare had five of the cottages reserved and were engaged with 40 families about the assisted living units. The campus will employ 40 people and have an annual payroll of $850,000 and an annual operating budget of $2,200,000.
New Kid on the Block
Provision Living is one of Columbia's newest retirement communities. The St. Louis-based company of the same name operates 35 senior communities in 11 states, including a projected 11 communities in Missouri by the end of 2016. The company purchased its 13-acre site on Chapel Hill Road in October of 2013 and broke ground on the three-floor, 93,000-square-foot, $20 million-plus project soon after.
The facility opened in October of 2015 and includes 63 assisted living apartments and 34 memory care units. The Chapel Hill location is the first in Columbia for Provision Living, and thanks to a city ordinance passed in 2011, it's also the town's first retirement community built in a residentially zoned area.
"Our mission is to be the best place a senior has ever lived," says Andrew Kennard, senior vice president. Continues executive director Kim Fanning, "We provide assisted living with discreet services. We want people to be as comfortable here as they are in their own homes."
Assisted living residents can choose from three models: studios, one-bedroom or two-bedroom units. Members of the memory care units live in secure neighborhoods of studio apartments designed to encourage engagement in social activities outside their rooms.
Assisted living units range from 394 to 794 square feet and cost between $4,400 and $5,700 per month for single occupancy. Memory care services run $6,000 per person monthly.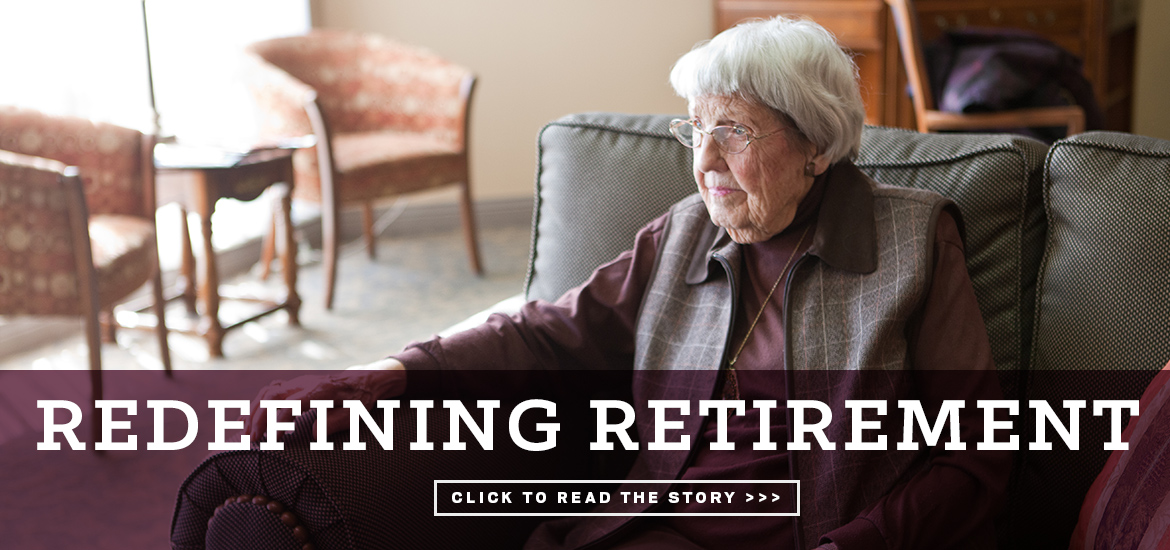 The facility includes high ceilings, wide hallways, a theater, a library, a restaurant-style dining room, a 900-square-foot salon–spa, therapy services and many common living spaces. "It's beautiful physically," Kennard says, "but it's turning into a beautiful community at the soul level, too, as people bring themselves into it."
Fanning describes Provision Living as a community that's alive. "It's all resident-directed care. We're there to facilitate their independence," she says. The community is currently one-third full, and she expects to be at 90 to 95 percent capacity in the next nine to 12 months.
Kennard and Fanning both believe that there doesn't have to be an event or a crisis that moves people into a senior living facility like Provision. "People need a purpose, a community, a connection," Fanning says.
Fanning is one of two master's-level nurses on staff, and she's particularly proud of their memory care community. Her team strives to bring love, comfort and happiness to their residents living with any one of 70 different types of dementia, including Alzheimer's. Her education, 33-year nursing background and experience with seniors help her be covertly clinical when meeting and working with residents.
"We want our community to age in place and enjoy living their life," Fanning says. Safety is what moves many memory care residents out of their home, so the design of the facility allows residents to explore freely while having subtle safety and security measures in place.
"University towns are a great place to be," Kennard says. "The development team looked at the demographics and the timing was right." Fanning's immediate plans include adding a comprehensive wellness center for residents and hiring additional "radiant" employees who exemplify the company's values.
Making It Happen
For companies looking to expand in the retirement living industry, they must take into account two key building issues: securing land in properly zoned areas and obtaining state approval.
Patrick Zenner, development services manager for the City, drafted the ordinance in 2011 that now allows continuing-care retirement communities like Provision Living to build in residential areas, rather than limiting them to office or commercial zoning.
He says the amendment was precipitated by a formal request from Lenoir Woods, another retirement community, as an alternative to securing a zoning change. "We did the research and found that CCRCs are not that disconnected from multi-family zoning," he says.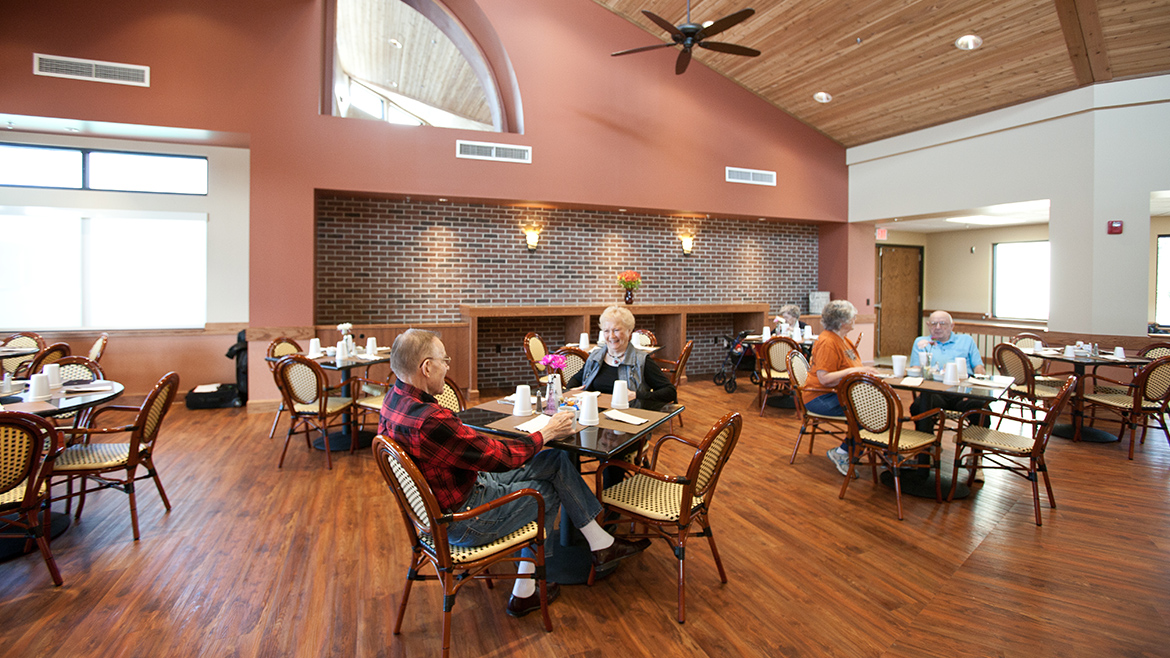 The city is in final review of another change, which would eliminate the acreage threshold for CCRCs and yield a greater opportunity for these facilities to locate in residential areas. Zenner says the city wants to create openings for these projects, not obstacles.
Zenner found it ironic, given Columbia's medical community, that there were so few residential care facilities when he moved here seven years ago. "As our population ages, we'll continue to see an evolution of these types of facilities," he says.
New assisted living and skilled nursing communities also must have a certificate of need, issued by the Missouri Health Facilities Review Committee. The committee exists to assure community need and to prevent unnecessary duplication of health care services. The committee includes four state legislators and five members appointed by the governor. Independent living facilities are not regulated for need.
Worry-Free Living
At the end of the day, the construction is all about making room for the community's parents and grandparents, people like John W. Green.
Green, age 66, was named after John Wayne, and he's one of the youngest residents of The Terrace. Normally a comedian, when asked about his decision to move into a retirement community, he becomes more serious. "I was diagnosed with cancer for the third time last year," he says from behind dark-rimmed glasses. "I had a 3-bedroom home, a yard and a dog. I couldn't do work outside. I was trapped."
After an intense season of chemotherapy and radiation, Green was spent — physically and emotionally. He retired. He knew he needed to make a significant change. "Let it go. That was my theory," he says. So, he prepared to make the move.
Once he decided to sell his home, the choice of where to go was easy. Green says he's made lots of friends; he likes his apartment and was able to bring his dog. "They have empathy and look after you here," he says, "but they don't hover or talk down to you." Since moving in, Green discovered that his cousin lived in the community, and he's convinced his brother-in-law to move in as well.
Tall and lean, Green sits back in a winged chair, and he's the epitome of relaxation. He looks comfortable yet sharp in his blue-checked button-up shirt and dark jeans, the only signs of a lingering medical issue is found in the oxygen tank resting beside him. He talks with peace.
"I don't have to worry about anything now," he says. "When I was sick, in that big house, I was isolated. Here, I'm not. I feel safe." Logistically, Green has his rent automatically deducted from his bank account each month and uses the community's services for entertainment, laundry and apartment maintenance.
Green is looking forward to the renovations and the new apartments being added to the facility. "The change doesn't bother me. I'm all for progress," he says, rising out of his chair to attend his singing rehearsal. "Really, there are no worries here. Any worry is one you bring on yourself."