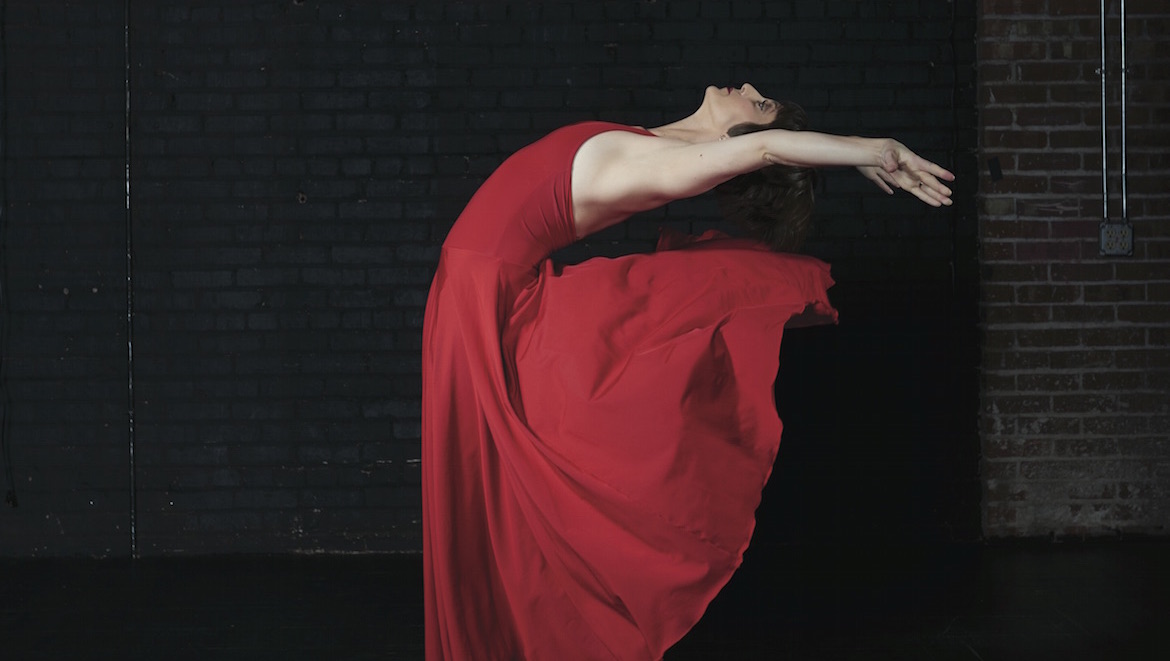 Photos By Keith Borgmeyer
After 10 Seasons, the Missouri Contemporary Ballet Continues to Flourish
Running along Orr Street in the heart of the North Village Arts District sits a series of contemporary white metal buildings accented with shiny red windows and oversized door frames. The striking, geometric exterior begs the attention of walkers passing by. The modern facility is the Balsamo Warehouse, which is home to several Columbia businesses, including the Missouri Contemporary Ballet.
Nestled inside the expansive space, the dance studios are quiet. The theater lights lining the ceiling are powered down. The mirrored walls reflect only the white tile floor and empty room. Several lonely chairs line the wall waiting for observers. There is no music, only the muffled sound of a few people moving about the hallways.
Executive Director Karen Mareck Grundy works patiently at her desk surrounded by brightly colored posters of ballet productions. The company's unofficial four-legged mascot, Snappelle (lovingly pronounced Snapple in Missouri), wanders around the space looking for a drink of water and feeling quite at home.
It's between seasons, and the professional, non-profit dance company has a few weeks off before gearing up for their spring schedule. Despite the recommended break, Karen and four of her dancers can't pass up the opportunity to share their experiences working with this relatively new and growing ballet company.
Getting Started
The spunky, red-headed Karen grew up in Las Vegas and began dancing at the age of 3. She was trained in classical ballet, jazz and modern dance and performed in Las Vegas as a lead dancer for 11 years. She was a little apprehensive about making the change from dancer to choreographer but believes her eye for making things cohesive contributed to a smooth transition.
In 2000, Karen was brought to Columbia to teach at the Columbia Performing Arts Centre. "Now it's 15 years later, and I'm still here," she says. "I fell in love with this town."
Karen knew her career would eventually lead to owning her own company, so she decided to open the Missouri Contemporary Ballet in 2006. She jokingly attributes the expansion of the ballet to her own bossiness and her husband's number sense. Now, the company is currently in its 10th season.
Missouri Contemporary Ballet, which is predominately funded by grants and donations, employs seven dancers and fills out the team with apprentices and trainees. Dancers come from as far as Oregon, Michigan, New Jersey and New York to audition with most looking for a place to dance.
Elise Eslick is the group's veteran member. Currently in her seventh season with the company, she often reflects back on the early days. A Michigan native and Grand Valley State University graduate, Elise admits she didn't even know where Columbia was. "I had never heard of it," she says with a laugh. "All I knew was that Missouri was somewhere south."
Through a relationship with a former MCB dancer, Elise auditioned and got connected with the company. She is thankful for the versatility the ballet provides. "After six years I'm not bored yet," the striking, dark-headed dancer shares with bright eyes. "We are always being challenged. I like the environment and Karen's sense of humor. It's refreshing."
Caitlin Younker, who danced with Elise for three years in college, has returned for her fourth season as a company member. "My favorite aspect is that we get to dance a lot," Caitlin shares, her eyes soft and her loose blonde ponytail bobbing as she talks. "In a classical company you are pretty much an accessory unless you are a principal or soloist. Here, you have chances to be featured and what you do gets noticed."
Looking back, Caitlin is amazed at the company's progression. "Every year here we grow and get stronger," she says. "We are always improving."
Warming Up
The girls pull up their chairs and start to get comfortable. Several stretch out their legs while others curl them up Indian style. Most sport casual athletic attire; their pointe shoes and characteristic ballerina attire put away for now. Even Snapplle joins the fun by jumping into a chair to personally observe the conversation about the uniqueness of the ballet.
"There are a few other towns with companies like ours but not a lot." Karen says. Making the decision to start the ballet, she knew Columbia was ready for it. "We're progressive artistically, so I knew there was a niche."
The dancers seem to love the Columbia community as well, including petite and reserved rookie, Meredith Green, who moved in August for her first year with the MCB. "The artistic value seems to be high and different than in Kansas City," she notes, her long red locks pulled up in a bun, which accentuates the freckles on her face. "It's refreshing."
"Columbia is awesome in that it can support and sustain a ballet company," Elise chimes in. "The Missouri Theater alone is a gem."
"Everyone is very open to collaboration," Caitlin adds. "They want to create something bigger than they can do by themselves." Caitlin has also noticed that the dancers are treated like local celebrities wherever they go. "Especially with social media, people know we are accessible."
Kay Whitney grew up dancing in Columbus, Ohio, and is performing for her second year with MCB. Having lived in both Pittsburgh and New York, she is glad to be back in a small community where people are open and welcoming. She believes those traits help the dancers connect better with their audience.
"In big towns, people go see the show," Kay explains. "Here, they want to know us and then go see our show. It's more relational."
Karen believes her background in Vegas productions sets the Missouri Contemporary Ballet apart from other companies stylistically as well. "The dancers must be strong athletically," she says. "They are challenged daily, and their bodies change. They have to be powerhouses, especially the females."
Karen strives to create what she calls a "roller coaster effect" when putting the shows together, where the energy constantly moves up and down from one piece to another.
Kay loves that aspect of the performance. "Every piece is different," she illustrates with her hands, her wavy light brown hair cascading down her shoulders. "The first piece may be fast, sharp and intense while the ending piece is light and flows together."
Preparing to Dance
The studio might be quiet right now, but during the fall and spring seasons, the dancers put in a grueling six hours of practice a day, five days a week. In addition, most volunteer with the company's educational efforts, as well as work other jobs around town to supplement their income. It's not a schedule for the faint of heart but for those who truly want to live the creative life.
"There is not much recovery time," Caitlin shares. "You have to be diligent about getting enough sleep and eating healthy." Caitlin also serves as the director for the School of Missouri Contemporary Ballet, which currently has 150 students and keeps her busy most evenings.
"There is not a lot of money in the arts, but we're in it to do what we love," Elise agrees. She is grateful to have the school where she and others can earn extra money serving as class instructors.
Like Caitlin and Elisa, most of the dancers prefer piecing together work in their field and choose to teach ballet for other studios, coach competitive dance or teach Pilates. "Teaching is much better than working at a bar," Kay interjects with a laugh while pushing her black frames further up her nose as she speaks.
Others choose to work at local restaurants or cafés. Meredith spends her down time serving at Range Free, an allergen-free bakery and café, which is also located inside the Balsamo Warehouse. It took her three tries to make the company, but she believes it was worth it. "I was persistent," she says with a smile and grateful to have both jobs to be part of the troupe.
The transient nature of a professional company also makes some years harder than others for those in the lead. "There are a lot of new faces this season," Karen says. "It's a little more challenging and stressful to blend our new and veteran dancers together."
She does admit it has been easier than she originally thought, however. "We're starting to get a higher caliber of dancer auditioning for us, and that is exciting." The company will hold two auditions in 2016, one in Kansas City on February 28 and the other in Columbia on April 3.
Karen is still working to get her company name recognition with future hopes to tour regionally and beyond. On January 17, the group had the opportunity to dance for a presenter's conference in New York City. Their performance featured a powerful, seven-minute piece called "Unbreakable Code."
"It's one of our signature performances," Karen says. "It really showcases the significance of who we are as a company." The group went on the trip hoping to make connections with presenters who will invite them to perform in their theaters.
"For our size, we really have lots of opportunities to perform outside of Columbia," Elise explains. The team will also dance for the third time in West Plains, Mo., on April 9.
Meredith feels blessed to be included in such an active company. "We always have a lot to do," she shares. "It's fun to come in as a first year and be put to work."
Show Time
Although the company does hope to travel more, the core elements of each season are the shows performed right here in Columbia. The company showcased "Poised in Flux," in November, which featured choreography by Karen, as well as resident choreographer Joel Hathaway, and guest choreographer Laurie Sefton from Los Angeles. The Missouri Orthopedic Institute has served as the exclusive sponsor for the 2015-2016 season.
The spring season will feature "LIVE Returns!" on March 12-13 at Jesse Auditorium. This performance is part of the University Concert Series, which highlights MCB as the resident dance company and brings back the ballet's musical collaboration with Tom Andes, Travis McFarlane and other Columbia musicians.
In addition to working with Tom and Travis, Karen is excited to partner with a new composer from the University of Missouri School of Music, the MU Percussion Ensemble and even singer/songwriter Chad Elliott from Iowa, who will add a little taste of country to the show.
"The spring show is live," Elise explains. "Live is a challenge, but it is fun to get that adrenaline going and really feed off the musicians." To illustrate the point, Kay recalls that one performance last season took nine minutes and 15 seconds in rehearsal, but because of the energy in the room, it lasted only eight and a half minutes during the live show.
Caitlin is excited that Karen will once again be choreographing part of the spring performance. "Karen can push you without stressing you out," Caitlin shares. "She is open to what works best and looks best on you. She asks herself how each dancer is going to respond and adapts her teaching style to them. Having a piece choreographed on you by Karen is fun."
"Karen brings our energy up," Elise adds. "There is a connection with the audience. It's fun to play with."
Elise and Caitlin are also looking forward to having Karen and Joel choreograph a piece together for "Live Returns!" "They are a fun team to work with," Elise says.
As a first year company member, Meredith is not sure what to expect. "I'm just along for the ride right now," she says with a smile and a shrug of her tiny shoulders.
The Final Bow
In addition to the March show, those interested in catching MCB in action can find them at the annual Dancing with the Missouri Stars fundraiser on May 19 at the Holiday Inn Expo Center or in a collaborative performance with the Missouri Symphony Society in June.
After a well-deserved break, the studio will once again be full of life, and Karen and her company will continue doing what they do best – creating and presenting high-quality productions and dance opportunities through the art of contemporary ballet.
"Those attending our shows can expect innovative, athletic performances and unique collaborations with emerging artists," Karen shares. "You never know what may happen, but we plan to give to the community as much as the community has given to us."