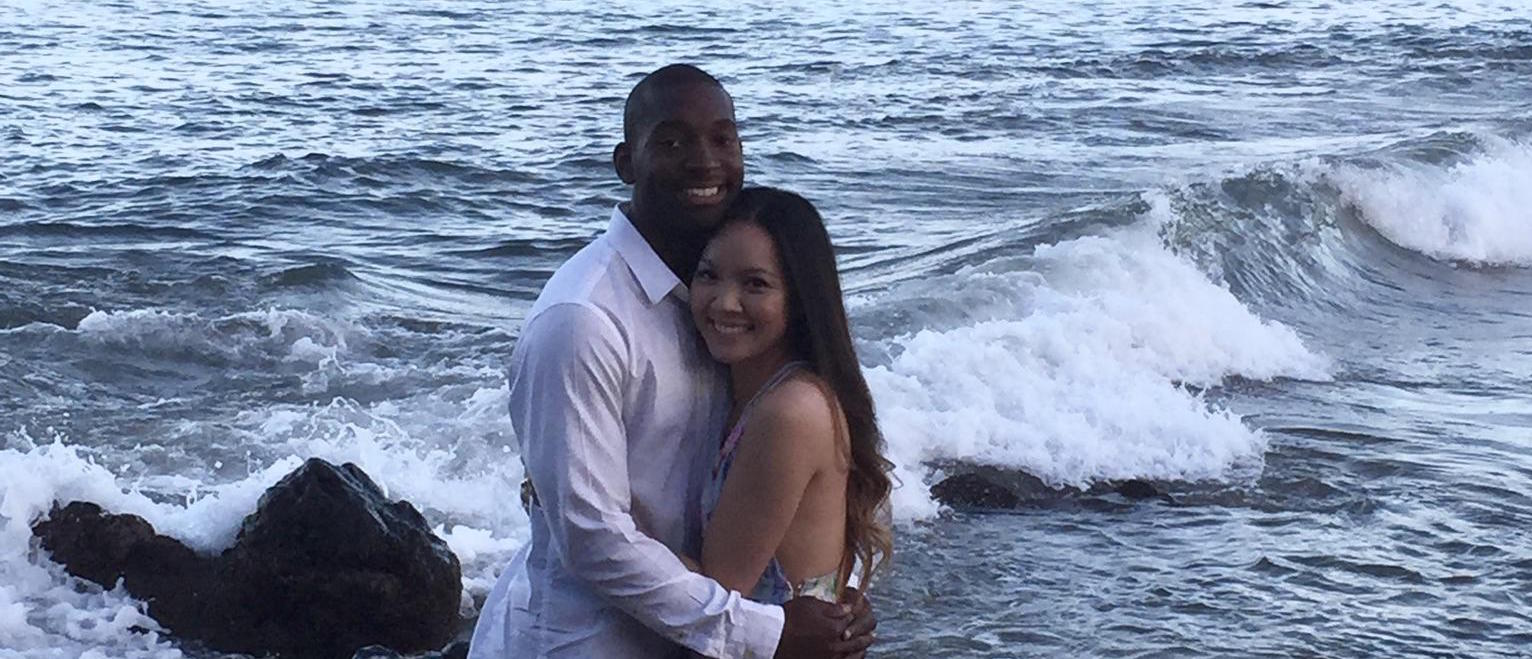 How did you meet?
Jeff : We met through a mutual friend at their senior pub crawl when I used to work at a local gym here in town. I asked about her the next day and she's been lucky ever since.
Jenny: What's funny is the night I turned in my senior capstone project, which is my company, Mavin, I ended up meeting Jeff that very night.
How do your businesses play into your relationship dynamic?
JC: I feel like she'll help me with things and I'll help her. It's tough to separate coming home and not working all night. We're in the process of finding a balance of when we talk about work and when we have just us time.
JB: It's nice to have that support system.
What are your plans for the future?
JC: We're currently engaged. We'll get married soon. I haven't really started making many plans yet. I think we're at the pivotal point in our businesses and we can stay comfortable or put more effort into building our brands to meet their full potentials. Once we get the Fitness Company settled in our new location in St. Louis, we'll start planning the wedding. The new location came around sooner than we expected. I don't think we'll even think about kids under after 30.
JB: Yeah I haven't even thought about it, honestly. I want us to focus on our careers and let the wedding and babies come when the time is right.
What do you do outside of work?
JC: We don't get much free time right now. I think we have the mindset to just work like crazy while we're young in order to have more freedom when we are older. We can travel and start a bucket list before we have kids.
JB: Most of the time [Mavin] doesn't feel like work since I'm living my passion. Outside of work, we watch TV and like to go to the movies.
JC: We used to do a lot of Ragtag Cinema stuff in the beginning [of our relationship].
JB: We've been bowling since we met. It was kind of a competition thing.
JC: I used to let her win but now she just beats me.
JB: Actually, the first week we were dating we made a bet that if I won, he was going to clean out my entire dorm room at Stephens College. And he ended up losing, so he had to clean out my room.
JC: We're super family-oriented. A few times a month we'll go back home to see our parents or they will come down to Columbia. [Jenny] forces me to do photo shoots, so she'll set those up every month.
How does your competitiveness play into your relationship?
JC: I think in the beginning we were both new to serious relationships and starting a business. I don't think we competed to have the better business, but we focused so much on them that at times we had to stop and think, "Oh wait, we're dating too," and we had to take a step back.
JB: We just help each other more so than anything. He always thinks he is right, so I just let him think so.
What are the best aspects of your partner?
JB: He's a very great listener and he's super caring.
JC: So many things… I would say her heart is always in the right place. Even if she's stressed she'll think about me and do small things all the time.
What is unique about your relationship?
JC: We decided to do a long distance relationship after knowing each other just a month, which lasted a year and a half.
JB: I was supposed to go home to North Carolina the day after my graduation but canceled my flight, so I could get to know him better. I only knew him for two weeks at the time.
JC: Five years later we are still together. She gave me two weeks to sweep her off her feet, and I guess it worked!
JB: He would always complain about never being able to see me and that he was always a third or fifth wheel with his friends. So one day him and his friends went out to eat and requested a table for six and brought a laptop to Skype me in for dinner!
JC: No comment