Shawn Noordsy and Alissa Cunningham started dating when they were 15-year-old high school students and in the seven years since, they have practically been inseparable. The two met through mutual friends while attending Rock Bridge High School, and although Shawn and Alissa felt they were too young to think about marriage early on in their relationship, Alissa says everyone was just waiting for it to happen.
In their relationship Shawn has always been the adventurous one while Alissa admits to being opposite of a dare devil. "Shawn likes to do crazy things," Alissa says. "I am always nervous and anxious about the worst case scenarios." So when Shawn proposed the idea of a hot air balloon ride for their yearly big date, Alissa was skeptical but not at all surprised. Each year, the couple tries to plan at least one vacation or big date. One year they went zip lining through the Redwoods in California. When she agreed to go on the hot air balloon ride, Alissa had no idea how big this date would actually be.
The planning of the proposal took about six months. "I have always wanted to go in a hot air balloon," Shawn says. "I knew she would never think anything would happen and it would be totally unsuspected." The big question came right on cue when the driver of the hot air balloon requested their picture for the second time. It was in that moment – hovering 2,000 feet above the ground – that Shawn got down on one knee and asked for Alissa's hand in marriage.
The couple plans to marry in November 2016 at Firestone Baars Chapel on Stevens College's campus.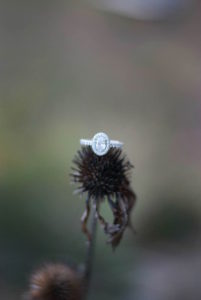 COMO Living Engagements is sponsored by Betz Jewelers