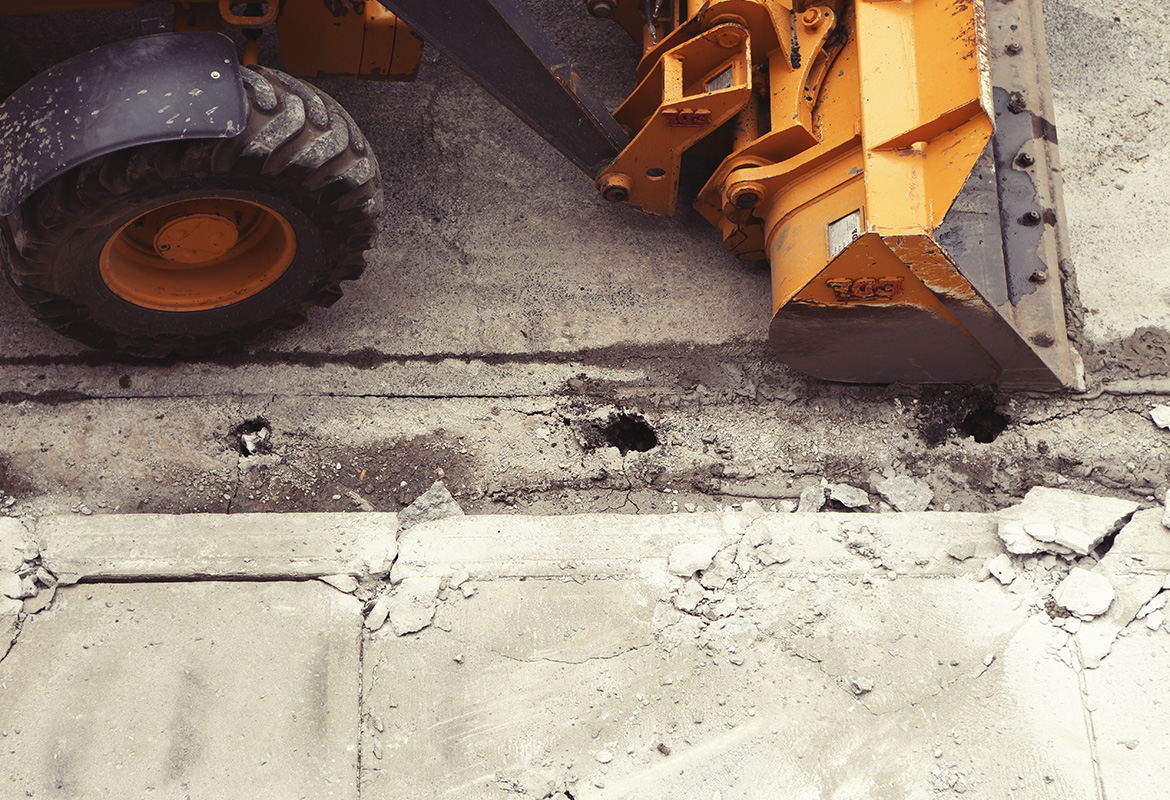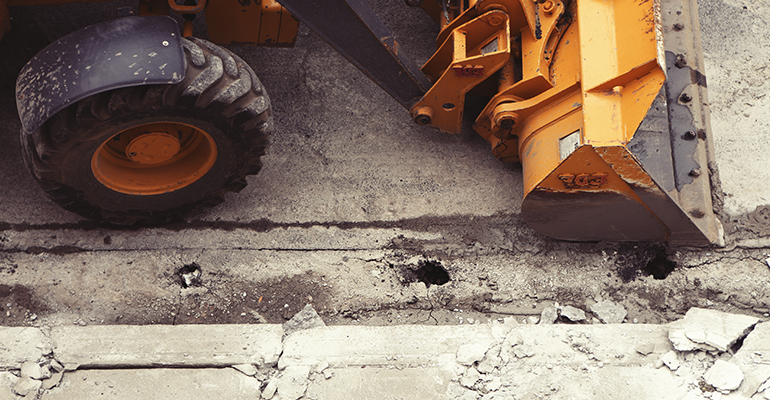 I-70 bridge work takes a non-traditional approach. 
Eighty thousand vehicles travel through Columbia on I-70 each day, and many of those travelers use the highway as a city street, hopping on and off to skirt local roads and travel around town faster.
Most of this local traffic will probably pass over one of three bridges that cross Rangeline Street, Garth Avenue and Business Loop 70. These bridges have been designated as "critical condition" by MoDOT — all three were built in 1957, and the 58-year-old concrete slabs have all outlived their original expiration dates.
Mike Schupp, a Central District engineer at MoDOT and the head of projects in Columbia, describes the bridge rating system the state adheres to: "The way it works is that a nine is a brand new bridge; rating of two, we close the road. We inspect these bridges every two years until they get down to a rating of four, and once they're down there, we start inspecting them every year."
If any part of a bridge receives a three rating, the bridge is put on the critical condition list. Even though this doesn't necessarily mean it's unsafe, this rating does act as a signal for MoDOT to begin looking for funding to rebuild or replace it.
"Each year, more bridges are added to the critical condition bridge list than we have funds to replace," Schupp says. "So that keeps growing, but if and when any elements of that bridge go down to a condition two, we close it."
The three I-70 bridges were all rated condition three, though due to their high amounts of daily traffic, they were given a higher priority than lower-traffic critical bridges in the state.
MoDOT recognized the necessity for replacements, and the department sent contractors a request for qualifications in November 2014. Among the companies that responded to make their case for the project, local business Emery Sapp & Sons was awarded the $18 million job. One of the reasons ESS's construction plans were chosen over other others, Schupp says, was their consideration of how the traveling public would be impacted. Other than working on state-funded bridge projects, the employee-owned company's past contracts include construction for Boone Hospital, runway extensions at the North Central Missouri Regional Airport and residential housing developments across the state.
Most large-scale MoDOT projects are designed in-house; those designs are then sent out to contractors, and MoDOT awardshe project to the lowest bidder. The I-70 project is exceptional in that it's being completed using a "design-build" strategy, which means the contractor designs the project as it goes along, building and submitting plans for approval at the same time they're constructing previously approved designs. The whole process typically takes about half the time of a traditional build and allows the contractor more creativity in the project, but the added responsibility means that the contractor must be held strictly accountable. Schupp says this bridge project is a guinea pig of sorts. MoDOT wants to see how a nontraditional plan would work within a small budget and project scope.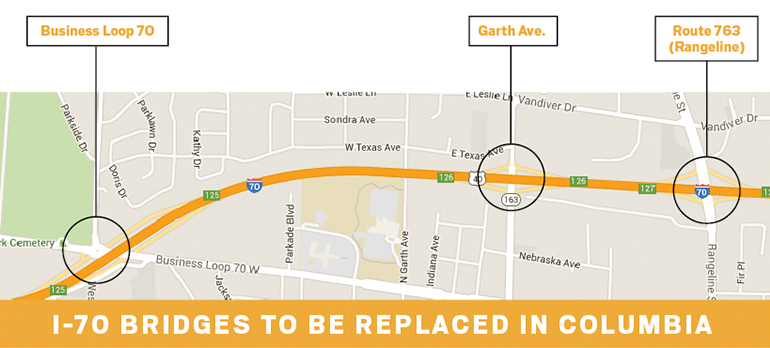 "Basically, we came to the table saying, 'We have $18 million to spend on this project. These bridges have to be replaced, here are the project goals — what can you give us for this amount of money?'" Schupp says.
While design-build plans are typically saved for projects that cost upwards of $100 million, the heavy traffic flow that would be coming through the heart of this project required an efficient and flexible plan to be created quickly.
After MoDOT sent out a request for the project in November 2014, contractors only had until Dec. 19 to enter their proposals. The contract was awarded to ESS in April 2015, and crews broke ground on the work in June. The proposed finish date for all three bridges is late next summer, which would make the entire process — from design requests to completed construction — less than two years long.
The contractors worked with design and consulting teams to come up with a plan that met MoDOT's requirements. They then submitted their proposals, which are graded by MoDOT on a variety of factors that include budget adherence, safety concerns and local impact. Under a design-build style of construction, the contractor is in control of all of the plan's designs — including the new style of bridge that will be built.
Schupp says the old structures were voided slab bridges, built in the late '50s, when the interstate system was first established. This type of design was made with hollow tubes in the bridge deck that make maintenance difficult; modern styles use steel and are easier to maintain. ESS decided on a traditional girder style for the new bridges, which will have a lifespan of at least 75 years.
Of all the contractors on the shortlist, ESS's construction plans affected local traffic the least. By diverting traffic around and onto the newly built structures at each phase of the project, the company will be able to keep traffic flowing — like playing musical chairs.
"We're building two of the bridges to the north, as you can see, and we're going to divert traffic from I-70 westbound onto those bridges at Rangeline and Garth," says Chip Jones, heavy highway operations branch manager at ESS. "Then the eastbound traffic will move to the westbound lanes and we'll tear down the eastbound bridges, rebuild those, shift the traffic back over to the eastbound side, tear down the westbound bridges and rebuild the substructure underneath. Then we'll shift traffic completely back to the eastbound side for the weekend."
After all of that has been completed, traffic will finally be diverted onto the newly built bridge.
Simply put, east and westbound traffic gets diverted onto the new bridge lanes as they are built to the side of the old bridge. At the same time, the old bridge structure is destroyed lane-by-lane as traffic is moved off of it. Being able to shift traffic to new or old lanes as the road is built or torn apart — without ever actually stopping traffic fully — is safer for travelers as well as the construction workers.
However, this plan only works for the Rangeline and Garth bridges, and not for the construction planned at Business Loop 70. Jones said the traffic currently running under the bridges at Business Loop will have to be closed down while the new bridge is being built. Instead of repeating the Garth and Rangeline phases, the Business Loop 70 phase will force vehicles to use the entrance and exit ramps as east and westbound lanes, blocking any traffic that would normally flow underneath I-70. For a period of 45 days in June and July 2016, Business Loop 70 traffic will be closed around the construction site and the new bridge will be built and slid into place.
Even though ESS decided to wait until after Memorial Day to close the road, the 45-day period will probably impact Fourth of July traffic. Jones says there was not a way around it, and that closing a road for 45 days at any time is probably going to affect some sort of holiday.
"We've met with the hotels and met with convenience stores," Schupp says. "We've held public meetings. Really, we're going to maintain traffic … the detour's pretty small, and obviously there will be some impacts. I wouldn't be truthful if I said there wouldn't be any. But [business owners] seem excited about the time constraints the contractor has to get this done in."
Justin Brown, culinary manager at Cheddar's Casual Café, located near the bridge site, wasn't even aware that there would be a road closure. Brown says even though he hadn't noticed any effects from the current construction project, the future 45-day detour might impact the flow of patrons.
"It's definitely something that could affect the local traffic that comes here to eat." Brown says. "I had no idea that this was even happening."
Benjamin Gakinya, managing director for Parkade Center, at 601 Business Loop 70, says the new aesthetics of the bridge will be a great improvement for the road, though he imagines that problems could arise for motorists who don't know how to navigate the area. "Parkade Center is comprised of local businesses," Gakinya says. "I'd say local businesses make up about 45 to 50 percent of our tenancy, and it's good, it's nice to see Emery Sapp & Sons — a local company — get the bid so the dollars can stay here locally."
Mary Jo Henry, former director of marketing at Joe Machens Dealerships, says the Toyota dealership has not yet noticed any change in local traffic since the project began. As for the future, Henry was hesitant to speculate, though even if traffic was affected negatively, she was sure that customers would find their way to the dealership somehow.
It's difficult to speculate what effects the detours and slowed traffic will have on local businesses around the construction zones, though Jones says ESS is committed to getting the construction finished as quickly as possible. Both he and Schupp urge the thousands of drivers who frequently use I-70 as a local road to find other avenues for travel until the project is completed. Not only might it be faster to steer clear of I-70 for the next few months, it will also be safer.