Between kids, work and all of life's responsibilities, these women deserved a little pampering, Columbia Home style.
Stephanie Rosskopf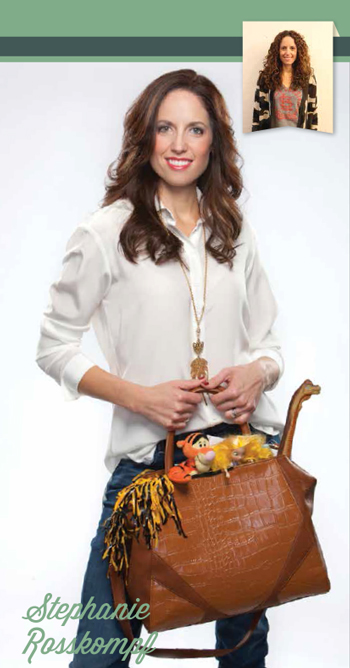 "I love an adventure," says Stephanie, who went into the makeover with a completely open mind.
Some would say Stephanie's lifestyle is already adventurous. This mother had three kids in a two-year span; her first child was followed by a set of twins. "Anyone who has experienced multiples or toddlers close in age knows it's a fast-paced lifestyle," she says.
Stephanie felt honored to be chosen from the group of makeover nominees. When she found out she'd been chosen, Stephanie was at a Mothers of Preschoolers meeting. "I was surrounded by so many great moms who deserved this special treatment," she says.
Keri Tipton, who nominated Stephanie for the makeover, especially noticed the responsibility Stephanie had taken on over the past couple of years. "She knew me in my fulltime professional life and after the transition to full-time mommyhood, so she  recognizes how generally insane the last several years have been for Chris and me,"  Stephanie says.
Stephanie and her husband, Chris, are continually working on the house, so she was looking forward to being able to "hit the reset button" on herself.
"It was refreshing just to talk to people over the age of 5 and to not wipe any butts, even for a couple of hours," she says.
Stephanie's Clothing:
Michael Stars shirt, $208
Michael Stars pants, $198
Joe's Jeans boyfriend slim ankle jeans, $172
74 Harley Street vintage gold pendent, $72
Danielle Nicole Adelene satchel, $98
All items from Girl Boutique
Beverly Denbigh
"When my children were growing up, there were three things I always wished for them," Beverly says. "I wanted them to be Christian, to be responsible and respectful adults and go to college. I have two graduated, my youngest son is on his way, and they have definitely been accomplishing
the ambitions I had hoped for them."
Bev is every bit the definition of a mom. She's the type of person who, no matter where she is, takes on the role of mother hen. Although her kids are grown, she often bakes treats for the students in the University of Missouri's Physical Therapy Department, hosts Super Bowl parties and invites her family over for dinner: children, in-laws, girlfriends, grandchildren and all.
"Now my life is a lot calmer than it was when I was raising my kids," Bev says. "It was a journey along the way, but I remember those times when I was rushing in the morning, making breakfast and taking kids to school. That's why I feel so honored to be chosen for this makeover. I know there are more deserving moms out there, especially single moms. I was lucky enough to have my husband help raise the kids."
Each morning, Bev gets up early to take a shower and start coffee for her husband. She's dedicated 6 to 6:30 a.m. as "me time," when she takes half an hour to herself to start her day. "I've never had that," she says, just like she's never had an opportunity to get dolled up for a photo shoot.
"I'm usually a behind-the-scenes kind of person," Bev says. "But I knew this would be good for me because I've been looking to enhance myself, especially with my son getting married soon."
Close friend and neighbor Kat Cunningham nominated Beverly. "She's such a role model for me because she looks fabulous all the time," Bev says. "I'm a pretty casual type of person. I normally just throw on jeans. It was thoughtful of her to nominate me."
Beverly's clothing:
Picadilly Fashions sweater/tank, $96
Picadilly Fashions pants, $55
L&D purse, $79
Ms. Ashley scarf, $18
Ms. Ashley bracelet, $8.99; Quality Hill bracelet, $21.99
Ms. Ashley earrings, $6
All items from Calena's Fashions
Angela Pigg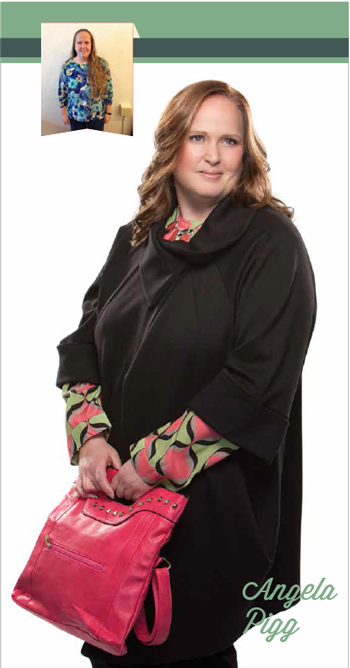 This mother of two is in the middle of what she calls a weight-loss journey. "I call it that because I'm not on a diet," she says. "I'm really changing my lifestyle. There is an end goal, but there is not an end."
Focusing on her health hasn't taken the place of her other priorities though. Three days a week, Angela is up before the sun to attend a boot camp at Key Largo Gym. She gets her workout in right away so she's able to devote the rest of her day to other activities, beginning as early as 6:30 in the morning.
"I'm a morning person, which helps," Angela says. Not only does she have a full-time job as minister of education at Olivet Christian Church, but she also participates in two different PTAs, is a committee chair for Cub Scouts, a member of the Boonslick Kiwanis group and totes her kids around to  competitive soccer games and clubs at school. You get the idea.
"This is not something I do on a regular basis," she says. "Just to go to a salon and be pampered in that way was so much fun." Angela was awfully bold for someone who doesn't often change her hairstyle. She allowed hairstylist Tori Araujo to chop her hair to donate it to Locks of Love.
"I was a little hesitant about the process at first, especially the photo shoot," Angela says. "I don't like being the center of attention, but one of the things that got me so excited is the weight I've lost so far. I don't think I would have had the confidence to do the photo shoot otherwise."
Angela thanks co-worker and friend Stacy Silverwood for recognizing her hard work and rewarding her with a nomination for the makeover. "I told my husband it's like makeover week on The Biggest Loser," she says. "It was a nice little reward in the middle of my journey to boost me to keep going."
Angela's clothing:
Picadilly Fashions pants, $68
Cousin Earl shirt, $116.99
Comfy U.S.A. jacket, $93
Necklace, $22.99
Earrings, $8
All items from Calena's Fashions
Leigh Pemberton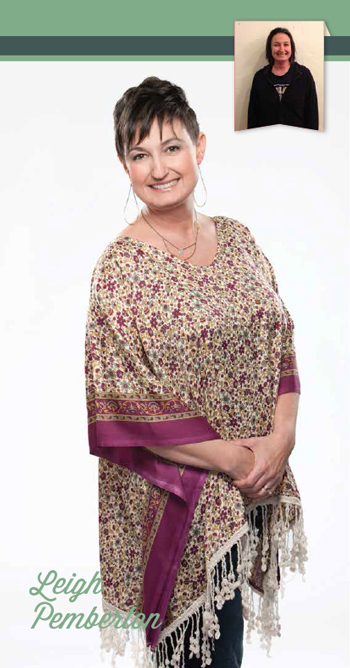 This Hallsville kindergarten teacher decided to fully commit to this makeover. As someone who spends her days sitting on the floor with 5-year-olds, comfort has always been key for Leigh. She presents herself with little makeup because she loves the outdoors, camping and being active.
But when she sat herself down in the salon chair, Leigh assured stylist Victoria Araujo that she had the liberty to do whatever she wanted. "A pixie cut?" Victoria asked. Without hesitation, Leigh agreed.
"Hair is just hair," says the mom whose hair once passed her shoulders. "I've been through cancer before, so I've gone without hair and had short hair before."
Since the makeover, Leigh says she's found herself making the extra effort to get ready in the morning.
"Truthfully, I do a little more to my hair and make sure to always wear earrings since I am a little fearful people might mistake me for a boy," she says.
Leigh's clothing:
Gypsy Junkies poncho, $134
Earrings, $58
Necklace, $62
All items from Girl Boutique