On a sunny, bitter Friday morning in February, we pull into the Old Hawthorne neighborhood on the east side of Columbia. Like most of the homes in Old Hawthorne, this is a recent build and blends in beautifully with the surrounding houses, landscape and golf course. We walk up to the beautiful front door only to be greeted by Duke, the family's 8-year-old, rambunctious golden retriever, and it's clear this dog is as much a part of the home as the rest of the family.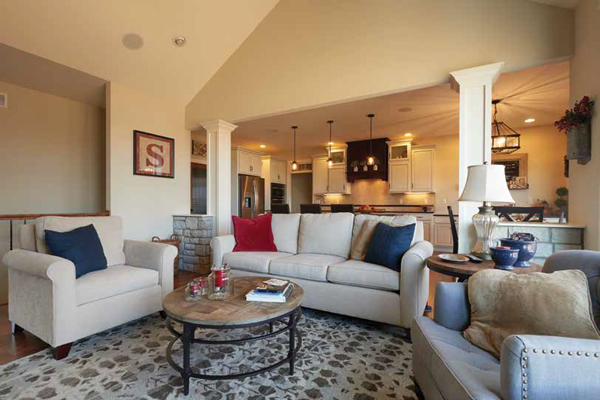 Bill and Wendy Sheehan have been residents of Columbia for many years. Bill works at Westminster College in Fulton, and Wendy teaches at Rock Bridge High School. Both of their children, Sam and Tripp, attended school in Columbia and are living out of the house now. Sam recently moved to Colorado, and Tripp is a sophomore at Westminster College, where he plays soccer. The Sheehans began working on their dream home with Doug and Gina Muzzy of Muzzy Builders in February 2013. The digging began in April, and they were moved in by September 2013. They also worked with Billy Stewart at DKB.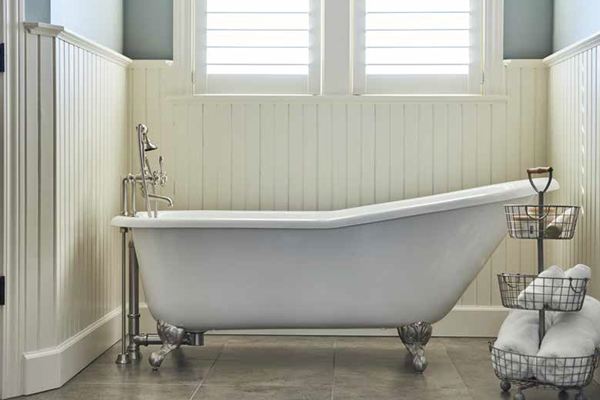 "It was the best of both worlds," Wendy says. "Gina had a background in interior design, and Billy really listened to what I wanted in our kitchen and bathrooms. It was a dream team, really."
In the kitchen, Wendy and Bill went with beautiful cream cabinets with durable quartz countertops.
"I knew I didn't want to do anything too trendy," Wendy says. "Gray cabinets seem to be a popular thing to do right now. I liked it; I just wasn't sure if I would want to live with it five to 10 years from now. DBK has a great selection and allows your imagination to run wild. They had nice examples for visualization, and Billy never tried to convince me to do something in my new kitchen that I didn't like."
To the left of the refrigerator, there's a door that leads to a very organized coffee station and pantry.
"Bill doesn't like clutter, so I figured a pantry would be a good way to keep things out without having them take up counter space," Wendy says.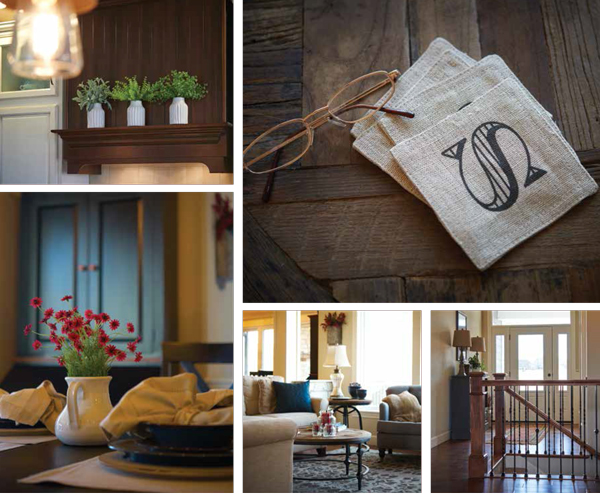 When looking around the Sheehans' house, it's obvious that each decoration has a meaning: a bowl full of Wendy's grandmother's kitchen utensils, photos of grandparents and great-grandparents, antique signs and an old mailbox. Wendy says her friends describe her style as "sappy sentimental." If you ask her about a piece, it has a meaning and a story. Most of the furniture in the home came from Pottery Barn.
"They came and did a free consultation, measured, took color swatches, and they will keep all of that on file," Wendy says. "I told them I knew what I wanted and that I wanted to get it from them."
The hardwood floors throughout the main level are "Duke colored." Wendy got the floors from Kent Baumgartner at Accent Floor Coverings, and they match the dog's hair perfectly.
Off the garage is an organized laundry room with space for air drying and folding. There's also a guest bedroom on the main floor with a bathroom next door.
With the help of DKB and Muzzy Builders, the Sheehans were able to build their dream home in Old Hawthorne. I'd say they plan on being there a long time.