5 ways Pinterest brings clarity to creativity
"I pinned this awesome recipe today!"
"Oh my gosh, my wedding board is overflowing."
"Are you on Pinterest?"
You know about it. You've heard the word.
Pinterest is considered to be the fourth most popular social-networking site. It's that place to store all the cool, interesting things you find on the interwebs. It's a place to find inspiration for projects, organize your party-planning to-do list, keep track of potential purchases and their changes in price, store recipes and much, much more.
Whether you're planning a party or remodeling your kid's room, Pinterest can help you get creativity organized. Here are five ways I use Pinterest to get my creative on.
➊ Get organized with boards.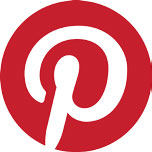 Boards are like clear plastic storage bins for Internet-based inspiration. Gone are the binders filled with magazine clippings of lamps and rugs you're lusting after. With Pinterest boards, you can organize all your creative goodness into an online library of bulletin boards.
Help yourself out by giving your boards specific names. You'll be able to more easily find that fantastic coffee table if you name your board "Living Room Inspiration" as opposed to "House."
Also, to easily find the chili recipe you know you pinned at some point, choose a cover photo that aptly illustrates what's on that board. For example, if you have a "Soup" board, make sure your cover photo is a picture of soup.
➋ Search to plan out your projects.
Pinterest is overflowing with ideas for DIY projects. Learn how to knit a sweater with your own two hands. Create a jewelry holder with a rustic old rake, or bring the outdoors inside with hanging lightbulb planters.
Whatever project you're planning, searching for help on Pinterest is now even easier with the introduction of its new guided search feature.
Simply go to the top of the website, or the little magnifying glass if you're using the mobile app, and search for what you need.
Be concise; use just a few words. For example, when looking for crochet hat patterns, searching for "crochet hat" yields more results than "how to crochet a hat" or "crochet hat patterns."
Ideal pins will pop up right away, and guided search will hang out there at the top suggesting other topics and ideas within your search to help you narrow down your results even further.
➌ Find inspiration.
We could all use a little inspiration at times. Aside from creative projects, Pinterest can offer new ideas for many areas of our lives.
When you don't have a specific project in mind, consider following an interest. Venture to a category by  clicking the menu drop down button or the search button from the app, and you'll then see an array of related topics, or interests. After following the interest, pins from that topic will be delivered right to your newsfeed from pinners you might not have found otherwise.
For example, Sadie Thibodeaux, resident MayeCreate designer and Pinterest enthusiast, has boards with broad focuses ranging from home decoration ideas and book suggestions to artwork and inspirational quotes.
➍ Make collaborative and secret boards.
Collaborative boards act as a sort of idea board where you can invite people to join in the pinning. These  boards are perfect for team event planning or for getting others' opinions on whatever project you happen to be working on.
For example, Stacy Brockmeier, MayeCreate's account executive, adds wedding ideas to her sister-in-law's "Someday" board. While planning for the August wedding, contributors such as Stacy can pin decorations, flowers, photo ops and dress ideas for the big day.
If you happen to be planning a surprise party and need to keep your party pins hidden from that certain someone, create secret boards that only you or people you have invited through email can see.
➎ Organize shopping.
That's right; you can use Pinterest to organize your shopping. Sadie has a "Wear" board where she pins clothing styles and pieces she wants to keep in mind the next time she shops for clothes. I personally use it when shopping for home décor and furniture.
You like a deal, right? I know I'm a bargain hunter. In 2013, Pinterest introduced a price tracker that notifies users when the prices on their pins drop.  When I got my first price tracker email from Pinterest, I freaked out at its awesomeness and had to show everyone in the office. It's like having a personal shopper! My shopping boards become wish lists that alert me when things go on sale. Keep in mind, to use this feature, pins must have the price included in the description, and your email notifications have to be turned on to get alerts.
Tools such as Pinterest can keep the crafter in us all organized and inspired. It's a place where you can come and relax, do some window shopping, find some project ideas and get lost looking at cute pictures of kittens. (Believe me, the distraction is real.)