Columbia's Banks Ride the Startup Wave
At Pure Barre fitness studio in south Columbia, clients sweat it out on a daily basis, but there's one thing owner Lauren Matteson doesn't have to sweat about: confidence in her financing plans.
Since Matteson opened the studio in October 2012, lender John Findley at Landmark Bank has been a steadying force.
To open the doors on day one, Matteson had to finance a franchise fee and build-out of the studio itself, along with staff training and equipment. Having a local banker to work with made the process less intimidating.
"It was a very smooth process, and we felt very taken care of," says Matteson, a University of Missouri alum. "The rate is important, too, but comes second to being able to trust who you are working with for something as serious as the financing of your business."
Landmark and other local banks are seeing an increase in small-business customers, thanks to the growing post-recession economy, strong relationships and a local environment that welcomes entrepreneurs.
Reports from the Small Business Administration and the National Federation of Independent Business support local bankers' observation of strong small-business growth.
To attract business owners starting out, local lenders are offering products tailored to small businesses and putting a heavy emphasis on service. But they also stand by the most traditional banking approach: one-on-one relationships that build loyalty and lead to referral growth.
At Boone County National Bank, about 90 percent of the commercial loan portfolio originates from small businesses. All 11 commercial lenders and four business development specialists have some focus on small-business customers.
"Our bank is built on small business," says bank President Joe Henderson.
In 2014, the bank's commercial loan portfolio has grown about 6 percent over last year, up some $38 million.
Landmark has also seen this market begin to grow dramatically, says the bank's Columbia President Matt Williams.
Columbia banks might be doing better than last year, but Missouri banks as a whole have seen a decrease in small-business lending in 2014. As of third quarter, Federal Deposit Insurance Corp. statistics show nearly 300 banks statewide issued $7.1 billion in small-business loans secured by nonfarm, nonresidential property, compared to $7.2 billion at the same time last year.
Why is Columbia bucking this trend?
Mid-Missouri provides a good environment for starting and growing businesses, Henderson says, and that has helped encourage more new business owners to set up shop here. He cites the presence of the university and the work of Regional Economic Development Inc. and other organizations focused on local business growth as well as a welcoming community.
"Columbia has a vibrant economy, stronger than St. Louis and Kansas City, and a lot of people come to Columbia because of that environment," he says.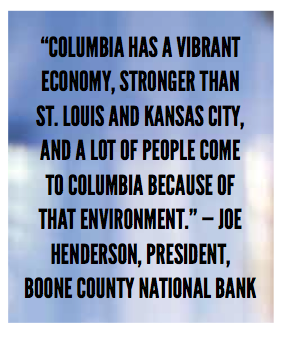 Relationship status
To attract — and keep — small-business owners such as Matteson, Landmark maintains a suite of products designed specifically for that market, including small-business checking accounts and account officers assigned to each customer. The officers help assess customer needs and work with them to make sure they're getting the full benefits of the bank's offerings.
Williams says the small-business market is a crucial one, and it's all about service.
"Small businesses are the lifeblood of our community, and as a community bank and an economic engine for Columbia, small businesses are central to our operation," he says. "It's what we do."
Hawthorn Bank also makes small-business lending a priority and is seeing that market segment grow. Senior Vice President of Commercial Lending Todd Hoien says their strategy is based on long-term relationships, and the bank has seen year-over-year increases in commercial loans as a result.
"We focus on a bank that will treat you well regardless of the size of your business," he says. "We have several larger business customers that started off borrowing small. Everyone starts somewhere, and then we have an opportunity to grow with those customers."
Hawthorn recently started the Young Business Leaders Advisory Council with members from across the local small-business community, and Hoien says they hope to get good advice and suggestions from the group on how best to serve the market.
To meet growing small-business needs, Boone County National Bank also takes a relationship approach built on availability. Just as Landmark lenders have been for Pure Barre owner Matteson, Henderson wants business owners to see his lenders as advisers willing and able to provide guidance and support.
Although offering an adviser relationship is clearly a common theme among local banks serving this market segment, Hoien at Hawthorn Bank says there's no secret formula for success against national or online competitors.
"I think our biggest competitive advantage is our ability and willingness to sit down and meet with our customers and prospective customers and listen to them," he says.  "There is no substitute to sitting across the table from a business owner and talking."
Nationally, small-business banking customers have reported an increase in satisfaction with their banks over last year, according to a recent study by J.D. Power, though generally big and midsize banks get better satisfaction ratings than regional banks do.
Smaller banks get better ratings on relationships and fee satisfaction, while their bigger counterparts rate higher in convenience and technology.
That customer preference for convenience, including online access and mobile technology, is one reason local banks have to keep up with the latest trends.
"We have found technology is playing a greater role in success of small business, and we have to continually upgrade our technology and bring new things to the market," Henderson says.
Confidence and optimism
Small-business growth is about optimism, Henderson says, and the bank's lenders have seen that grow as the economy has recovered over the past few years.
In a move designed to encourage economic growth — widely considered successful in achieving that goal — the Federal Reserve has kept interest rates low throughout 2014.
The November 2014 NFIB report showed increases in the percent of business owners who plan to increase capital spending, hiring and inventories. The highest quarterly increases were in plans to increase spending and positive expectations around improved sales.
The NFIB's overall Optimism Index gained 0.8 points to reach 96.1, which is interpreted as positive but slightly below the 40-year average of 98. Analysts say this points to overall optimism for expansion but a lack of strong confidence that the economy will continue to improve.
NFIB chief economist Bill Dunkelberg equated it to a jet that taxis to the runway but doesn't expect to take off any time soon.
"From startups to existing business owners, they're deciding interest rates have been low for a long time, and they feel more comfortable about expanding," Henderson says.
Williams is also seeing this play out at Landmark Bank.
"We are seeing many more people across the board who are ready to resume investing in their businesses," he says. "Certainly tech growth in Columbia is significant. Construction activity is exploding, which bodes well for the area."
Missouri is seeing modest but steady growth in small businesses, from 490,763 in 2009 to 507,497 in 2013, according to the Small Business Administration's 2013 Missouri Small Business Profile. The SBA defines a small business as one with 500 employees or fewer, though two-thirds of Missouri small businesses have fewer than 100, and half those have fewer than 20.
This growth is especially notable considering Missouri's economy has grown more slowly than the U.S. average over the past few years.
Small businesses represent about 97 percent of all employers in the state, according to the SBA. The 507,497 small businesses in 2013 employed 1,098,076 workers, about half of the state's workforce.
Annual income from sole proprietorships in Missouri — the most common type of small business — reached nearly $20 billion in 2013.
The University of Missouri's Small Business and Technology Development Center helped 23 local businesses get their start last year, says Director Virginia Wilson, including service, retail, restaurant and tech companies. The center helps entrepreneurs research and locate financing, among other services.
To those 23 and others just getting started, Matteson says the best advice is to reach out to other small businesses for recommendations and referrals and ask banks a lot of questions.
"In Columbia, there are many great options," she says. "Upon meeting with a few lenders, you will be able to tell which bank is the right fit for you."