January: Movers & Shakers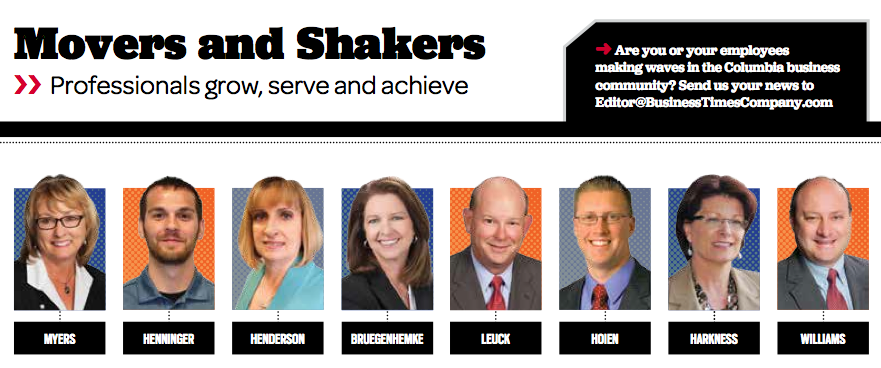 David Townsend
Townsend, president and CEO of Agents National Title Insurance Co., was appointed to a three-year term on the American Land Title Association's Title Insurance Underwriters Section Executive Committee. He also joined Commerce Bank's local advisory board of directors.
MidwayUSA
MidwayUSA promoted Shawn Henninger to merchandising team application development manager and Neal Lines to marketing team application development manager. Henninger has worked at MidwayUSA for six years, and Lines began at the company as an intern in 2008.
Boone County National Bank
Boone County National Bank appointed Lorry Myers as bank manager of the Centralia Bank. Seven employee promotions were also made in October. Blake Aversman was promoted to marketing specialist, Rachel Todd of the Village Bank and Susan Roe of the Rock Bridge Bank were promoted to teller II, Austin Wiedener of the Columbia Mall Bank and Josh Cosey of the Lake of the Woods Bank were promoted to customer service representatives, Timothy Hyatt was promoted to customer service representative II and Jeanette Lahmann to a senior customer service representative.
Suzan Harkness
Stephens College named Harkness to the position of vice president of academic affairs. Harkness is an experienced higher education leader with an extensive and diverse background in academic leadership, most recently serving as special assistant to the president at the University of the District of Columbia.
EveryEventGives
EveryEventGives hired Sage Izadi-Moghadam as director of event services. Izadi-Moghadam will be the national lead for generating new business and servicing clients. EveryEventGives provides a way for event organizers to collect payment for event registration fees and market their events. For every ticket sold through their service, they donate 50 cents to the recognized nonprofit of the event organizer's choice.
Hawthorn Bank
Kathleen Bruegenhemke has been appointed to the market president for branch operations in the Columbia area at Hawthorn Bank. Todd Hoien, commercial loan officer with Hawthorn Bank in Columbia, has been promoted to senior vice-president. Laura Kogut, real estate loan officer with Hawthorn Bank in Columbia, has been promoted to assistant vice president.
Socket
Socket, a Missouri-based telephone and Internet service provider, added Shane Winter and Jacob Zagorac to its business sales team. Winter and Zagorac will work with businesses across Missouri to provide high-speed Internet, local telephone and other telecommunications services. Winter has more than 13 years of experience in the sales and financial arenas. Zagorac brings 14 years of experience in sales and customer service to Socket.
Lutheran Family & Children's Services
Heather Wall accepted the mid-Missouri regional director position at Lutheran Family and Children's Services. She has experience in mental health, child welfare and management. In the position, she will help oversee and expand services to children and families in the community.
Bank of Missouri
The Bank of Missouri hired Richard "Chuck" Leuck as executive vice president. He will work closely with CEO David Crader and President John M. Thompson at the operations center in Perryville. Leuck has 30 years of experience in the banking and financial services industry.
Deborah J. Henderson
Henderson was appointed chief financial officer of the Harry S. Truman Memorial Veterans' Hospital. She has served as Truman VA's assistant financial officer since March 2013 and was the acting CFO from October 2013 until her appointment.
Matt Williams
Williams was named president of the Columbia Landmark Bank. He comes to his new position after seven years as the first president of Hawthorn Bank's Columbia location. In his new role with Landmark Bank, Williams will serve as Columbia president and will also manage the local commercial loan department.
Katie Essing
Essing was named the new executive director for the Downtown Community Improvement District of Columbia, Missouri (CID). She began in this role on Nov. 3. Essing has more than 18 years of experience in retail and commercial real estate. Previously, she was vice president of marketing and communications for the Missouri REALTORS.
University of Missouri Health Care
Three University of Missouri Health Care nurses were recently named March of Dimes 2014 Nurses of the Year. Lori Lampe, R.N., a pediatric nurse and lactation consultant at MU Women's and Children's Hospital, won the 2014 Pediatric Nurse of the Year award. Susan Scott, R.N., manager of patient safety and risk management, won the 2014 Infection Control and Quality Risk Management Nurse of the Year award. Jean Sword, R.N., a staff nurse in the operating room at MU Women's and Children's Hospital, won the 2014 Surgical Services Nurse of the Year award.