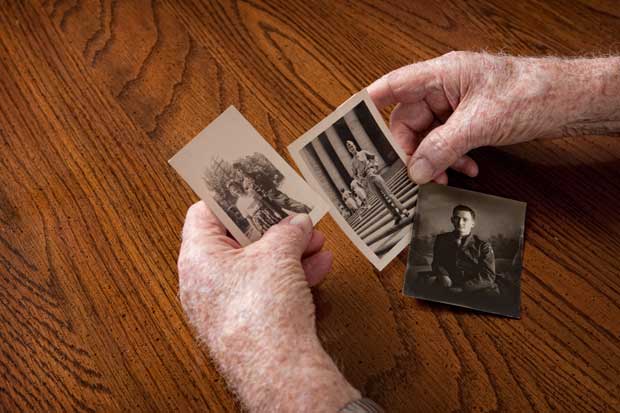 A lifetime of trust and courage created an undeniable bond and a heartwarming story
Bill Graves was a newly enlisted marine scheduled to be shipped off to war when he asked Helen Fenton to wait for him. Her answer, which brought a smile to his face back then, launched a love story that spans seven decades and continues to be an inspiration to those who know and love the couple today.
Columbia natives Bill and Helen met while attending Hickman High School. Bill remembers she was pretty cute, and Helen recalls it was his carrot red hair that caught her eye. But it wasn't until after they graduated in 1943 that they started dating, and even then they only went out a few times. With WWII raging overseas, Bill was called up and enlisted with the Marines in April 1944. "I had a brother in the Army, my sister was an Army nurse, and my brother-in-law was in the Army, so I didn't want to go into the Army," he says. The couple didn't see each other again until Bill finished boot camp that summer. It was then that he asked Helen to wait for him.
"He courted me through letters." — Helen Graves
For the next two years, they corresponded by mail and got to know each other better. "He courted me through letters," Helen says. But according to Bill, communication during that time was often hit and miss.
"You couldn't tell where you were, and they censored your mail," he says.
In addition, with his outfit always on the move, there was no guarantee the mail would even reach them. "If they knew what outfit you were in, they could figure out sometimes where you were," he says.
Discharged in August 1946, Bill, who had been promoted to corporal, returned to the States and quickly reenlisted with the Marines. "I saw an article in the paper that said you could keep your rank if you re-enlisted for four years," he says. He also wasted no time in asking Helen to marry him.
"He wouldn't leave me alone," she says, adding that though she was interested, it took some begging on his part before she said yes.
The couple tied the knot on Sept. 22, 1946, at the First Baptist Church. "We were married by the same minister that married Helen's folks," Bill says.
Bill and Helen originally moved into a third-floor apartment on the corner of Hitt and Pacquin streets. Without a car, they walked to the University of Missouri campus, where Bill attended classes and Helen worked as a secretary at the University Bookstore. So when Bill's sister and brother-in-law offered to rent them a trailer close to campus for only $8 a month, they jumped at the chance. However, Helen wasn't too crazy about the fact that it didn't have a bathroom, and they had to use a shower house. "That wasn't any fun," she says.
In 1948, Bill passed the civil service exam and landed a job with the post office. He started off with a walking route, delivering the mail twice a day. "If you mailed a letter in Jefferson City in the morning, we would deliver it in the afternoon," he says.
About a year later, the Graves purchased their first home from Helen's dad on some property he owned just off Creasy Springs Road. The couple soon acquired a milk cow and some chickens. But country living also meant hauling water from a cistern and going without a phone. "If we paid $300, we could have gotten a phone," Bill says, referring to how expensive it was in those days just to install a phone line.
In September 1950, Helen gave birth to their son Phil just three months before Bill was called to serve in the Korean War as part of an artillery unit. "We moved every day," he says. "I didn't know where I was; I was just in Korea." Before being discharged in January 1952, Bill was promoted to sergeant. In the fall of that same year, the couple welcomed their second child, Carla; two years later they had John, and in 1956 they welcomed another daughter, Glenda.
As the family grew, they moved several times. All the while, Bill continued to work for the post office. "I walked, and then I had a parcel post truck, then I rode a three-wheel scooter," he says. When he wasn't working at the post office, he typically took on side jobs to support his family, such as throwing newspapers and working at a radiator shop.
When the post office offered him the job of purchasing agent in Springfield, Missouri, Bill refused and instead accepted another rural route so his family could stay in Columbia. Helen says they knew they made the right decision when that department was eventually relocated to Chicago. "I wouldn't be happy in a big city," she says. After his truck was rear-ended, requiring Bill to have back surgery, he retired from the post office in 1980 after 32 years.
Like so many others who have served their country, Bill rarely talks about his military experiences, though he says he would do it again. Helen knows she will never fully understand what her husband went through. "I guess because he didn't talk about it, I didn't realize how different it was," she says.
For John, his dad's reticence is something he has grown to understand over the years. "We didn't know why our father was so quiet about his time in the military when we were growing up," he says. "Now that I'm older, I think it was a reflection of what those men went through."
Glenda agrees. "I wonder how many of the men our dad's age went through the problems that are facing the young men who come home today, but nobody said anything about it at the time."
In 2012, Bill went on an Honor Flight, a special program that transports America's veterans to Washington, D.C., so they can visit memorials dedicated to their honor. Helen says her husband was reluctant to go for many years. "He's very proud of his service," she says. "But he's uncomfortable being honored."
But according to Phil, the trip turned out to be a wonderful experience for his dad. "He mentioned that he wished he had done it earlier because it was enjoyable, and he was glad he went." As a result of the trip, Bill also reconnected with a fellow veteran.
"I recognized a name on the Honor Flight list of a man I went to boot camp with from Mexico, Missouri," Bill says. "I found out he was at the VA hospital. So I took a picture from boot camp over and showed it to him and said, 'This is you, right?' That was the first time I've seen him since 1944."
Today, the American flag flies proudly in front of Bill and Helen's house, a quiet testament to the country they love and in many ways a symbol of a their lasting commitment to each other. The Graves will celebrate their 68th wedding anniversary in September. Three of their children live in Columbia. Glenda works at Downtown Appliance, where her brother John is part-owner of the business along with his brother-in-law, Don Helmreich. Don was married to Carla, who died unexpectedly in 2010. Phil works for CenturyTel. The Graves also have seven grandchildren. Bill and Helen stay active with memberships at the ARC; they work out several days a week. "They do more than I do," Phil says. "They're busier than I am."
"Because they have always loved each other and stayed together, they taught us to stick with a relationship." — Phil Graves
The Graves' children are proud of their father's military service, but perhaps most of all, they appreciate the values their parents taught them over the years and continue to teach them today. "Because of the love and security they gave to us as children, when I became a young adult and married and had kids, I drew on those memories and feelings, which gave me strength to face the challenges that most young adults go through," Glenda says.
For John, his parents taught them the importance of respecting others. "Treat others the way you would want to be treated, and overall, do the right thing," he says.
All the Graves kids agree their parents showed them the value of hard work, the importance of faith and the rewards of staying together for the long haul. "Because they have always loved each other and stayed together, they taught us to stick with a relationship," Phil says.