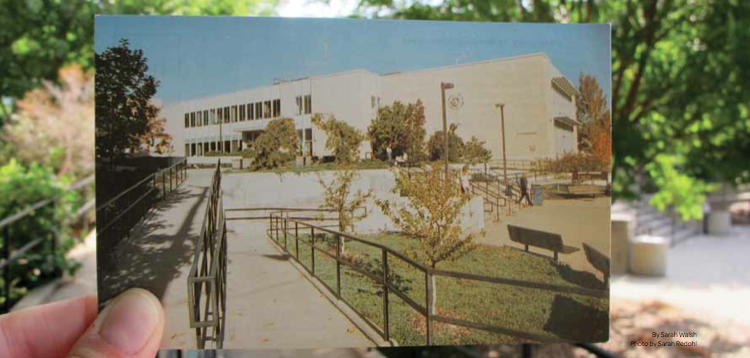 When Brady Commons first opened its doors in 1963, the Missouri Alumnus newsletter reported that it "won quick approval of University students." the brand-new building boasted innovations including color televisions, downstairs bowling alleys and a listening room in which students could play records. According to the same newsletter, it quickly became the site of most University of Missouri social activities, from guest lectures to swing dancing lessons.
The Memorial Student Union, which served this purpose prior to Brady's construction, was built in 1921 when MU's student body totaled only a few thousand. By the late 1950s, the university's rapidly growing student body — a then-staggering total of around 15,000 enrolled students — necessitated the construction of this additional recreation area. The university conferred with architectural firm Jamieson, Spearl, Hammond and Grolock and soon had blueprints for the future Brady Commons.
The new building broke ground in 1961 and was completed in 1963, when it was christened after former MU dean and professor of history Thomas Allan Brady. It underwent additional renovations in 1981 and added a bookstore expansion in 1997, according to MU archives.
MU students voted in 2005 to fund a $63 million expansion/renovation project through a $35-per-semester increase in student activity costs. Brady's current incarnation began construction in 2008 and opened its doors in August 2010. The modern complex includes a basement with study areas and offices, a central atrium with six different dining locations and a top level that hosts student organizations such as Greek Life and the Missouri Students Association. The atrium is adjacent to the former University Bookstore, which was renamed The Mizzou Store in fall 2013.
The modern building no longer bears Thomas A. Brady's name; instead, it is known as the MU Student Center. Although the university has never provided an official explanation for this change, which accompanied the most recent renovation project, the old name attracted controversy in 2006 when a student group called Not My Brady called for it to be removed. According to this group, the building's original namesake had been instrumental in enforcing segregationist and anti-gay policies over the course of his 37-year career at the university.
Today, MU enrolls more than twice the number of students it did when the building was first constructed, but a spokesperson for the Department of Student Life says there are currently no plans for additional expansion.