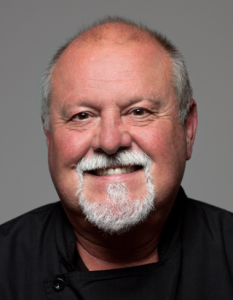 Name: Jay Curry
Title and company/organization: Owner/partner, Spicewine Ironworks; owner/partner Columbia Welding & Machine
Age: 57
Job description: We build custom barbecue meat smokers and have a line of 11 barbecue-related sauces and spices. All are distributed worldwide. We also sell welding and industrial supplies and hardware.
Years lived in Columbia/mid-Missouri: 54. I did a three-year stint in New Orleans as a restaurant manager.
Original hometown: Columbia
Education: I graduated from Rock Bridge High School in 1975 and was inducted into the Alumni Hall of Fame in 2011. I graduated with a B.A. in business administration from Columbia College in 1982. I graduated from the Culinary Institute of Smoke Cooking with a Master of Barbecue degree in 2009.
Community involvement: I am a member and past president of the Beta Beta Que Society. We promote the art of barbecue in the central Missouri area, raise money for charities and have a disaster relief response team. We have worked with the Boys & Girls Club of Central Missouri, the Central Missouri Food Bank and the Central Missouri Humane Society. I am also a member of the Elks Club and the Operation BBQ Relief Team, a nationwide group of barbecue teams that travel to disaster areas and feed the displaced and first responders hot meals.
Professional background: I have been in the restaurant business for 13 years and in the welding supply and industrial sales field for 26 years. I have been in the barbecue smoker-building business for 10 years.
A favorite recent project: I recently signed with an export company and have been working to get my barbecue products established overseas. We have shipped barbecue smokers to Australia, Japan and England.
A Columbia businessperson I admire and why: Ralph Gates. Ralph believed in us when we were trying to buy our first business and was instrumental in making it possible. Also my father, who raised me to be honest and hard working. He also was a major factor in Columbia Welding's ability to remain in business for more than 90 years.
Why I'm passionate about my job: Each barbecue smoker has its own identity. They are each handcrafted to the customers' specifications. We take great pride in the craftsmanship and their ability to last for many years. I love to hear when my customers win barbecue contests with them or when someone has used one of our sauces or spices and delighted their barbecue crowd.
If I weren't doing this for a living, I would: I would probably be a chef or own a restaurant.
What people should know about this profession: It is fast paced and ever changing. You really have to keep your ear to the ground and adapt to changing markets. Working with purveyors and distributors and competing in barbecue contests is a full-time job, let alone building barbecue smokers.
What I do for fun: I love to cook! My kitchen is where I go to relax. I had it built especially for me and spend all day on Sunday cooking for my family. I do some catering and cook on the professional barbecue circuit.
Family: My wife, Susan, is a registered nurse in the neonatal unit at University Hospital. I have three children, Andrew, Jessica and Michele, and two grandsons, Dylan and Ethan. My oldest daughter and fourth child passed away a number of years ago.
Favorite place in Columbia: Stephens Park. I go walking there just about every day. It is a beautiful place that is just getting better.
Accomplishment I'm most proud of: We've won three barbecue world championships. Our Blue Collar BBQ Sauce won Best in the World honors in 2009 at the American Royal World Championships, our Heffer Dust BBQ Rub won Best in the World honors in 2007 at the American Royal, and we won Best in the World in the pork category at the American Royal in 2012, first place out of 545 teams from around the world.
Most people don't know that I: Attended college on a vocal music scholarship, played bass guitar in a local rock band, and all of the barbecue sauce and rub recipes are mine.