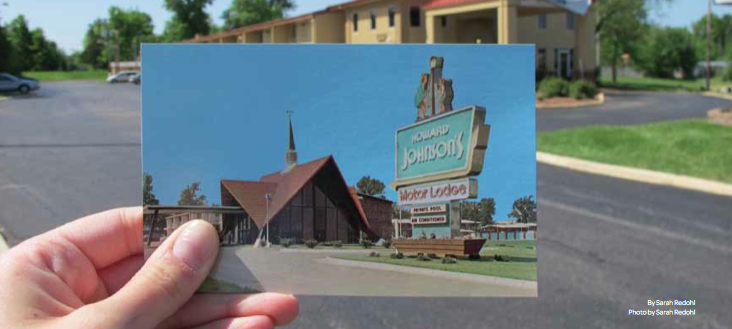 Cultural historians have claimed that Howard Johnson became synonymous with travel in America during the 1950s. With its iconic orange roof, prominent weather vane and ubiquitous outdoor signage, Columbia's Howard Johnson Motor Lodge, located at 900 I-70 Drive SW, was a perfect model of the international brand.
What began in 1925 as a restaurant chain peaked in the 1970s with more than 1,000 restaurants and 500 motor lodges. In the 1960s and 1970s, it was the largest restaurant chain in the United States.
Howard Johnson's presence in Columbia began in 1955 when couples Richard and Sarah Klingbeil and Fred and Dorothea Klingbeil opened and operated a franchise of the restaurant with room for 88 patrons and several more at the dairy bar at 908 Business Loop 70 West. In 1962, the Charles, Leslie and Earl Proctor added a Howard Johnson Motor Lodge of 59 guestrooms at 900 I-70 Drive SW, described in the 1966 Mobile Travel Guide as having "gay modern décor."
The motel cost $300,000 to build and replaced the Texaco Town Trailer Court. Philip Wennerstrom Co., of Cleveland, Ohio, designed the motel, and it was built by B. D. Simon Construction Co., a well-known local firm. The motel also shared a swimming pool with another motel the Proctors owned next door, the Travelier. The Proctors also had Travelier Motels in Macon and Fulton, and they were well known among lodging proprietors in the region.
This '60s-era postcard depicts Columbia's Howard Johnson Motor Lodge and boasts its proximity to Columbia College, the University of Missouri and Stephens College, as well as an indoor pool, sauna and whirlpool.
In the late '60s, the company moved away from franchising its restaurants, though it continued to franchise its motor lodges. When the Klingbeils' franchise agreement expired in 1968, the company began to operate the unit, according to HighwayHost.org.
Under the company's operation, the lodge was expanded to 93 rooms, reported by AAA's 1968 TourBook as "attractively appointed…many with color TV." The property was later expanded to 149 rooms and remained a Howard Johnson's until 1991, despite the national chain having changed ownership five times between 1979 and 1990.
Current owner Wyndham Worldwide, then known as Cendant, purchased the Howard Johnson chain from Prime Motors Inns in 1990. Wyndham added existing motels under the Howard Johnson name, and the distinct and iconic Howard Johnson décor disappeared. The original Columbia Howard Johnson's lobby was demolished and replaced. It is now a Days Inn, run by George and Leela Jashnani. Days Inn is also a subsidiary of Wyndham Worldwide.
Although there are currently more than 500 Howard Johnson hotels in more than 14 countries, there are only two operational Howard Johnson restaurants — one in New York and the other in Maine. Howard Johnson maintains a presence in Columbia with its hotel at 3100 I-70 Drive SW.