Eight Street and Broadway
Driving down Broadway at night, it is hard to miss the illuminated sculpture outside City Hall. The sculpture, titled Keys to the City, was commissioned to act as a portal to city government and a reminder of the city's rich history. Since its completion in 2010, it has become somewhat of a landmark.
However, had you been driving down Broadway in 1985 and looking at that very same corner, you wouldn't have seen the sculpture or City Hall. Instead, you would have seen the Columbia offices of Farm and Home Savings and Loan Association, or Farm and Home Savings, as it came to be called.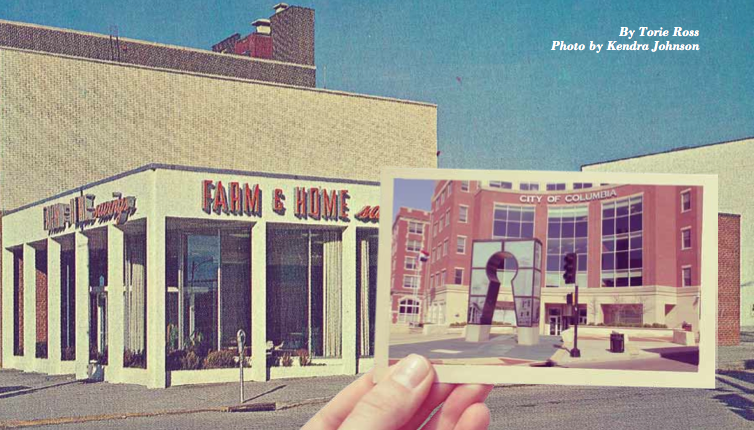 Incorporated in 1893 in Nevada, Mo., Farm and Home sat on the northwest corner of Eighth Street and Broadway for more than 30 years.
The business jumped around from location to location after first opening offices in Columbia, including locations throughout downtown on Ninth Street and Walnut. However, in 1961 Farm and Home moved into its Broadway offices designed and constructed by Bank Building and Equipment Corp.
At the time, Vice President Jack Brown ran the Columbia office of Farm and Home, which had offices across Missouri and Texas. He remained at the helm of the office until 1986.
In the 1980s, many savings and loan companies, or "thrifts" as they were often called, fell on hard times. A banking crisis that lasted almost a decade erupted, and by 1989 more than half of the savings and loans in the nation had failed or been shut down.
Although Farm and Home's business survived in to the early 1990s, the City of Columbia purchased the space in 1994. The office housed a portion of the city's Finance Department until the building was demolished. The land became the reconstructed City Hall, and the corner where Farm and Home had stood for almost half a century became a tribute to the city's culture and history.