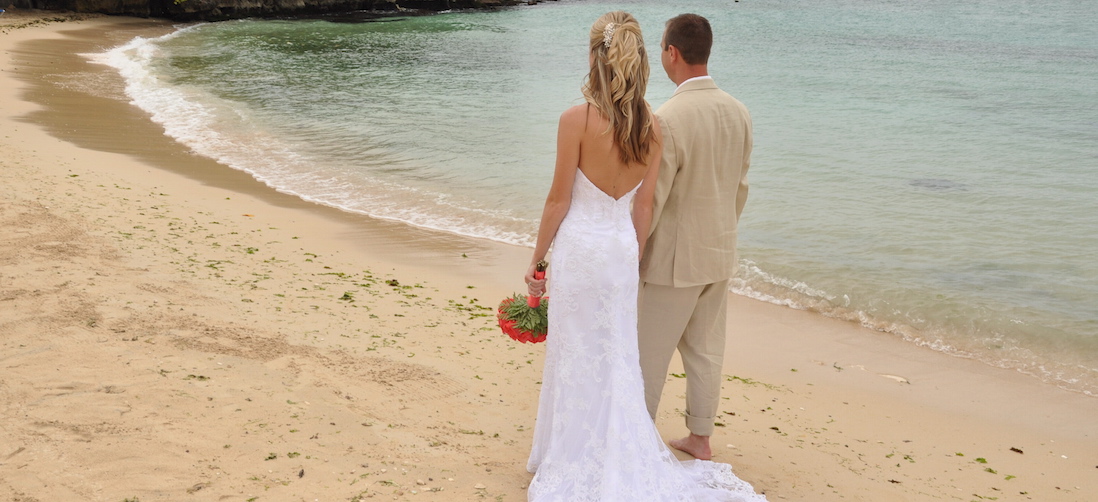 Tying the knot across borders or in Sin City can be the adventure of a lifetime.
For some, a wedding day is planned down to the minute, including every detail. Destination: Doesn't that word just fill you with a sense of adventure and a side of relaxation? The couples that choose destination weddings are in for both.
Vegas, Baby!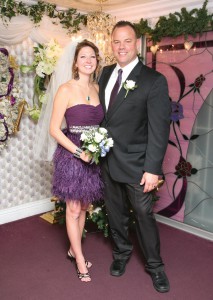 Many couples that are headed down the aisle spend the months before planning each moment of their big day together. Bryan Ninicheck had another idea in mind. He decided that a trip to Vegas to celebrate two close friends renewing their vows was also going to double as a destination wedding for him and his fiancée, Valerie Houdyshell. Adding to the excitement of the big day was the fact that Bryan surprised his wife-to-be with everything she hoped for, including the wedding day.
Pulling off the surprise
When they previously talked about their wedding, Valerie says the most important thing to her was that her father be there to walk her down the aisle. Other than that, the details weren't very important.
So, invite Valerie's father to Vegas, and get on with the show, right? Wrong.
Not only did Valerie's father live out of Missouri, but he also hadn't boarded a plane since World War II. However, with some major convincing on Bryan's part, he checked that challenge off his list. All that was left were phone calls to all of Valerie's close girlfriends, and the surprise wedding was well on its way.
How do you know the true meaning of best friends? It's when they can go and pick out the perfect wedding dress for you in your size and signature color.
As the group stood witness to their friends' vow renewal, Valerie was the only one who didn't know she would be attending her own wedding in the same chapel in the next 24 hours.
Going to the chapel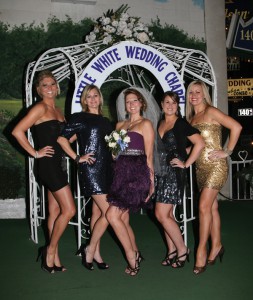 The day started like any other vacation day; the couple enjoyed time away from the kids and had plans to hit the Vegas strip that evening. Everyone was told to meet in the lobby before heading to dinner. This is where the confusion began for Valerie. All of her friends were just walking around, and no one seemed particularly interested in heading to the restaurant. At that moment, her brother walked into the lobby. "Wow," she thought. "What a strange coincidence. He's in Vegas, too?"
The initial shock of seeing her brother was beginning to wear off when her father came strolling around the corner. "Something is up," she thought. "This is no coincidence."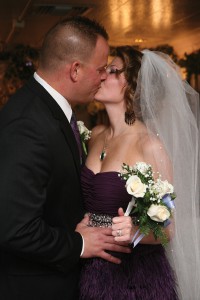 Finally, all the pieces started falling into place, and to Valerie's surprise, she was about to be married. All the arrangements had been made: the dress, hair and makeup, and even the limo was waiting at the curb to take them to the chapel. Talk about a low-stress wedding!
In the presence of a few close friends and family, complete with Valerie's father, the couple said a committed, "I do."
Once they returned to Columbia, Valerie and Bryan chose to celebrate with their extended family and friends with a reception at Columbia Country Club. Good luck to you, Bryan. Topping that surprise will take some creativity!
Jamaica, no problem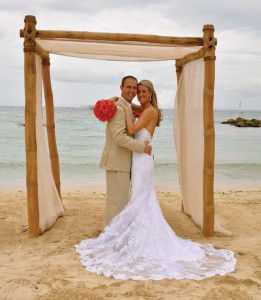 After Travis Figg popped the big question on the way to a mini vacation with his girlfriend, Meghann, the couple started to think about what kind of wedding they wanted. For them, a small and intimate ceremony was ideal. Their wedding was the start of their life together, and they wanted to focus on that and not so much on a big party. A destination wedding seemed to be the best fit. What could be more perfect than just you and your future spouse and a stretch of beach?
The details
Travis and Meghann decided on the Sandals Resort in Ocho Rios, Jamaica. Unlike many destinations, the resort enabled them to be legally married. There was no need to come back to the States and make it legal afterward. The only legal requirement was that the couple be present in Jamaica 48 hours prior to their ceremony.
The all-inclusive resort offered customizable weddings, and the trip could double as their honeymoon. Even from a distance, the resort made the planning process a breeze. Meghann had all the details knocked out in no time.
The biggest challenge they faced was telling their families that the wedding ceremony only had two people on the guest list: Travis and Meghann. They did, however, promise a proper reception to include everyone when they returned home.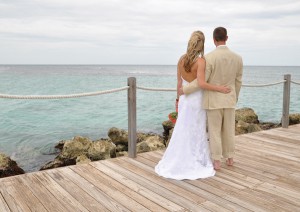 Before the couple knew it, they were at the airport waiting in line to check their bags. Both were excited; the dress was in hand, and life was great.
Well, Mother Nature decided to take part in the couple's wedding story. There was a terrible storm that caused their flight to be canceled. Remember that 48-hour rule? Panic began to set in. As they approached the lady at the ticket counter, she smiled, looked at the dress and asked, "Are you getting married?"
"Well, that was the plan," they said as they began to explain their situation. After what seemed like an eternity of keyboard tapping, a miracle happened, and they boarded the plane with tickets in hand.
A little slice of heaven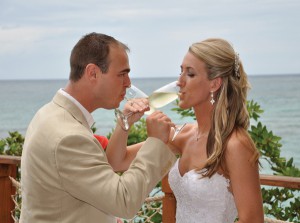 After all the fuss at the airport, their wedding day turned out perfectly. It was just the two of them and a minister on a beautiful sandy beach. Travis and Meghann started their life together exactly how they had dreamed.
And just as promised, they hosted their reception at Columbia Country Club with all their family and friends when they returned home. And the best part? Meghann got to wear her perfect wedding dress not one day but two.