Daylight moves in to greet the awaiting sportsmen — a hunter, a fisher, a rider. It's 20 degrees as the hunter watches an incoming storm and stands knee-deep in water as it freezes around him. The fisher winds back to 2 o'clock, whisks forward past his ear and then breaks at the last minute for his first cast of the day. And the rider, looking up at her new, yet-to-be-saddled friend, remembers her earliest days riding bareback.
Subtle communication is key. If the rider were to shift her weight in the wrong direction, her horse would dig its hooves into the dirt and send her soaring across the fence.
The fisher is an artist wielding a fly rod and reel in such a way that the fish, not the man, sets its own hook in the soft spot of the mouth — a perfect take. No aggression. No impatience.
The rider developed her calm manner in the Stephens College stables and carries it with her to this day. "It's about discipline and patience," she says. "Projecting that calmness develops trust that you'll make measured and thoughtful decisions."
The hunter grew up as the son of another, his earliest hunts acting as the gopher, toting decoys and gear through the marshes. He developed a heightened understanding of and respect for the power of his shotgun.
Through photographs and their own words, the sportsmen share their stories.
David Keller
President, The Bank of Missouri

"For a fly fisherman, the sport is not to harm the fish or harvest the meat; it's the art of presenting the fly to the fish in a manner that he believes it is his next meal and then seeing if the fish will take your presentation. The biggest thrill is when a fish with a set of shoulders on it — it's what we call a bigger fish — takes that lure, and the reel just spins. Zzzzeeeee. It just takes off! Then it's just a matter of how far the fish is going to run with the fly before he stops, turns or breaks you off before you can begin the fight to land him."
Teresa Maledy
President, Commerce Bank—Central Missouri Region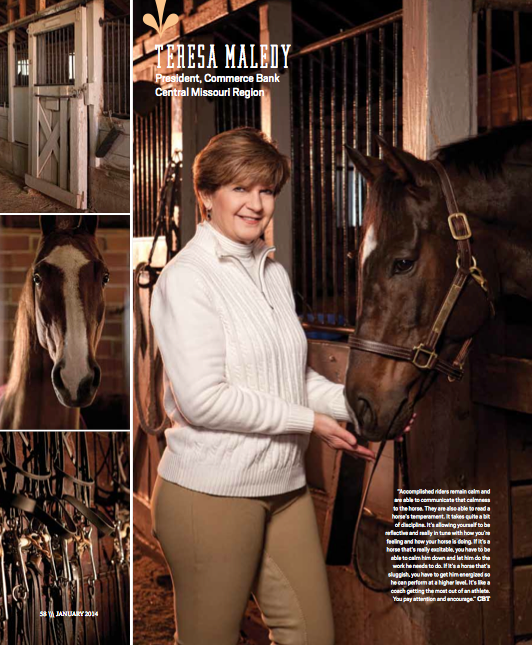 "Accomplished riders remain calm and are able to communicate that calmness to the horse. They are also able to read a horse's temperament. It takes quite a bit of discipline. It's allowing yourself to be reflective and really in tune with how you're feeling and how your horse is doing. If it's a horse that's really excitable, you have to be able to calm him down and let him do the work he needs to do. If it's a horse that's sluggish, you have to get him energized so he can perform at a higher level. It's like a coach getting the most out of an athlete. You pay attention and encourage."
Hal James
President, Missouri Credit Union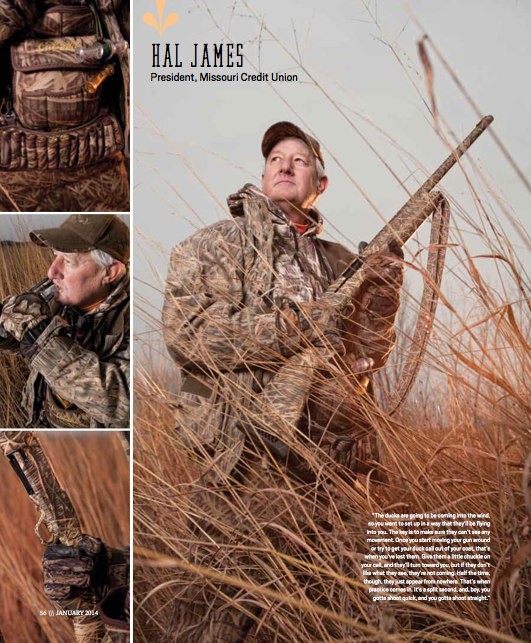 "The ducks are going to be coming into the wind, so you want to set up in a way that they'll be flying into you. The key is to make sure they can't see any movement. Once you start moving your gun around or try to get your duck call out of your coat, that's when you've lost them. Give them a little chuckle on your call, and they'll turn toward you, but if they don't like what they see, they're not coming. Half the time, though, they just appear from nowhere. That's when practice comes in. It's a split second, and, boy, you gotta shoot quick, and you gotta shoot straight."