Karis Crosby and Brandon Briscoe
When Karis Crosby decided to attend Ouachita Baptist University in Arkadelphia, Ark., she never imagined she would meet her now husband at the airport. Karis recognized Brandon Briscoe after a new student retreat before school started, and she introduced herself.
Once school started, Karis and Brandon realized they had two classes together. It was a schoolgirl crush, as Karis would find reasons to linger by the door after class to talk to Brandon. After attending a boring school dance together, Karis and Brandon went to a lake with some friends. "On a whim we decided to jump in our formal clothes and dance to Taylor Swift in the lake," Karis says. "This was the moment that I really started liking Brandon."
It was this fun, sincere and kind nature that brought the couple together. Brandon and Karis dated through college. This past January, they took a family trip to Disney World to run a half marathon. During the fireworks show at Magic Kingdom, Brandon proposed. "It was a numb, I-can't-believe-this-is-happening feeling," Karis says.
It was a family affair, too, as Brandon's family appeared after hiding all day. "It was perfect, the music, the fireworks, the proposal, everything," Karis says.
Only a few short months later, on Sept. 2, 2013, Karis and Brandon were married. After a short and sweet wedding at The Crossing church, the reception was held at the Columbia Country Club. Karis wore a dress from Victoria's Bridal, with hair by Genesis Salon. "I wanted people to be happier when they left than they were when they came," she says. "We wanted people to enjoy themselves."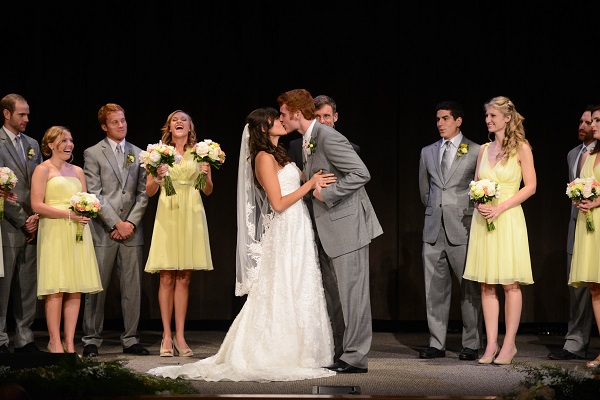 The Briscoe's wanted to enjoy everything as well and be thankful for their family and friends. "For the first time and the only time in our life, everybody we loved was in the same place," the new Mrs. Briscoe says. "We had to remember that going in so we didn't waste that time."
And they did not waste any time. The reception was held under a tent with twinkle lights and light colors. It was not focused on the couple but more the atmosphere. Instead of the traditional setup with tables, Karis wanted it to be free moving so everyone could interact and talk to one another. There were places to dance and other places where people could sit and talk quietly with a friend. "[The wedding] was just genuinely, completely, and wonderfully happy," Karis says.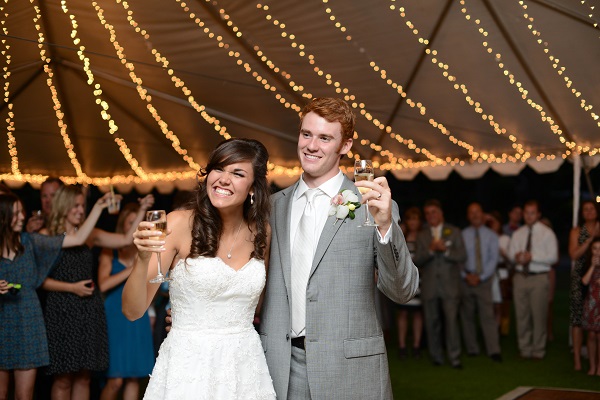 The wedding was not the peak of the relationship, according to Karis. Since that day, Karis and Brandon's connection has grown even stronger. The couple works well because they are really good friends, Karis says, and they enjoy being around each other and have the same sense of humor.
"We laugh a lot," she adds. "He makes me laugh. Even the mundane stuff is more fun because you are doing it with someone you really like."