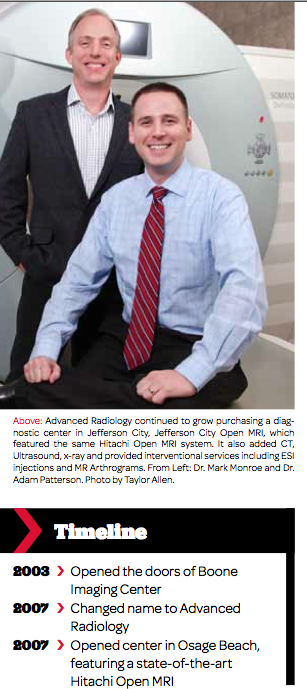 Advanced Radiology celebrates 11 years in Columbia along with its newest hire
Near the turn of the 20th century, a German physicist named Wilhelm Rontgen was toying with a light bulb and accidentally generated an unidentified invisible light. Excitedly, he used his mysterious discovery to snap a photo of his wife's hand. To his amazement, the parchment clearly developed into a picture of his wife's bones and the rings she had been wearing on her fingers. Terming this new light "X-radiation," or X-rays, Rontgen quickly publicized his findings, which shocked the masses and earned him the 1901 Nobel Peace Prize.
Yet, it wasn't until decades later — particularly post-World War 2 — that radiology became popular in the United States. "Radiology is the practice of medicine involving images to make diagnoses," says Dr. Mark Monroe, a radiologist at Advanced Radiology. "Historically it was X-rays, but now it's all CAT scans, MRIs, ultrasounds, live X-rays called fluoroscopy and the interventions based on those images and analyses."
Changes in the field
Much has been accomplished in the field since the origins of radiology in 1895. Now, Monroe sits at a multi-paneled computer as detailed images of someone's lungs appear before him. Quickly, he clicks different sections on the screen and whispers into a microphone to make verbal notes.
"Just over the past 20 years alone, there's been massive developments in CAT scan technology, MRI technology, ultrasound technology, and so it's a constantly advancing field that you have to constantly keep up on," says Dr. Adam Patterson, the newest radiologist on staff at Advanced Radiology.
Founded nearly 11 years ago, Advanced Radiology is an outpatient care center for people needing insight on what's going on inside their bodies. Welcoming to all patients and physicians, it's the only freestanding imaging center in Columbia. Its comfort and convenience make it the perfect place for patients seeking X-rays, MRIs or CAT scans.
Appointments run on schedule and can be arranged for Saturday mornings or as late as 8 on weeknights. The absence of hospital parking garages and labyrinth halls are merely additional perks of visiting Advanced Radiology. Plus, the cozy foyer, complete with cushioned couches, flat-screen televisions, a fireplace and free coffee, feels more like a home than a hospital.
Following doctor's orders
Before Patterson, who joined Advanced Radiology in July 2012, even enrolled in medical school, he dreamed of becoming an orthopedic surgeon. Yet, the misfortune of a knee injury shattered his plans, and the doctor who repaired his wounds suggested he explore radiology. During his years studying medicine, he took his doctor's advice. "I guess that was always in the back of my head, and when I went through med school, I liked radiology," Patterson says. "I've always been attracted to it."
After training in the field for 14 years, he was immediately employed by Advanced Radiology. "I trained at the university," Patterson says, recalling his years at the University of Missouri. "So I felt that I was prepared to come in and work hard and work fast."
Now Patterson pursues his dream job every day and enjoys the variety of tasks associated with his work. "That's one neat thing about radiology; you've got such a wide scope of practice," he says. "You're not just doing the same surgery all day every day. You're doing an ultrasound on a little kid, and then you're doing a procedure on a 90-year-old woman, and then you're reading a CAT scan on a patient with appendicitis. It's neat."