Children break down barriers and find new paths at one Columbia safe haven
NEARLY 10 YEARS AGO, a young woman found herself blazing down a pathway to be the third generation of drug-addicted single mothers in her family. Yet, with incredible strength and an immense determination for a better future, she changed direction and paved another trail for herself.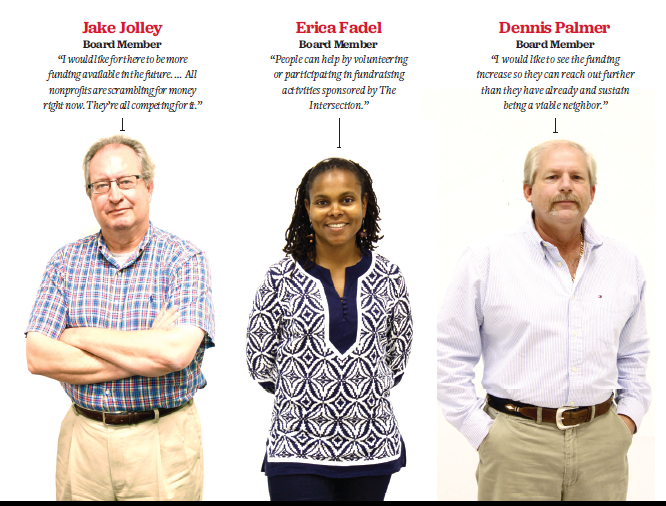 While trudging through the unfamiliar terrain, her life soon crossed paths with Dana Battison. "She taught me so much," Battison says. "She taught me that life is really different from where I'm standing, and it's hard to make it without any kind of a bridge." So Battison built a bridge. She hammered out the details, sought blueprints for a successful community program and eventually constructed The Intersection, a meeting place for the entire community. "Part of that intersection is our kids meeting white and black, rich and poor, churched and unchurched, the business community, the education community, all the places that would come together."
Now students from kindergarten through age 17 willingly flock to this meeting place. The nonprofit establishment, located at 7 E. Sexton, aims to be a space where kids can come together, learn and become responsible, contributing members of society. And in the past decade, it has become a safe haven where children can do exactly that.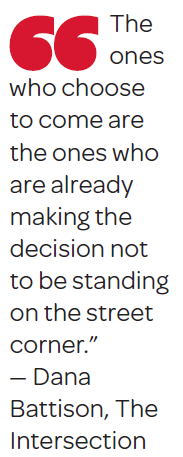 Building up leaders
A large part of The Intersection's mission centers on research by the Search Institute. In the 1950s, researchers examined 5,000 people over the course of their lives and identified which assets seemed to be correlated with successful living. They found 30 common themes among the people who did well in life and acclaimed those as essential assets for success. A few decades later, the same researchers identified 10 additional assets for a total of 40. Half of the assets are internal such as responsibility, honesty, integrity and sense of purpose. The rest include external factors such as adult role models, safety and positive peer influence.
Battison found that if a child possesses 31 or more of these assets, it reduces his or her chance of poverty and destructive behavior to 3 percent. Most kids who come through the doors of The Intersection, however, have only acquired 14 to 17. Battison lauds their strength and resilience. "The ones who choose to come are the ones who are already making the decision not to be standing on the street corner," she says. "They're already choosing something different, so the very fact that they're stepping forward is saying, 'I'm a leader for the next generation.' And we're going to treat them with that much respect."
Their stamp on society
Each weeknight from 3 to 7, kids come together to engage in educational and recreational activities. Staff members and volunteers provide tutoring services during the evening's study hours. In addition to completing homework assignments, each student must take two educational classes and two recreational courses each week at The Intersection. The subjects mostly depend on who is available and willing to give lessons, but the invitation to teach is extended to all community members who have a passion for a particular subject or hobby. Additionally, staff members offer social decision programs accredited by the Substance Abuse and Mental Health Services Administration, which help the children learn how to properly identify and resolve problems. Then, before dinner, they have what Battison calls a "family meeting," at which they discuss a particular asset, how it applies to the world and how they can incorporate it into their lives.
Battison says she hopes to provide greater interaction between her students and the business community. "I'd love for people to come and talk about their business, about what they do and what the future looks like for their business, so that the kids might have a better idea of what they'd like to do," she says. She also dreams about connecting with businesses and finding internship opportunities for the older kids so they can begin putting their stamp on society.
"I think The Intersection is a gift to the community," Battison says.