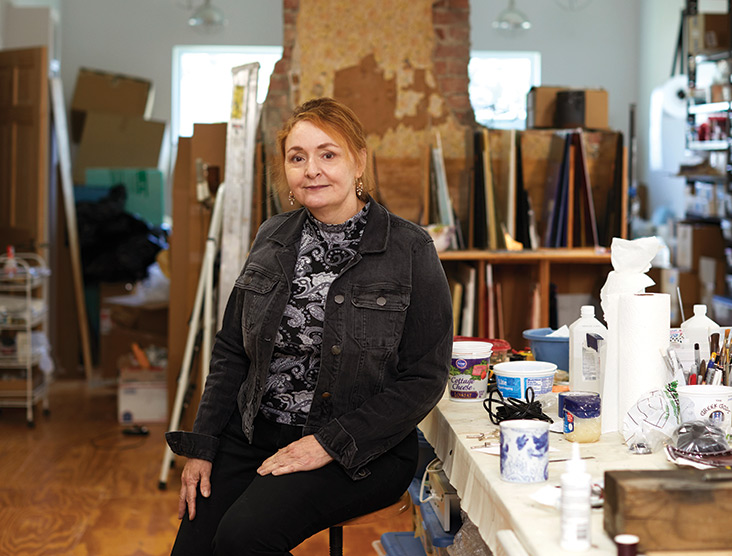 Eight Columbia employers received the State of Missouri's Flag of Freedom award last month for their willingness to hire veterans.
In celebration of its Missouri Show-Me Heroes Program, the Missouri Division of Workforce Development and Missouri National Guard recently honored Midway Electric Inc., Harry S. Truman Memorial Veterans' Hospital, Veterans United Home Loans, MBS Textbook Exchange, First Student, Reality House Programs, University of Missouri Health Care and Kelly Services because the companies fulfilled their pledges to hire veterans.
"The Flag of Freedom award says a lot for our economic base as a community," says Bryan Barnes, supervisor of the Missouri Career Center in Columbia. "It shows that we have a good, varied economic base if you look at the companies who got those awards."
Gov. Jay Nixon launched the Show-Me Heroes program in January 2010 to help Missouri's veterans and members of the National Guard and Reserve re-enter civilian life with meaningful careers. To date, the program has attracted nearly 1,800 organizations that have signed a pledge to hire veterans, and more than 1,300 veterans have gained employment in response to the pledges, according to the Division of Workforce Development.
Fifty-three Columbia employers have taken the Show-Me Heroes pledge and have hired 135 veterans, says John Fougere, communications director for the Missouri Department of Economic Development. According to a story told by Governor Jay Nixon in a speech, the inspiration for the Missouri program came from a conversation the governor had with a member of the Missouri National Guard during a visit to Iraq, before the soldier went out on a night patrol, Fougere says.
"The governor asked the soldier what scared him, thinking he would say something about combat," Fougere says. "But the veteran surprised him by saying, 'What scares me is getting back to Missouri and not being able to find a good job.'"
It's not just a one-state problem. Missouri's program mirrors a national effort to lower the unemployment rate for veterans, especially those returning from the wars in Afghanistan and Iraq, which had reached an alarming 15.2 percent in 2011 and which is now 9.1 percent, according to the U.S. Bureau of Labor Statistics. The overall unemployment rate for veterans also dropped in the past year from 9.9 percent to 7.5 percent in January 2012, a figure lower than the national unemployment rate of 8.3 percent.
Local success
Midway Electric hired two veterans in 2011 who had electrical experience, and three of its 14-person work force are veterans, says Michele Spry, company president. "It's more about them than it is about us," she says. "The men and women are out there fighting for our country and fighting for what we love. It's one way that we can give back to them."
There is no cost for the program, and the pledge only requires employers to consider hiring a veteran. The award consists of a plaque with a flag patch from the uniform of an actual veteran. "These are people from Missouri who have served honorably," Fougere says. "They are certainly well-trained and very motivated, and frankly they make excellent employees. So we think this program is a win-win."
Kelly Services hired five veterans in temp-to-hire positions in the field within the past year and has often hired veterans in the past, says district manager Allen Jennings. "It's all about hiring the right people, but if they happen to be a veteran, then it makes it doubly good," he says.
Jennings says some veterans need help in adapting to the civilian work force, and his company offers help with resumes and interviews and provides free access to numerous online training resources. "It can be very overwhelming," he says. "There is that bit of security with being in the military. It's very structured — you know where your meals are coming from, and your pay and all those things, and suddenly you're not there anymore."
"I know personally that if I'm looking at resumes and I see military service, I'll overlook a lot," Jennings says. "It may not be the best resume, but it automatically brings to mind a certain amount of discipline, regimen and work ethic."
MBS Textbook Exchange has hired 48 veterans in the past year and has 33 active veterans employed at the moment. "Those veterans that have applied and that we have had the opportunity to hire have been very successful employees for us here," says Jerome Rader, vice president of human resources. "And they do come with a specific skill set in some regards, depending upon their training while in the service, that has been a benefit to the company.
"In our case, networking would be very important, electronics would be important, and there's a work ethic that comes with having been in the service that's extremely important throughout the company."
Federal tax credits
As an additional incentive to hire veterans, in December President Barack Obama signed legislation to create two new tax credits for companies that hire veterans: the Returning Heroes and Wounded Warrior tax credits.
Returning Heroes allows credit for 40 percent of the first $6,000 of wages for hiring veterans who have been unemployed for at least four weeks and the first $14,000 of wages for hiring veterans who have been unemployed longer than six months. Wounded Warrior doubles the existing tax credit for long-term unemployed, disabled veterans, maintaining the existing Work Opportunity Credit but allowing a new credit of 40 percent of the first $24,000 in wages for businesses that hire disabled veterans who have been unemployed longer than six months.
For the Truman Veterans Hospital, the drive to hire more veterans came from the Secretary of Veterans Affairs, who directed the nation's network of VA hospitals to follow the President's lead and make lowering the veteran unemployment rate a priority, says Stephen Gaither, public affairs officer for the VA hospital. The hospital has hired 105 veterans since the Missouri program began, and 28 percent of the hospital's 1,325 employees are veterans.
"One of the biggest frustrations for the returning combat veteran is the lack of jobs, so that's one of the reasons why the secretary has made it one of the priorities of the department," Gaither says. "We were pleased with the recognition. We certainly shared the results with our employees, and we're going to have that award on display where everybody can see it. All it does is it helps reinforce the message of what our mission is, and our mission is to provide.
To take the Show-Me Heroes pledge, visit www.showmeheroes.mo.gov.