Quest to repair family heirloom leads to VanSickle Audio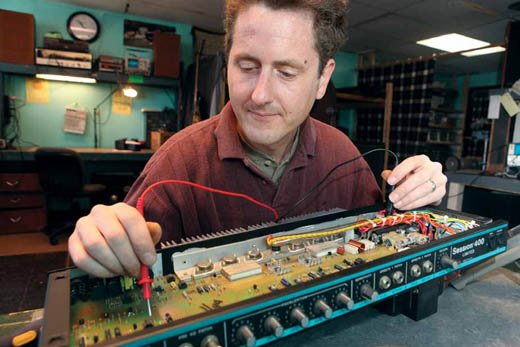 www.vansickleaudio.com
Although I was born and raised in Boone County, I spent many summers romping around a small town in South Carolina called Fork, near my grandmother's family farm.
We stayed in my grandparents' Sears Roebuck model home built in the 1950s, and a multitude of childhood memories started coming back to me a few years ago when it came time to clean out the house. But there were only two items that I kept: a percolator my grandmother used every morning to make coffee on the stove and a living room set consisting of two end tables and a coffee table with a built-in turntable.
My dad bought the set from a hardware store after the Vietnam War, and it had been years since the turntable had worked. But even without the entertainment function, it's a nice coffee table, with solid wood and marble panels, fabric panels on the side that hide the speakers and a drawer that opens to expose a TrueTone Solid-State AM/FM radio and turntable.
I wanted to get the turntable working again, but I was timid about trying to fix it myself, and I didn't know of anyone who could repair it. Fortuitously, when I recently mentioned the table to a friend, she told me to take it to VanSickle Audio on North Ninth Street.
Dave VanSickle opened his audio electronics repair shop in 2004 and rented space in the back of Guitar Finder before expanding into the adjacent space in 2006.
VanSickle has repaired just about everything, from solid-state and vacuum-tube music amps to new and old home audio equipment. He'll even modify organs and build custom amplifiers and foot pedals.
I didn't want to drag the heavy table into the shop before making sure he could work on it, so I stopped by to check his rates and see if he would be interested in working on the family heirloom.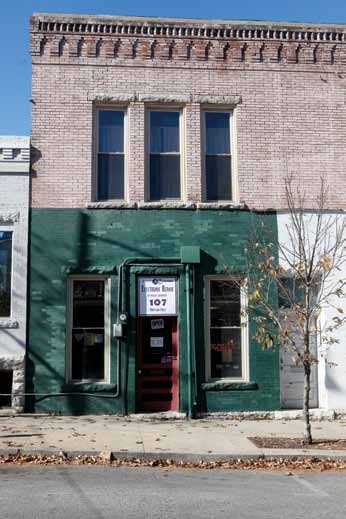 VanSickle was working in his service room when I arrived. Designed for usability, the room has a tall counter around the entry that creates a barrier but allows for full view of his workspace. There are large homemade shelves and workbenches, and the room was filled with guitar amps and stereos in need of service. Hung throughout the room are tools, cables and electronics VanSickle uses for replacement parts.
I explained my project to him. I asked him to determine whether he could repair the audio equipment, modify it for improved sound or, in the worst-case scenario, scrap the components and use the table to house modern components. The next day I sent an e-mail to VanSickle with attached photos of the unit and a scanned copy of the original manual, which included a full schematic of the stereo (a rarity in modern stereo manuals). After a couple of e-mail correspondences, I brought him the table.
VanSickle's interest in electronics began in high school, when he took a vocational course in basic electronics. This interest led him to a job as chief engineer for a radio station in Maryville while attending Northwest Missouri State University. It was there, as the industry transitioned to digital, that he learned how to work with vacuum-tube technology and kept the station up and running with the antiquated materials.
He moved to Columbia in 1995 with his wife, Suzanne, because they liked the town and its location, halfway between their families. Once here, VanSickle worked in technology for multiple employers including Columbia Public Schools and University of Missouri Extension before eventually getting hired by Protech Consultants as an audio repair technician.
At Protech, VanSickle learned the ins and outs of running a repair shop. When the company went out of business, VanSickle's friends continued to send repair work to him and urged him to open his own shop.
Once my table was in the shop, VanSickle was able to truly assess the job and came up with a great solution, somewhere between repairing and replacing the components. The space for the turntable was too small to replace it, but he was able to repair it and update the cartridge. He then bypassed the original amplifier and replaced the original speakers with modern powered ones.
Finally, he replaced the cat-scratched fabric covering the speaker grills with a similarly patterned fabric he had kept after modifying an electric organ to make it more portable.
VanSickle, now in his sixth year, employs two part-time technicians, and it was great working with them. The staff kept me informed about their progress, and I was able to view updates via their Facebook page.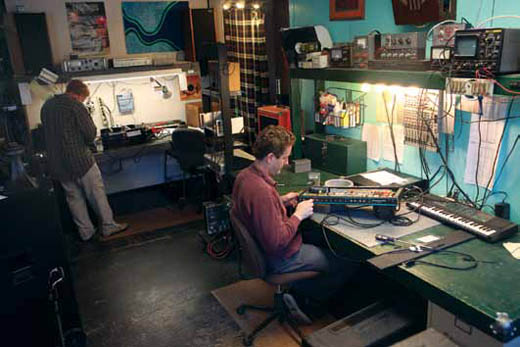 His clients also go beyond local musicians and audio enthusiasts such as me; he gets repair work from most of the music shops in town. They've included famous musicians who needed equipment repaired or made when in town to perform down the street at The Blue Note. Annie DeFranco had her foot pedal fixed at VanSickle's shop, and Sharon Jones turned to VanSickle when an amplifier used by one of her guitarists stopped working. VanSickle and his staff will manufacture devices to fit specific needs and once created a device for the University of Wisconsin that sends signals to insects through sticks.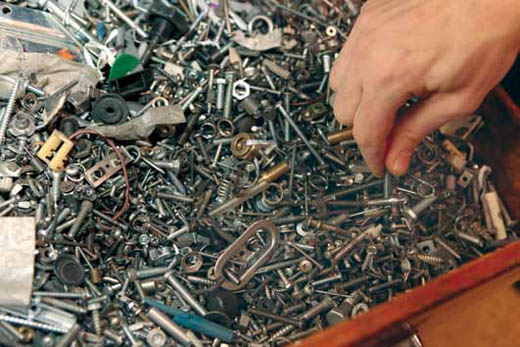 So, my coffee table/turntable was just another in a long list of interesting repairs performed by the staff of VanSickle.
I got the coffee table back in mid-October, and it's wonderful to have it functioning like it did in my grandparents' house. As a tribute to VanSickle, the first song I played came from a Sharon Jones album I picked up when I heard her in concert that same month.