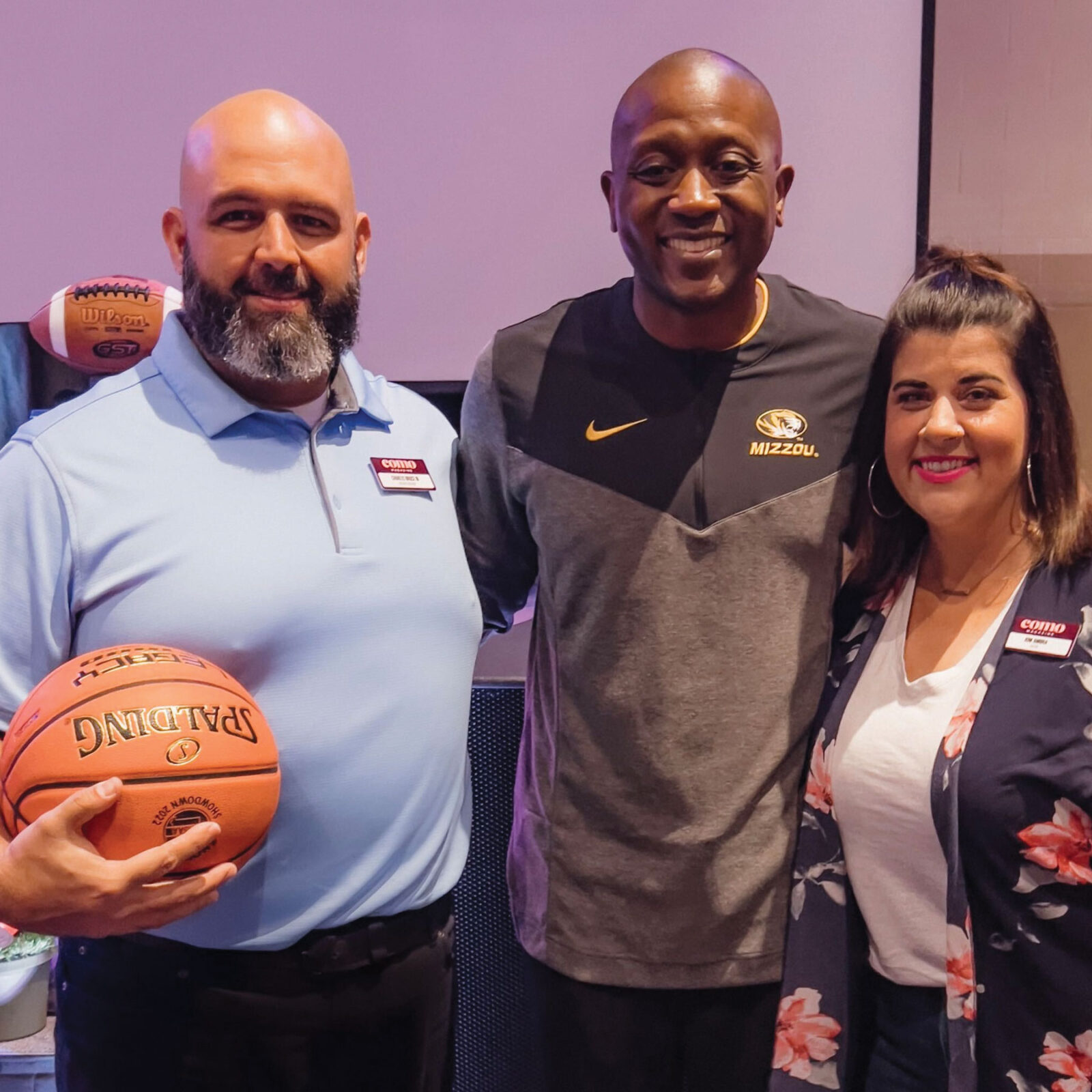 With this career, I have been blessed to experience some amazing opportunities and meet some incredible people. My best buddy, Charles, and I were able to meet MU's new head basketball coach, Dennis Gates. In this issue, you can also get to know more about Coach Gates on page 83. He is doing incredible things with our basketball program. 
It is no secret that I am obsessed with live music. I have shared my love for this many times and rarely miss a show at The Blue Note or Rose Music Hall. What I have never really stopped to think about is the production behind it all! The planning and organizing that goes into bringing shows to COMO, the setup, the clean-up … all of it! Be sure to check out this story on page 86 and then thank someone the next time you are at a show.
I experienced two new firsts this past year — attending my first Missouri Symphony performance and my first play at the Columbia Entertainment Company. Stories about both organizations can be found on pages 71 and 74. I could not recommend The Missouri Symphony more. I went to the Symphony of Toys, and it was magical! It gives me chills just thinking about it again. The new conductor, Wilbur Lin, could not be more personable and was a joy to work with. If anyone else was at this symphony and happened to notice the Christmas trees on stage … fun fact, they were decorated by yours truly … ME! I kinda have a thing for Christmas trees.
I was able to steal my mom away for a night at the Columbia Entertainment Company and we saw the play Steel Magnolias, another incredible experience. I had no idea what to expect, and I was extremely impressed. From the building itself, to the stage, sets, actors, the warm and cozy atmosphere — 10/10 recommend! 
I always joke that I am the entertainment … I swear my friends and I could have a reality show. We love to have fun, we love to eat, and drink, and sing, and dance — lucky for us, we are so fortunate to live in a town that provides a whole lot of fun! If you happen to see us at an event, or at a show, wherever we may be — make sure to say "Hi!"
What do you do for entertainment? I am always looking for new things and would love to hear from you. My email is always open! What do you want to hear about? What should we be talking about? Who should we meet? Let's hear it COMO — [email protected]
Cheers to a lifetime of having FUN!
---