Photos by Mary Click Photography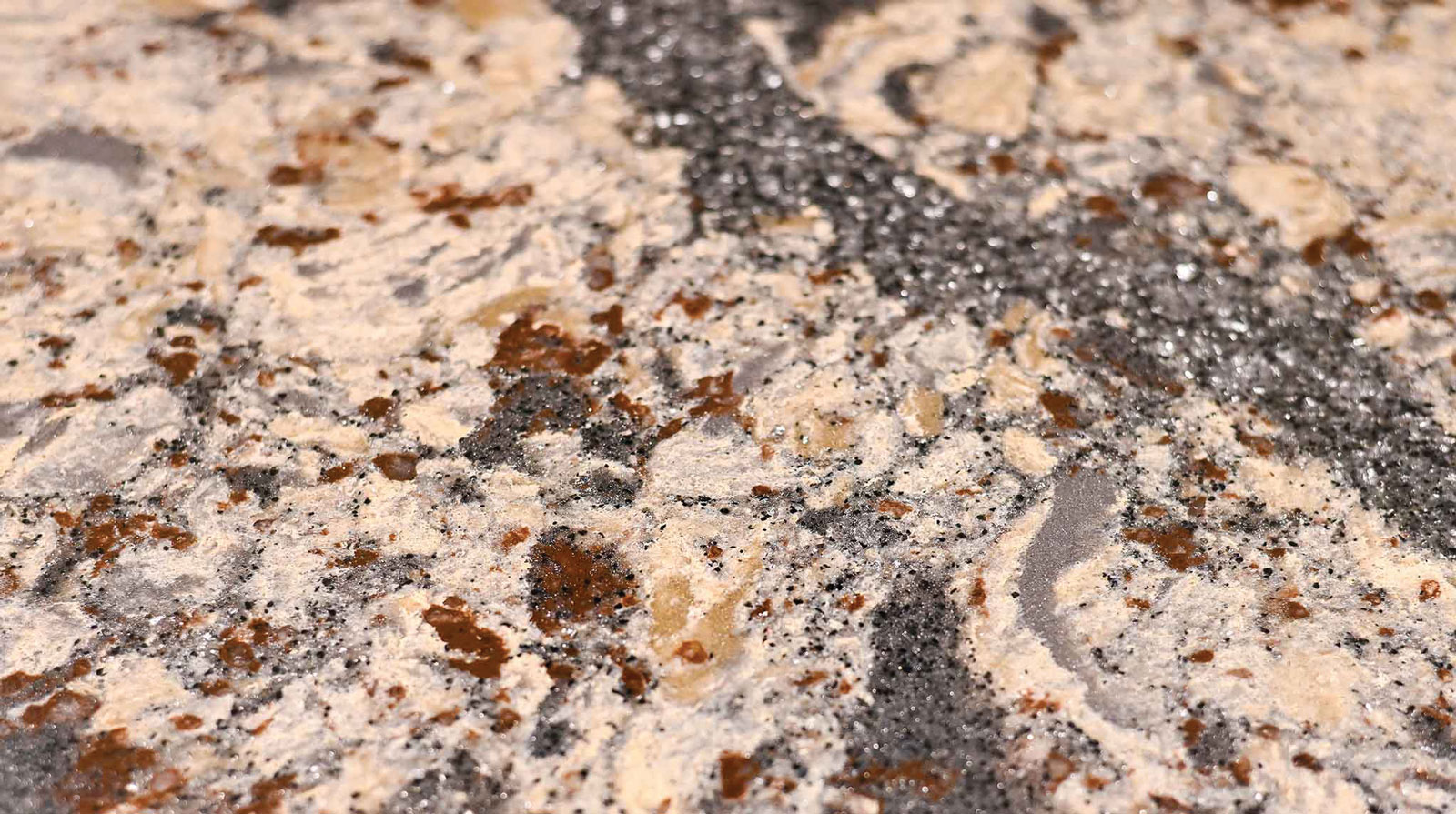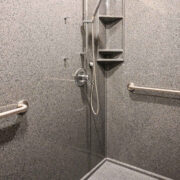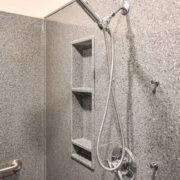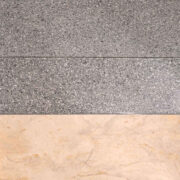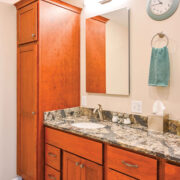 View Gallery
The secret to surviving an aging-in-place bathroom remodel during COVID chaos? A lot of patience and homemade lasagna.
When Jeff and Laura Porter hired The Swift Companies LLC to renovate the master bathroom of their home at Katy Lane in early 2020, they had a keen eye on their future. Experiences with family members highlighted the need to make the space wheelchair and walker accessible.
The bathroom remodel needed to meet the Porter's current needs, as well as potential future need for their desire to age in place.
They signed the master bathroom project contract on March 18, 2020. Unfortunately, the timing turned out to be historic. It was also the same day the first COVID-related death occurred in Boone County. The Swift team had been working to complete a basement bathroom remodel before tackling the master bath project. The team had only two items left to complete — a shower curtain rod and a piece of trim to install in the shower.
The emergence and unknowns of COVID immediately put the brakes on the Porter's plans. Laura has an autoimmune disease and the medication she takes suppresses her immune system.
Laura recalls, "My doctor said, 'You don't need anybody in the house. You need to lock down.' That put everything on hold."
Ryan Payne, owner of The Swift Companies, also remembers it clearly.
"We were going over that day" to complete the project "and were told 'no.' We had to wait until we got the okay from the doctor before we could proceed," he says.
The wait lasted two years.
Fast-forward from the date that the world changed, to dramatic, eye-popping price increases on just about everything — especially construction materials — to supply chain chaos, to early December 2022 when the master bathroom project was finished, and the Porters treated Ryan and the Swift team to a lasagna lunch in their home in the Limerick Lakes neighborhood.
The single-family house, built in 1989 in south-central Columbia, has five bedrooms and 3,883 square feet of living space, which includes a finished basement. Laura says the original bathroom had "a huge, jetted tub that we didn't use," a small, compact shower, one sink, and a 36-inch opening with a stylish pocket door. The new space also features a double-sink vanity, a large shower that can accommodate a wheelchair, dual handheld showerheads, a ramp to the shower, and more usable cabinet space. There's no grout to clean and the only glass is in the built-in medicine cabinets.
"It's a very low-maintenance bathroom, which was particularly important to me," Laura adds. "Everything done was to facilitate a very user-friendly, easy-to-maintain space." She's hopeful that the wheelchair-accessible features won't need to be used for a wheelchair, but just in case …
The Swift team and design partner DKB worked with Laura and Jeff to make the space as compliant as possible with Americans with Disabilities Act (ADA) requirements.
"The master bathroom is now wheelchair compliant," Ryan says. "They wanted to come up with a game plan that would fulfill their needs now and also in the future. They're looking ahead as they consider this their forever home."
The Porters are retired journalists. They bought their house in 2011 and are more than happy with the project.
"We took the space that we had and with their help designed one that would work for a wheelchair, and have enough room for a helper," Laura adds. "Our new master bathroom makes it much easier to get someone into the home and help care for us, should that need arise."
Jeff says the couple learned what they needed by experiencing the challenges of caring for their mothers in a home they previously owned.
"There was no full bath or bedroom on the main level," he says. "We bought this house that Swift had been working on as a place where we can age in place." The Porters agreed to make sure they had everything they would need — now and in the future — on one level. That meant creating a finished product that could be easily retrofitted later if necessary.
"Our bathroom vanity looks like a normal bathroom vanity," Laura says. "But pieces can be unbolted and removed in case one of us gets in a wheelchair." Ryan adds that the countertop would stay in place, allowing someone in a wheelchair to use the vanity.
The Porters already had extensive experience with Swift completing projects in their home. The big master bath project was on the drawing board but first, the couple needed to have a functioning bathroom while that project was being done. Ryan's team was renovating the basement bathroom to allow for the master bathroom project when COVID came calling.
"They worked tirelessly to get the basement done," Laura says. Swift arranged to finish that project when the Porters had to be away for an appointment, but the master bathroom plan was on hold.
"COVID really hit in 2020 and the environment was so different," he says. Suddenly, the demand for home renovation projects exploded.
Ryan has an observation that he thinks helps explain the surge of building project requests.
"Everybody was in lockdown, and it seemed they began to take a fresh look at a crack that needed attention in their home, or a door that doesn't quite close all the time," he says. "The phone started ringing and it just would not stop."
In the meantime, there were new delays in deliveries, manufacturing bottlenecks, and product availability issues the team had to work hard to overcome.
Ryan said Swift's kitchen and bathroom remodeling projects went forward as quickly as possible. The Porters' project was an unusual exception — and because of COVID restrictions on some products coming from out of state, timelines went from a normal turnaround of five to six weeks to 13 to 15 weeks.
Ryan remembers, "You literally doubled or tripled your timeframe with some projects." He also recalls his team had to place plywood countertops in nearly-finished kitchens to make them functional until the preferred countertops arrived, adding, "It was a time where we partnered with the homeowners to make things work well in very unusual circumstances."
When COVID concerns lessened and Laura's doctor gave the go-ahead for Swift to begin the master bath remodel, the higher costs resulting from COVID supply chain and manufacturing delay issues had to be reevaluated.
"Prices did change," Laura says, "but there were some things we didn't want to compromise on." For instance: waterproof, luxury vinyl tile; high-quality cabinetry; and a quartz countertop. The Porters also insisted on getting the shower panels, base, trim, and accessories from The Onyx Collection — custom-made pieces manufactured in Kansas.
"We initially thought the project would take eight weeks to complete" because of supply chain issues "but it was five months from start to finish," Laura says. "We all patiently waited and now we have a wonderful bathroom."
She is confident that the current and future functionality of the project will justify the costs.
"Gutting and renovating a bathroom is not cheap and it isn't for the faint of heart," she says. "But if it delays our entry into assisted living or a nursing home by six months, it will have paid for itself."
The Porters and Ryan also point out that one of the most meaningful aspects of the months-long project — and the experience of prior projects at the Porter home — is the relationship they have built.
"Our friendly team often becomes like family throughout a project. We usually get to know everyone. We even get to know and love their pets," Ryan says.
Laura laughs when she remembers a text message she received from a Swift crew member who was working in their home while she and Jeff were away.
"We trust them to work inside our house," she says. "And this is so cool. One day one of them sent me a picture of our cat."
But the project wasn't officially finished until the Porters treated them to lasagna.
"She had all 10 of us over there two weeks prior to Christmas," Ryan remembers. "With our work, you have people who will literally cry because they're going to miss you."
Laura says the experience can be bittersweet.
"There are a couple of those guys we've worked with off and on for years," she explains. "They're almost like family. We were there most of the time they were working on our house. They went above and beyond the call of duty to make sure we were happy. They were so respectful of us and our space."
The lasagna lunch was an expression of their gratitude.
"Jeff and I served them," Laura says. "You can say 'thank you,' but your actions speak louder than your words. We wanted them to know just how much we appreciated all they did for us."
The Porters have already hired Swift for another project, turning over their house keys and alarm codes in case they are out of town.
"It takes a long time to find a contractor that you can trust with your alarm code," she says."