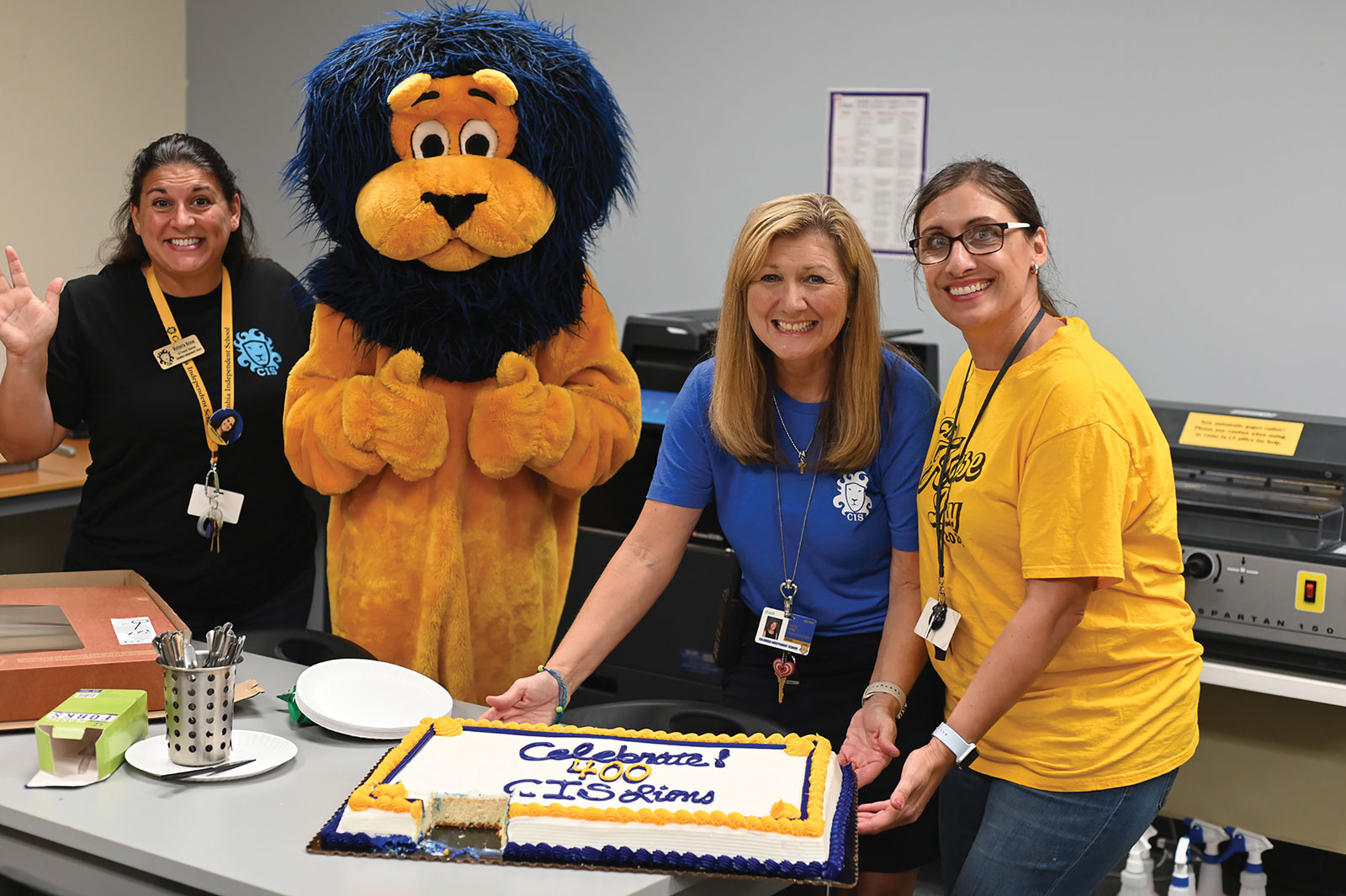 Education
CIS Celebrates Record-High Enrollment
Columbia Independent School recently enrolled its 400th student, which is record-high enrollment for the 24-year-old school. CIS, which serves students in junior kindergarten through 12th grade, marked the occasion on Sept. 9, with cupcakes for all students, a cake for faculty and staff, and photos with school mascot, Leo the Lion.
"I am grateful to the families that choose to be part of our supportive school community and to the dedicated faculty and staff who devote so much time, energy and care to our students," head of school, Bridgid Kinney said. "Reaching this enrollment threshold while continuing to provide each student with the individual attention they deserve is not an easy task, but it is the right way to grow."
---
Giving Back
Columbia Community Mental Health Center Receives $5,000 Donation
Burrell Behavioral Health's charitable arm, The Burrell Foundation, was presented with a gift of $5,000 from Joe Machens Toyota. The donation will be used to support the greatest needs for mental health programs and initiatives within Burrell across the city.
"Contributions and support like this help us provide vital programs and services that support community mental health and substance use recovery efforts right here in Columbia," said Burrell Foundation executive director Gabrielle Martin.
---
Community
Renew Missouri Comments on Inflation Reduction Act
Renew Missouri, a 501(c)(3) focusing on clean energy policy and accessibility to clean energy for Missouri, heralds the signing of the Inflation Reduction Act. The act secures $369 billion for clean energy projects, but the organization noted public education must be conducted for Missourians to understand how they can take advantage of certain tax advantages.
In addition, the state and its utility companies must take action to make sure the promise of this legislation is turned into action. Renew Missouri worked with regional partners to help secure the nearly-$40 billion under the IRA that will be used by rural electric cooperatives to shut down their fossil-fuel-burning plants and to shift more towards renewables and energy efficiency.
"This is a campaign that has taken over two years of work to get to this point," executive director James Owen said. "We know that the co-ops have the option of joining this program and we look forward to talking with REC leadership on how they can continue their mission of bringing rural Missouri into the future."
The legislation also makes available $27 billion for states who have set up funds for projects involving renewables and energy efficiency.
"Renew Missouri has also worked closely with Gov. Parson's administration on how we can make these funds available to Missouri's homeowners and small businesses," James said.
---
Celebration
Boone Health Opens Plastic Surgery Clinic
Boone Health announced the opening of its Boone Health Plastic Surgery clinic. The clinic is led by Dr. Giorgio Allegra, MD. Dr. Allegra is board-certified in general and plastic surgery and is a member of the American Society of Plastic Surgeons. Dr. Allegra has practiced in Atlanta, Chicago, Dallas, New York, Dubai, and Milan, bringing more than 27 years of experience to Mid-Missouri. Also providing services is family nurse practitioner Tiffany Carmichael, FNP. Before joining Boone Health Plastic Surgery, Tiffany worked at the Boone Health High Risk Breast Clinic.
---
Community
The North Village Arts District Unveils Second Round of Art Installations
To celebrate its 10th anniversary, the Veterans United Foundation awarded $10 million to almost 100 nonprofits in 2021. The North Village Arts District was awarded $231,530.00 for its North Village Art Walk. The new sculptures being celebrated will be Tractioner by Matt Moyer on 10th Street between the fire station and Café Berlin; Sparky, an 8-foot dinosaur by Vince Houston at the entrance to Café Berlin on Park Street; Simplicity! by Jessie Cargis on the landing between the Balsamo Warehouse and Orr Street Studios on Orr Street, and an 80-foot long mural by Laura Pintel, John Fennell, Sawyer Wade, and Kate Gray that will run along Park Avenue on Boone County Lumber.
---
Community
City of Refuge Launches Campaign for New Refugee Community Center
City of Refuge is pleased to announce the public phase of its capital campaign, "A Place to Call Home: Serving and Celebrating our Refugee Neighbors." Funds raised will purchase the organization's new home at 10 N. Garth Avenue and 2 E. Walnut and renovate it for use by resettled refugees who are navigating a new way of life in Mid-Missouri. Refugee services will begin in the new facility on October 10, and a brand-new preschool program is planned to launch in Fall 2023. Led by a $300,000 gift from Veterans United Foundation, City of Refuge has already received gifts and pledges worth one-third of its campaign goal of $3 million. To participate in the campaign, donors may send checks or give online.
Global conflicts in places like Afghanistan and Ukraine continue to create a crisis of displaced persons crossing international borders, hundreds of whom arrive annually to make a new permanent home in COMO. City of Refuge mobilizes more than 150 volunteers to serve over 1,200 resettled refugees every year and to celebrate their contributions to our community. The new facility, triple the size of City of Refuge's current office, will meet a variety of refugees' needs.