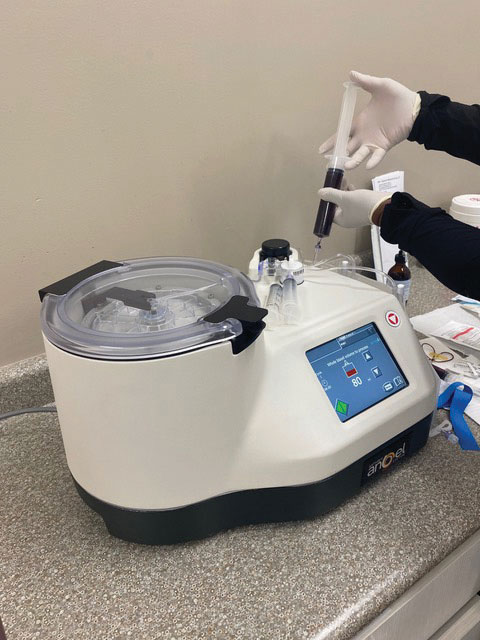 Bluetail Medical Group's holistic methods help athletes recover better and faster.
As a college community, COMO has more than its fair share of athletes. So, sports injuries are not uncommon and can end up taking passionate athletes out of their game. Fortunately, Dr. Kristin Oliver's Bluetail Medical Group specializes in a method that allows athletes to potentially speed up their healing process. 
"We use your body's own tissues to stimulate healing and decrease inflammation and pain," Dr. Oliver says when describing a procedure she has successfully applied 28,000 times.
Known as platelet rich plasma (PRP), the procedure is a holistic method that concentrates platelets from an injured athlete's peripheral blood in an effort to help the body heal itself.
Dr. Oliver explains: "The problem with sports injuries is that sometimes the injury is too big or too significant or it's been going on too long, so then the body sets up a chronic inflammatory response. So, what we do is set up platelets, re-inject them into the area that is abnormal, and basically trigger a healing response. We have a lot of NFL guys who have to get healing fast, and with platelets, we can get them healing fast so they're back to playing fast."
PRP has been in use for over 20 years and Oliver has been providing it for 16 years, yet the procedure has only recently been fully embraced by the medical community. Unfortunately, insurance companies are not so eager to embrace PRP, either. This has led to fewer patients using this option for medical treatment.
"Unfortunately, people didn't want to get anything not covered by their insurance. Not because it's not effective," Dr. Oliver says. "We use FDA devices, and we're the only clinic in the country to work with the FDA."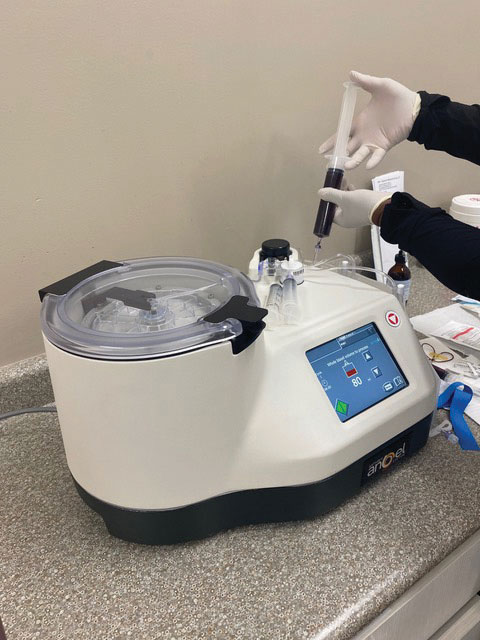 Dr. Oliver notes that PRP treatment can run from $1,000 to $3,000, but even so, she believes there is a growing number of patients who are seeing the validity in what her practice can do for their sports-related injuries. Part of this comes from her openness about her office's success and communication with her patients.
"We show our outcomes in a data bank, and we let them make the decision. We would explain the success and let them make the choice for themselves," she says.
Ultimately, Dr. Oliver's goal for every patient is to decrease their pain and increase their function. In many cases, her treatments extend beyond professional athletes to children and elderly patients who may be unnecessarily suffering with injuries or age-related medical problems. When she meets with her patients, she treats each one as an individual and assesses their individual needs accordingly. Though PRP does help many patients, it is not necessarily a permanent fix. In some cases, Dr. Oliver's patients need to return or a PRP may not apply to a patient's condition.
"I have no problem telling someone I can't help them," Dr. Oliver says. "I would never want to steer a patient wrong, ethically." But for all her potential patients, Dr. Oliver adds, "You are always welcome to come in. Just come, and we'll tell you if you need [PRP} or not."
Dr. Oliver says her ultimate purpose with her patients is to make sure, "They can lead an active quality lifestyle and do things without pain and without dysfunction."