Little Libraries, Big Benefits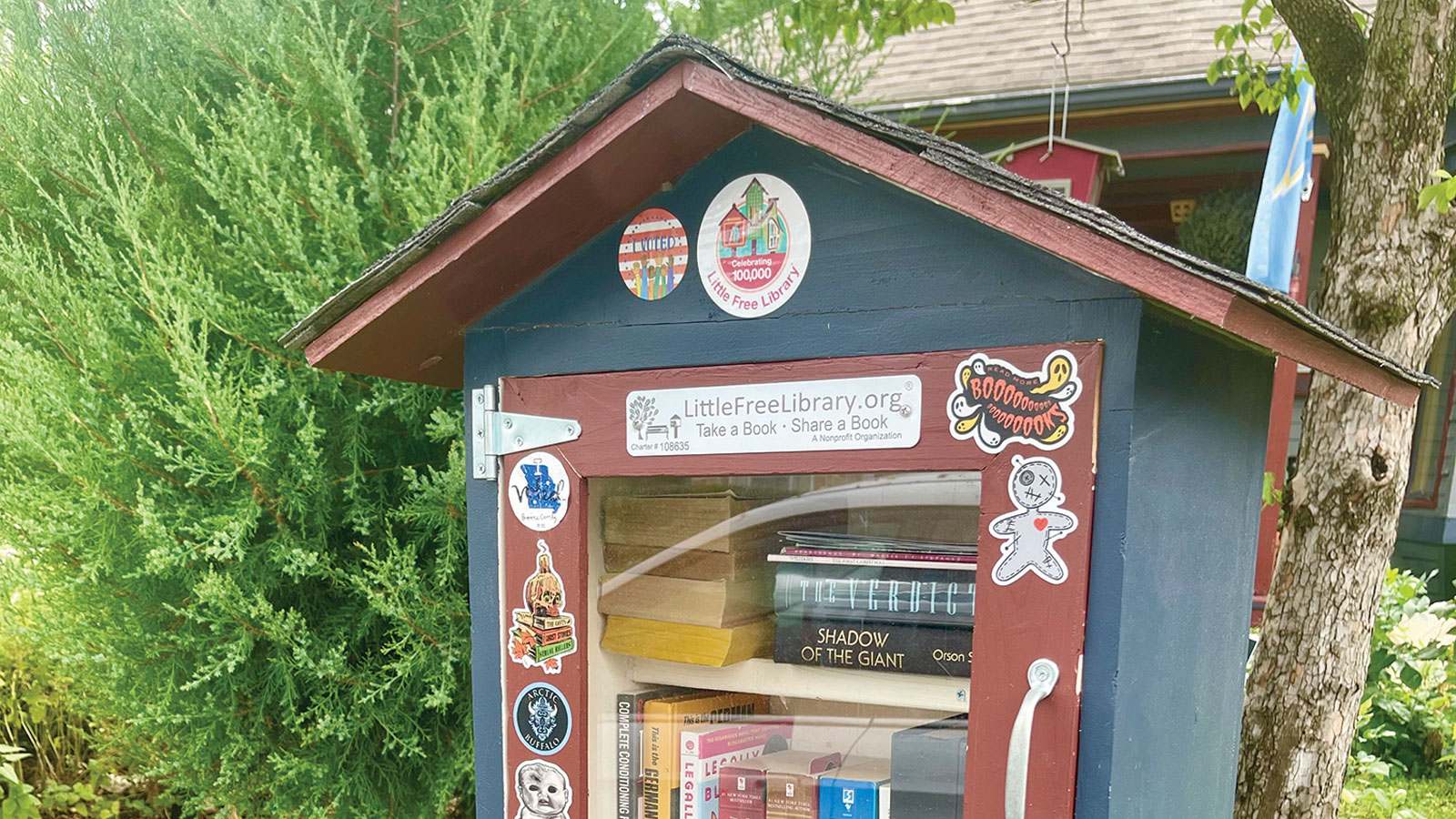 COMO's Little Free Libraries make reading fun and accessible for residents.
Today, it is not uncommon to spot small, wooden libraries of all shapes and sizes popping up across lawns in many COMO neighborhoods. Known as Little Free Libraries, these boxes of books  bring access to reading closer to home for Columbia residents of all ages.
Tricia Price, the library media specialist at Derby Ridge Elementary School, is one of several who started a Little Free Library during the early days of the COVID-19 pandemic. When her school closed, she wished there was a way for her to continue supplying books to her students, and her free library solved this problem.
Little Free Library is a nonprofit founded in Wisconsin in 2012 with the goal of being "a catalyst for building community, inspiring readers, and expanding book access for all." Each library is volunteer-led and provides 24/7 access to books.
Little Free Libraries are available in more than 100 countries. Each library is installed in neighborhoods and offers unique reading programs, especially for people in high-need areas who are otherwise isolated from books or public libraries.
People can build their own library or buy one through the Little Free Library website, then purchase a registration tag so the library will appear on the organization's map. Library owners can stock their library themselves with books from their home or donations, or they can order more off of the Little Free Library website.
Tricia said her dad built her library for her in August 2020, which she then registered on the Little Free Library website. She said her library essentially keeps itself stocked, as visitors usually bring a book to the library to replace the one they borrowed. She said her friends often drop off their own used books to contribute.
"It's just fun to see people come up and get excited about finding books in [the library]," she said.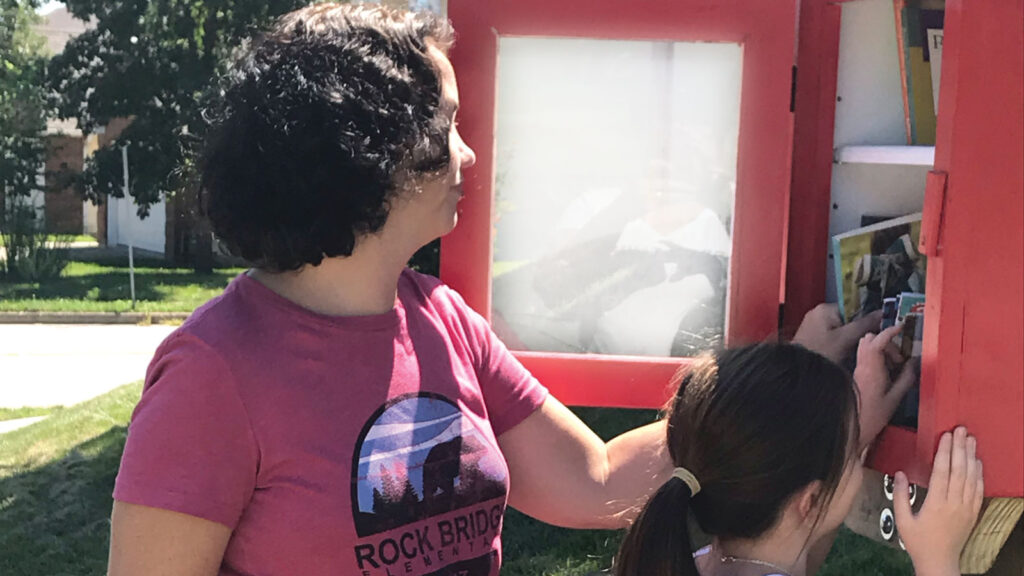 Rachel Howard teaches first grade at Rock Bridge Elementary School and, like Tricia, was looking for creative solutions in the early days of the pandemic. In early March 2020, she read "Little Libraries, Big Heroes" to her class, which is the true story of the organization's founding. When schools closed just a few short weeks later, the book helped keep the idea for a library fresh in Rachel's mind.
She began putting boxes of books on her porch for her students, and she asked her family for a Little Free Library for her birthday in August 2020. Her son and husband got one for her, and after they assembled it and painted it bright red, it became a neighborhood hit.
"It's been fun because I see people of all ages stop by," Rachel said. "The FedEx person will make a stop and get out of his truck and have a book."
Rachel said she restocks her library without ordering books because being a teacher means she has many copies of used books. Sometimes, visitors will also contribute their own books, and Rachel now has what she says is a good problem: too many books, rather than not enough.
During the pandemic, Rachel also saw many families who would go on weekend bike rides specifically to visit her library. She and Tricia both said they enjoy seeing all the visitors who specifically make a point to get out in the neighborhood and come to their libraries.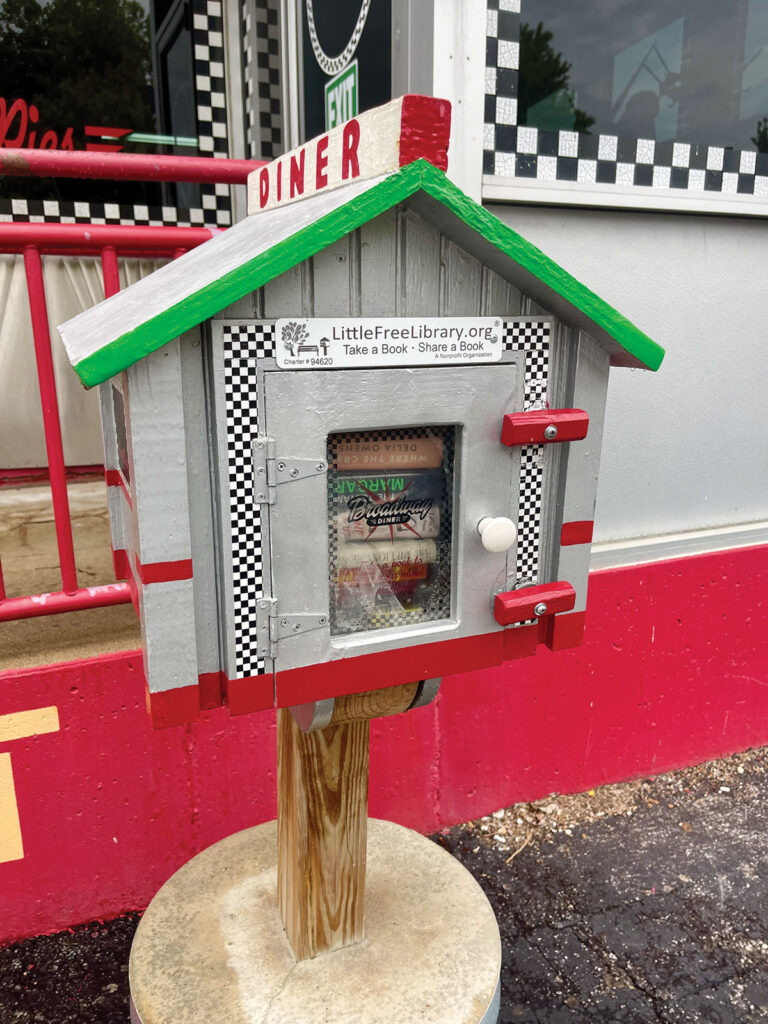 While Tricia and Rachel have had very positive experiences with their libraries, Denise Black, a homeschool mom active in the COMO community, has had a somewhat different experience. Denise and her family used to have a Little Free Library at her home, though they took it down and abandoned the idea after the library's registration tag was stolen and the library was ruined in a storm.
Despite the disappointing end to her family's Little Free Library, Denise said it was a great activity during the pandemic.
"When we all felt kind of disconnected from even neighbors, it was a good opportunity to still feel included," she said.
After her library was ruined, two of her neighbors put up versions of their own. While she had been thinking about starting a library again, this made her reconsider as she now believed that putting up a new library would not meet any need in her neighborhood.
Now, Denise is thinking about creating what she calls a "nature box," which she plans to fill with the fairies she makes with her daughter. Visitors can take one for themselves and add their own crafts and nature-themed items.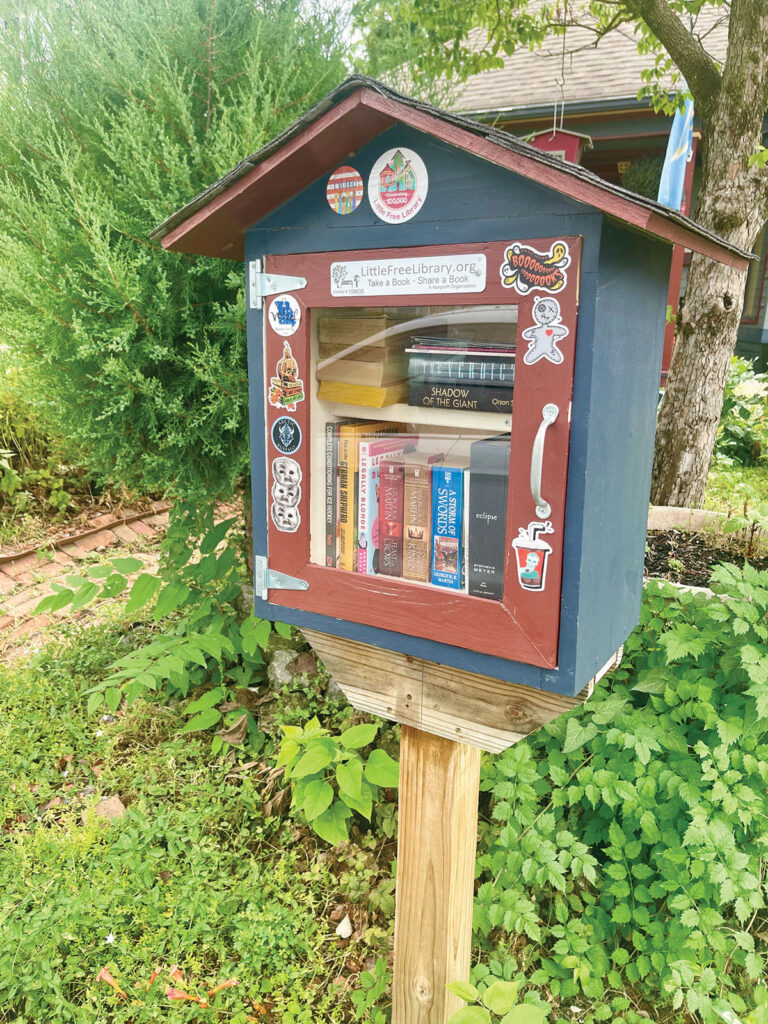 As a homeschool teacher with seven children, Denise said her house is constantly full of books. Now, her family uses their endless supply of books to help stock Little Free Libraries around town that are almost always empty.
"I just really love fostering independent learning in children," Denise said. "I think it opens the world to their interests and helps them to kind of take off and find out who they are and what things they really love."
Despite the highlights and drawbacks of having a Little Free Library, all three women have seen positive impacts they have on the community. The libraries provide an important opportunity to help kids read when they lack access or transportation to public libraries. Additionally, Rachel said her students feel proud when they can take ownership and an active role in their reading activities.
"The best book that somebody is going to want to read is the book that they get to choose, and it's like that for all ages," she said.
Even as schools have returned to in-person learning, Rachel and Tricia have continued to see the mark these libraries leave on readers of all ages.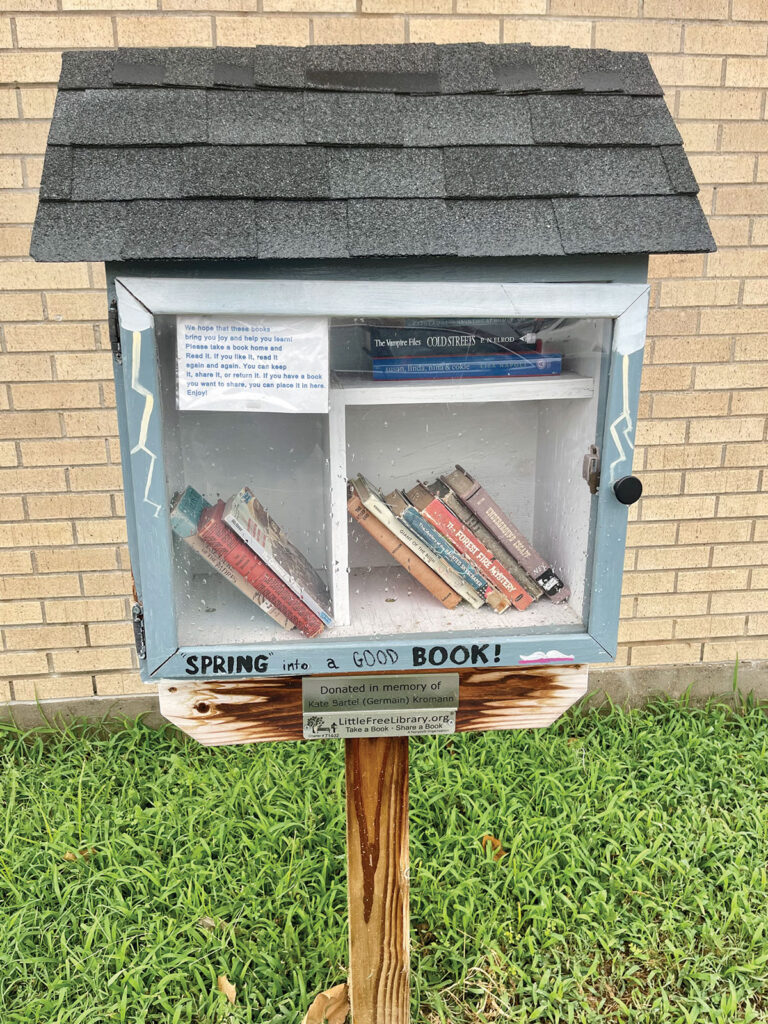 "For a kid to be able to just walk down their neighborhood and find a new book to read… I think that's important," Tricia said.
At the beginning of the school year, Rachel has her students share a fun fact about themselves so they can get to know each other. Now, Rachel's fun fact she shares is that she has a library in her yard because she knows her students find something special in visiting their teacher's house and connecting with her through her library.
"It's a nice way to pass on that love of reading but also the importance of why we need to read and why we need to have books available to choose from," she said.
---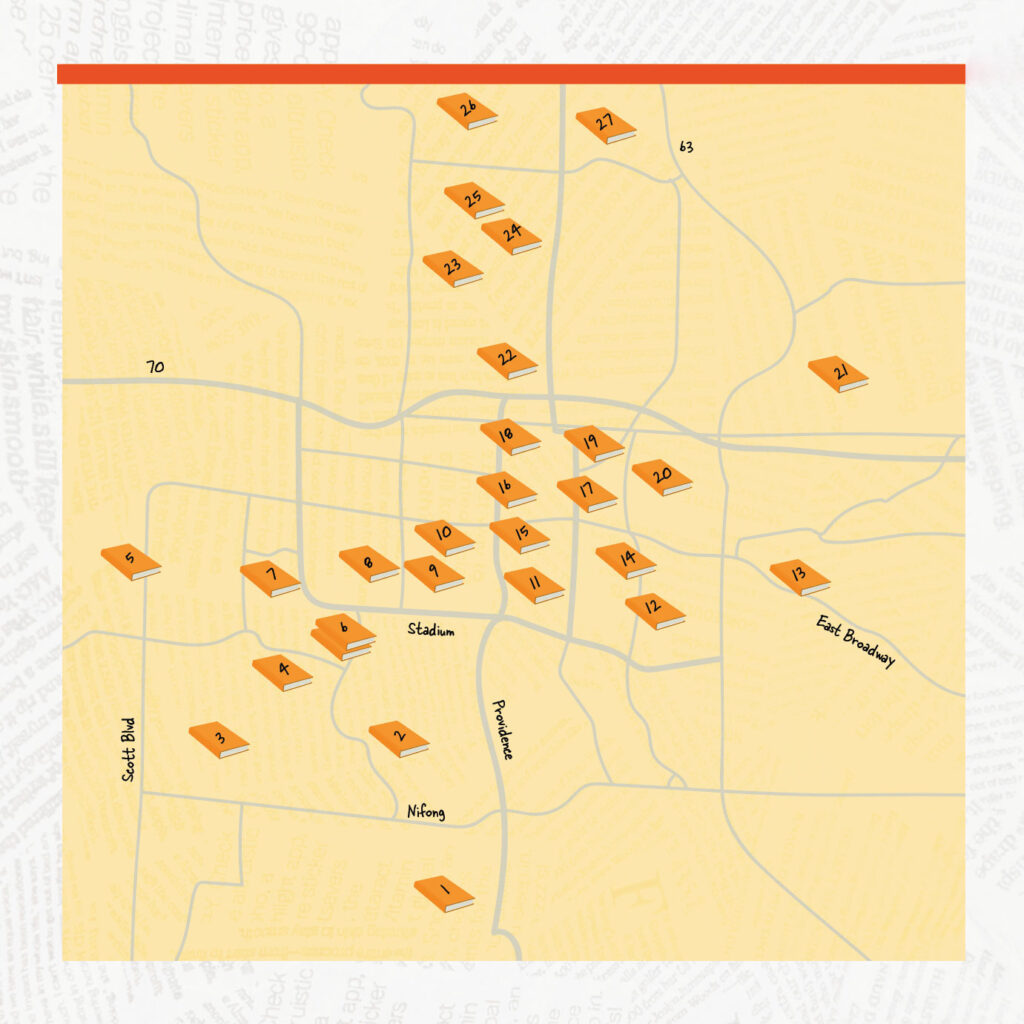 Rachel's Reading Nook 400 Dustin Dr.
Three Chihuahua Library 3413 Godfrey Dr.
Stevens' Little Library 3180 South Countrywoods Rd.
Katy Lane Little Library 2213 Katy Ln.
Denise Black 1506 Waterford Dr.
Don Spiers 1605 Limerick Ln.
Ariel Buback 2001 Hatton Ct.
Ty's Little Free Library 1011 Bourn Ave.
Rebecca Smith 1021 Crestland Ave.
Westwinds Little Free Library 900 Westwinds Dr. 
Eva Ranly Memorial Library S. Glenwood Ave.
The Jim Baden Memorial Book Nook 10N Memorial Union Basement
Cokie Blake 2322 Meadow Lark Ln.
Troop 70846 Silver Award Service Project 1020 El Chaparral Ave.
Scott Dye 2222 Bluff Blvd.
Broadway Diner 22 S 4th St.
Kate's Heart 505 E. Ash
Judi Schoonover 1509 Hinkson Ave.
John & Alexis Nichols/Malone 511 Hickman Ave.
N Ann St Little Free Library 805 N. Ann St.
The Language Tree – An Immersion Preschool 2311 E. Walnut St.
Lions Club Hanover Rd. 1601 Hanover Blvd.
Overeem Little Free Library 106 W. Phyllis Ave.
Debbie Lacy Anderson 3500 Snow Leopard Dr.
Rachel Nelson Memorial Sharing Library 3801 Armadillo Dr.
Kimberly's Books to Explore 106 Wallaby Way
Rebekah Robertson 309 St. Joseph St.
Tricia Price 1517 Tidewater Dr.