My Heart Belongs on a Backroad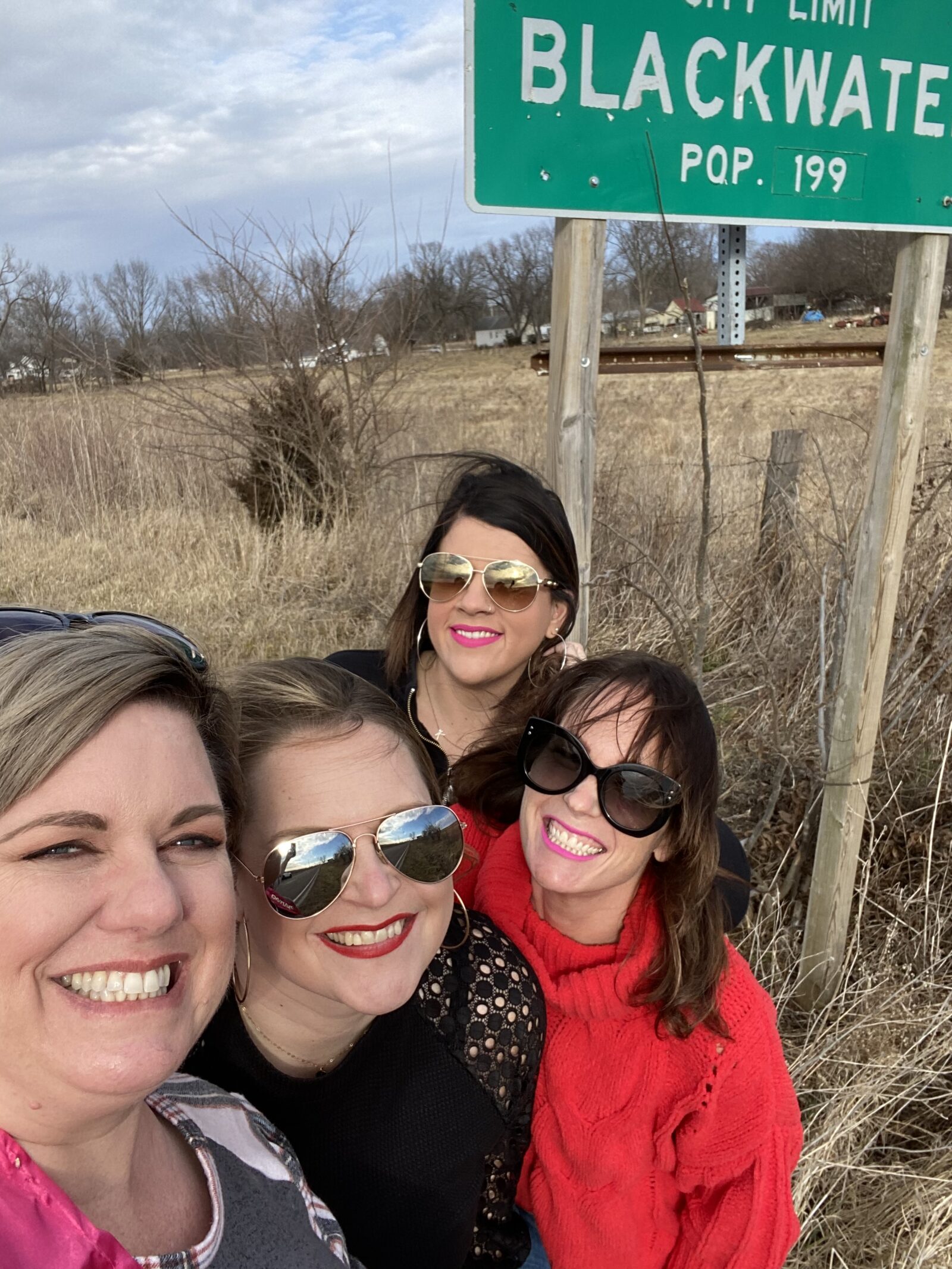 An adventure awaits on the Central Missouri Loop.
Last year, looking for something to do during the height of COVID, my friends and I hopped in the car with no destination in mind. We came up with the idea to play a game we named "Quarters." The rules were simple. We'd drive until we came to an intersection, then flip a coin to determine if we went right or left. During this adventure, we stumbled into a unique boutique in Blackwater called The Rustic Acre. It was there we met Melissa Chevalier and her friends. While "oohing" and "aahing," over some of the cutest boutique finds, we struck up a conversation and first heard the plans for a future ultimate "backroad adventure" that would be called The Central Missouri Loop. 
This dream is now a reality! The Central Missouri Loop is a stay-and-play experience for everyone. The Loop consists of all "Mom & Pop", family-owned businesses! The Loop is composed of eight small towns: Blackwater, Arrow Rock, Glasgow, Brunswick, Carrollton, Waverly, Malta Bend, and Sweet Springs. Each stop offers something unique and makes it worth the drive.
Strap in, hit the backroads, and get ready to find some off-the-beaten path gems!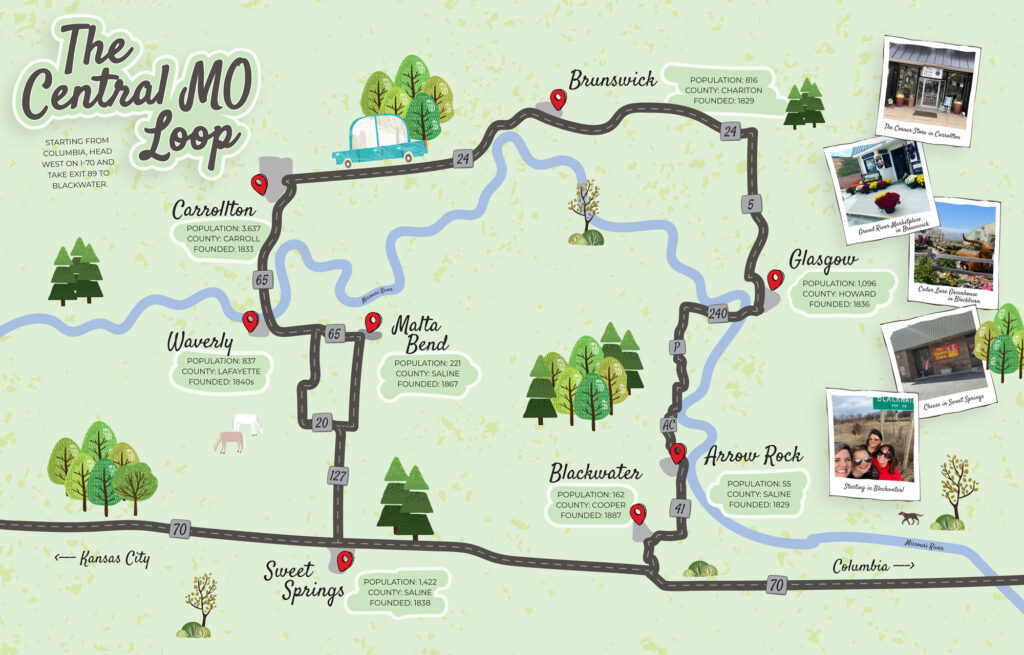 Where to go when you get there?
A stay-and-play experience that's fun for everyone, the Loop consists of all family-owned businesses in eight small towns:
Blackwater
Blackwater Country Store
118 Main St, Blackwater
Iron Horse Hotel
101 Main St, Blackwater
J & L's Things That Were…
122 Main St, Blackwater
Kimberly's Place
106 Main St, Blackwater 
Prairie Lawn School Antiques
401 Trigg Ave, Blackwater
Blackwater B&B
Please visit the VRBO App or call (608) 225-5052 
Arrow Rock
Arrow Rock Antiques m& Mercantile
314 Main St, Arrow Rock 
Arrow Rock Craft Shop
506 Main St, Arrow Rock
Arrow Rock 1829 Gift Shop
310 Main St, Arrow Rock 
Badger's Hideaway Ice Cream Shop
306 Main St, Arrow Rock
Bucksnort Trading Company
802 Main St, Arrow Rock
Catalpa
302 Main St, Arrow Rock
Huston Tavern
305 Main St, Arrow Rock
The Lindsey House
Arrow Rock
Missouri Folk Art Shop & Gallery
517 Main St, Arrow Rock
Glasgow
Abbey's
101 Market St, Glasgow
Beckett's
510 1st St, Glasgow
Beckett's Winery
515 1st St, Glasgow
Market Street Floral
106 Market St, Glasgow 
Muddy Mo Pizzeria
517 1st St, Glasgow 
Orchard House Inn
420 3rd St, Glasgow
Riverbend Family Restaurant
615 1st St, Glasgow
River City Antiques
609 1st St, Glasgow
Sauced Boutique
111 Market St, Glasgow 
The Beak
418 1st St, Glasgow
Brunswick
Grand River Marketplace
108 W Broadway, Brunswick
Grove Antiques
109 W Broadway, Brunswick 
Kaitlynn's Deli & Ice Cream
121 E Broadway St, Brunswick 
Madison Bootlegger's Club
105 N Madison St, Brunswick 
Miller Pecan Farms
Pecan Avenue, Dewitt  
The Railyard Steakhouse
606 E Broadway St, Brunswick 
Sherry's Home Cookin'
801 E Broadway St, Brunswick 
Sycamore Valley Farm B&B 
25589 Fort Orleans Ave, Brunswick 
Twin Oaks Enterprises
206 W Broadway St, Brunswick 
Upriver Home & Gifts & Wine Studio
117 E Broadway St, Brunswick 
UpRiver Urban Exchange
115 E Broadway St, Brunswick 
1820 The Family Restaurant
414 W Bridge St, Keytesville 
Carrollton
Carroll County Mercantile
8 W Benton St, Carrollton
The Corner Store
16 W Benton St, Carrollton 
Crybaby Farm Gifts
900 US-65, Carrollton 
Folger St Inn & Coffee House
206 N Folger St, Carrollton
Glenda's Creative Corner
14 S Folger St, Carrollton 
D's Designs Boutique
2 S Mason St, Carrollton 
The Lavender Tea Room
900 US-65, Carrollton 
Nutrition Corner
2 S Mason St, Carrollton 
River Bottoms Brewing Co.
12 W Benton St, Carrollton 
Shirley's Shoes & Boots
14 W Benton St, Carrollton
Waverly
Neighbors
101 W Walnut St, Waverly
Baltimore Bend Vineyard
27150 US-24, Waverly 
Cedar Lane Greenhouse
16875 Blackburn Rd, Blackburn 
Chrisolyn's Gluten Free Bakery
321 E Walnut, Waverly 
Peter's Orchards Market
32651 US-65, Waverly 
Schreiman Orchards
29032 US-24, Waverly 
Waverly Apple BBQ
601 Old Bridge St, Waverly
Malta Bend
Central Missouri Wildlife
29981 Highway N, Malta Bend 
Kosy Grove B & B
19826 300th Rd, Malta Bend
Dankenbring Orchards
Highway 65, Malta Bend
Summerland Flats Inn
29981 Highway N, Malta Bend 
Sweet Springs
Old School Social
308 S Locust St, Sweet Springs
The Cheese Store
100 N Locust St, Sweet Springs 
Sweet Springs Motorsports Complex
12917 Saline 127 Hwy, Sweet Springs