Photos by Keith Borgmeyer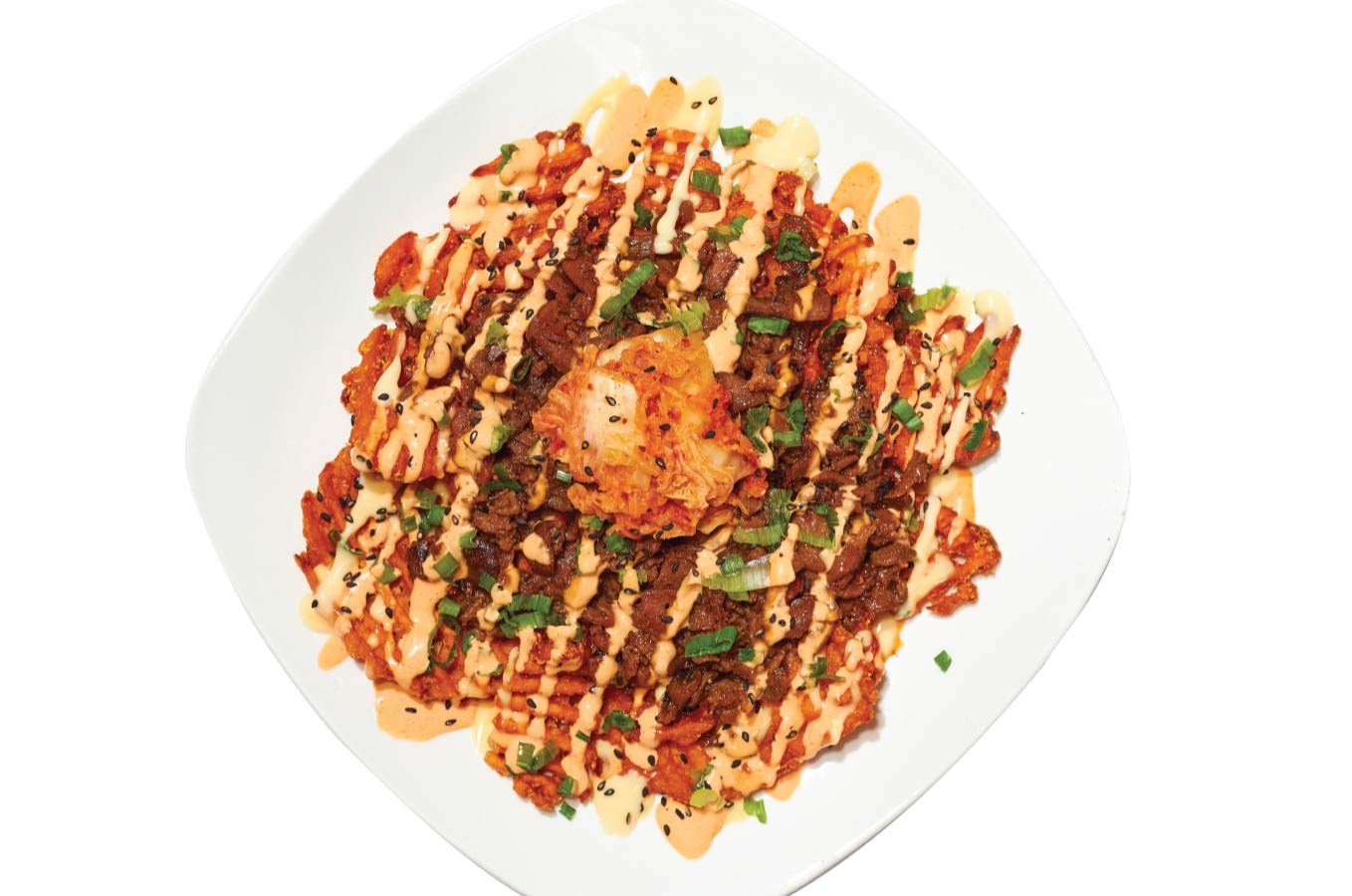 A day of taste testing piled-high fries from 44 Stone Public House, Seoul Taco, and El Oso.
I've always considered myself a potato connoisseur, especially when those potatoes are in the form of fries. Curly or crinkle-cut, sweet potato or golden potato, if food could be a love language, fries would be mine. So when I was tasked with trying unique, piled-high fries from local restaurants, I knew that this — eating and writing about fries — was my true purpose in life.
My day of snacking on various fries wasn't a typical day for me. Because of the COVID-19 pandemic, I've been staying with family in Kansas City, so my fry day was my excursion for the week. I woke up to the blinding sun shining in my eyes, grabbed my notebook, and headed out the door for my drive to Columbia.
NATIONAL FRENCH FRY DAY IS JULY 13
44 Stone Public House
My first stop in my fry-seeking adventure was to 44 Stone Public House. After scanning the menu for approximately one minute, I found the fries I had set out to try: the Seoul Disco Fries, made of Korean-bulgogi marinated steak, cheddar cheese, pink pickled slaw, sriracha aioli, and of course, thick, seasoned french fries. I paired my Disco Fries with a glass of water so I could swiftly differentiate between the multitude of flavors, but after a short conversation with Executive Chef Levi Grantham, I learned that you can never go wrong with pairing this appetizer with a Shiphead ginger wheat from Logboat.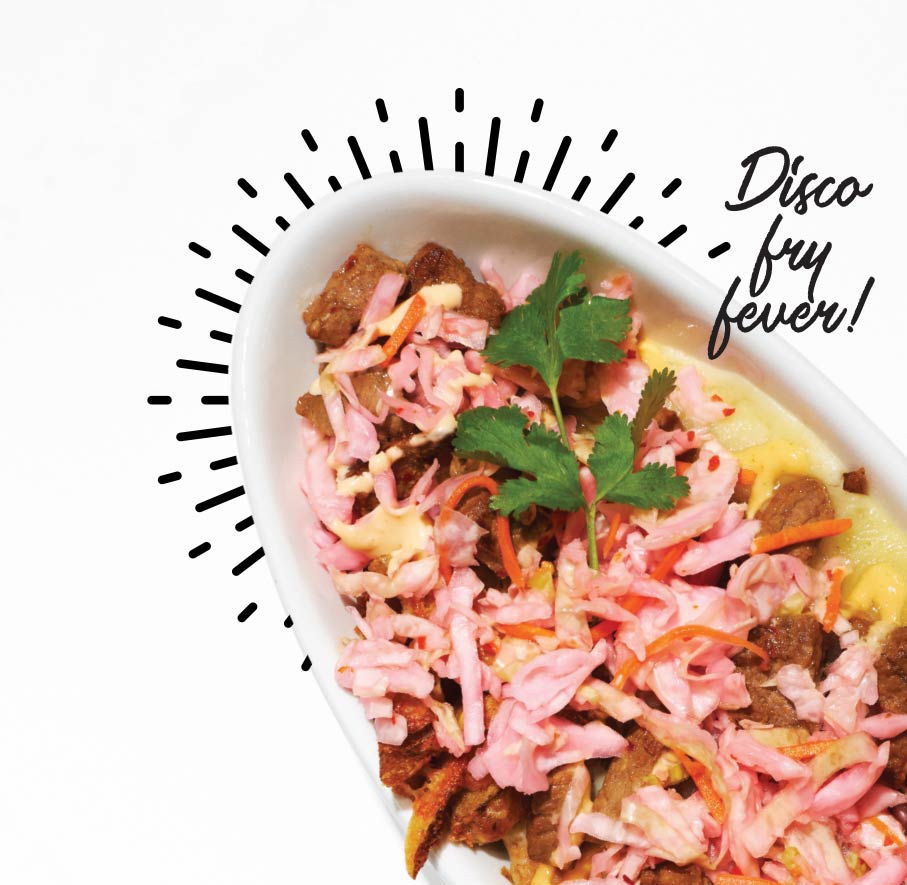 Then, my fries arrived. While watching my waiter carry my dish to my table, several thoughts flew through my mind. My initial reaction was whispering to myself, "Oh my goodness, that's a mountain." The loaded fries were piled high, exceeding the depth of the dish they were served in and topped with a snippet of parsley. I then proceeded to look around to make sure it was mine, but with no one else in the restaurant yet, I concluded that it was indeed.
The dish was almost too beautiful to bite into, with all of the different colors and strategically layered ingredients, but after mentally preparing myself to bite into the mountain, my taste buds were instantly just as satisfied as my eyes were. With my spoon, I scooped up my first fry, making sure to get a little bit of every ingredient. The melted cheddar cheese created a long,stringy tail as I began scooping up my pile, which is how I knew it was going to be delicious.
Every layer of the Disco Fries offered a different flavor. The pinkish pickled slaw gave me a sour-but-sweet flavor, which worked in perfect unison with the sweetness of Korean-bulgogi marinated steak. The steak was so tender it practically melted in my mouth. The thick seasoned fries added the right amount of salt and crispiness. With every bite, I got to experience the power each ingredient brought to the mini-meal. This dish consisted of unexpected combinations, but the rich flavors harmonized with each other and gave my taste buds (and my stomach) the perfect balance of sweet and spicy.
After making it only one-third of the way through my dish, I had to opt-out of finishing and get a box to go. Both I and my still-hungry stomach were disappointed in my progress, but my taste buds were infinitely satisfied. Besides, we still had two other local restaurants to try.
Seoul Taco
My next stop was to Seoul Taco, where I needed to taste test the new gogi and waffles dish made with sweet potato waffle fries, queso (which I forgot to put on mine), kimchi, green onions, Seoul sauce, black sesame seeds, and whatever protein you choose — I chose tofu as I knew I would be eating too much meat during the rest of my fry escapades. Because of the pandemic, I was unable to sit in the restaurant to try these fries, so I got mine to go. And then I dropped them. No gogi and waffles were harmed, but the harsh fall altered the presentation significantly.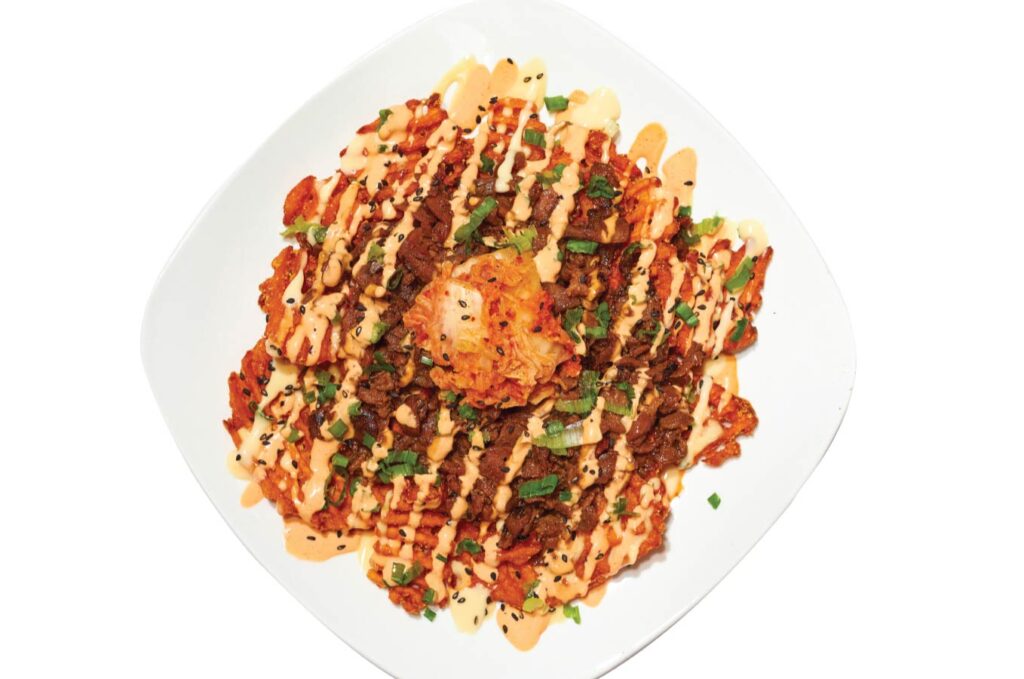 The dish was bright with various red tones, and the smell of the Seoul sauces made my mouth water. The gogi and waffles meal was much spicier than the fries I had at 44 Stone, but not overwhelmingly so. The fries, too, had a good balance of spicy and sweet from the sauces and sweet potato fries. The sweet potato fries were well-seasoned and delectable, and they offered a nice crunch to the dish. The pickled kimchi was a new food for me, but it added freshness to the fries and even more spice. I'm still dreaming of the sweet potato waffle fries mixed with Seoul sauces.
THE AVERAGE AMERICAN EATS ABOUT 29 POUNDS OF FRIES EVERY YEAR
El Oso
After eating two different hefty fry dishes, I was ready for a nap. But nonetheless, I persevered and made it to my final fry destination: El Oso. During a long walk back to my car from Seoul Taco, I called in my order to try the restaurant's house special, the Vegas Fries. This specialty consists of shredded cheese, cheese dip, guacamole, and pico de gallo, all served on a bed of crinkle-cut fries. For protein, I had the choice between chicken and steak, so I decided to try this dish with chicken.
Nearly half asleep at my desk, I picked up my first fry smothered in melted cheese and dipped it in the fresh toppings. The pico de gallo and guacamole made these fries the freshest dish I had tasted during my adventurous day of fries. My taste buds were dancing in my mouth with joy from the combination of freshness and spiciness. After I walked back to my car, I was burning up from the sun, the tomatoes in the pico de gallo cooled me down perfectly while the seasoned chicken made my tongue buzz from the spice. The salted crinkle-cut fries balanced all of the flavor profiles. I would have never expected to pair salty fries with Mexican cuisine, but the duo was a refreshing and satisfying way to end my fry day.
After consuming too many fries to count, I climbed back into my car — with my leftover fries — to venture back to Kansas City. The delicious fries from the day, of course, were still on my mind. Take it from me though: Do you and your stomach a favor and don't try them all in the span of three hours.