CYSK: Jim "Hoss" and Trish Koetting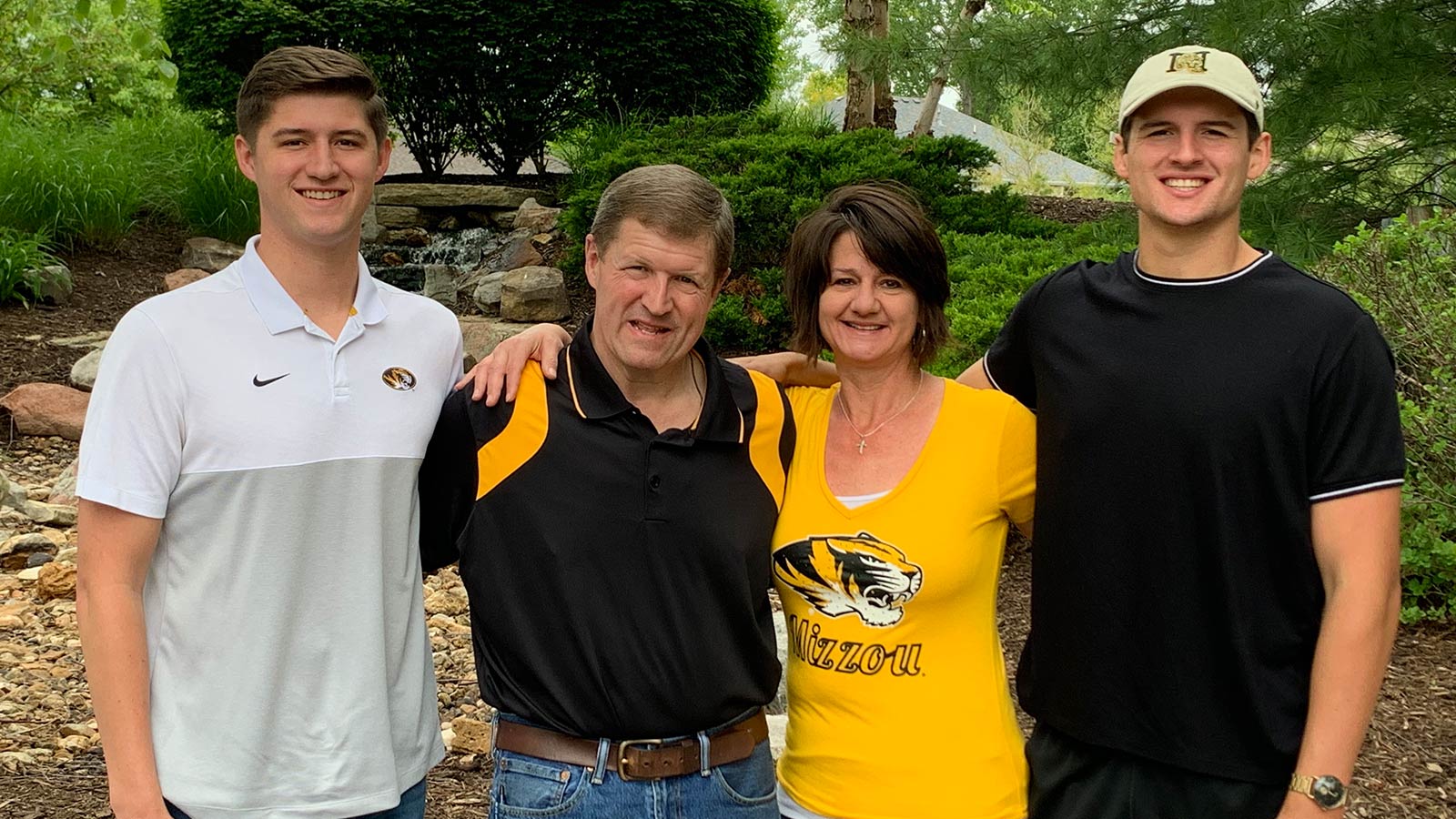 Jim "Hoss" and Trish Koetting share what it's like to work together, what they admire most about each other, and their favorite spots in Columbia.
What was your first date?
Hoss: I can't really say when the first date was. We did not actually go on a date — we hung out together because we both worked at Boone Tavern.
Trish: I'm not going to give you the whole story, but it was after the By George dance club in 1988. Hoss then proposed in the Dairy Queen drive-through a year later after a work picnic with the Boone Tavern staff.
What's your favorite restaurant in Columbia? What's your go-to food and drink there?
H: I like the lamb chops from Chris McD's and the short ribs from Sycamore. My drink is a bourbon on the rocks.
T: We only eat at local restaurants. There's too many to name, but a few that we frequent are 44 Canteen, Sophia's, and Chris McD's. I drink wine everywhere I go.
What's your favorite at-home activity to do together?
H: Gardening, but as we do at [Hoss's Market, the business the couple owns], we split things up. I do the food and vegetable garden and Trish makes everything look good and does the landscaping and flower pots.
T: Entertain friends on our back deck.
What's the best quality of your partner?
H: She is very compassionate, and she is constantly working to improve the status quo.
T: Hoss is very kind to everyone.
What's it like working together?
H: Well, it tests the bonds at times, but we each have our area of expertise and are the yin to each other's yang.
T: Interesting and challenging at times — we both have our strengths, and we stay out of each other's areas. Plus, we try not to talk about work at home.
Tell us about your family.
H & T: We have two boys that have grown up in the business. They both work at the market. Joey is 23 and is getting his MBA at MU, and he works in the athletic department in the Tiger Scholarship Fund. Sean is 21 and is a biology pre-med major. He's also a kicker on the Mizzou football team.
What has been your favorite place you have traveled together?
H: France, for a good friend's wedding.
T: Aspen, Colorado, in the summer.
How does food play a role in your relationship dynamic?
H: It is what brought us together.
T: It is what we do at home and work. Hoss cooks at home — I just reheat, I don't cook at all — and I hang out with him while he cooks and I clean up.
What makes you most proud of your partner?
H: Her lack of fear to voice her opinion.
T: I've never met a single person who met Hoss that did not like him.
What is your favorite art and culture activity in Columbia?
H: The Roots N Blues festival and live music in town.
T: Spending time biking and hiking on the MKT trail and going to MU football games.
What is the key to a lasting and healthy relationship?
H: Wine and liquor! Seriously though: It's important to be able to compromise on the minor issues and discuss the major ones.
T: Trust each other, never raise your voice, and don't sweat the small stuff.