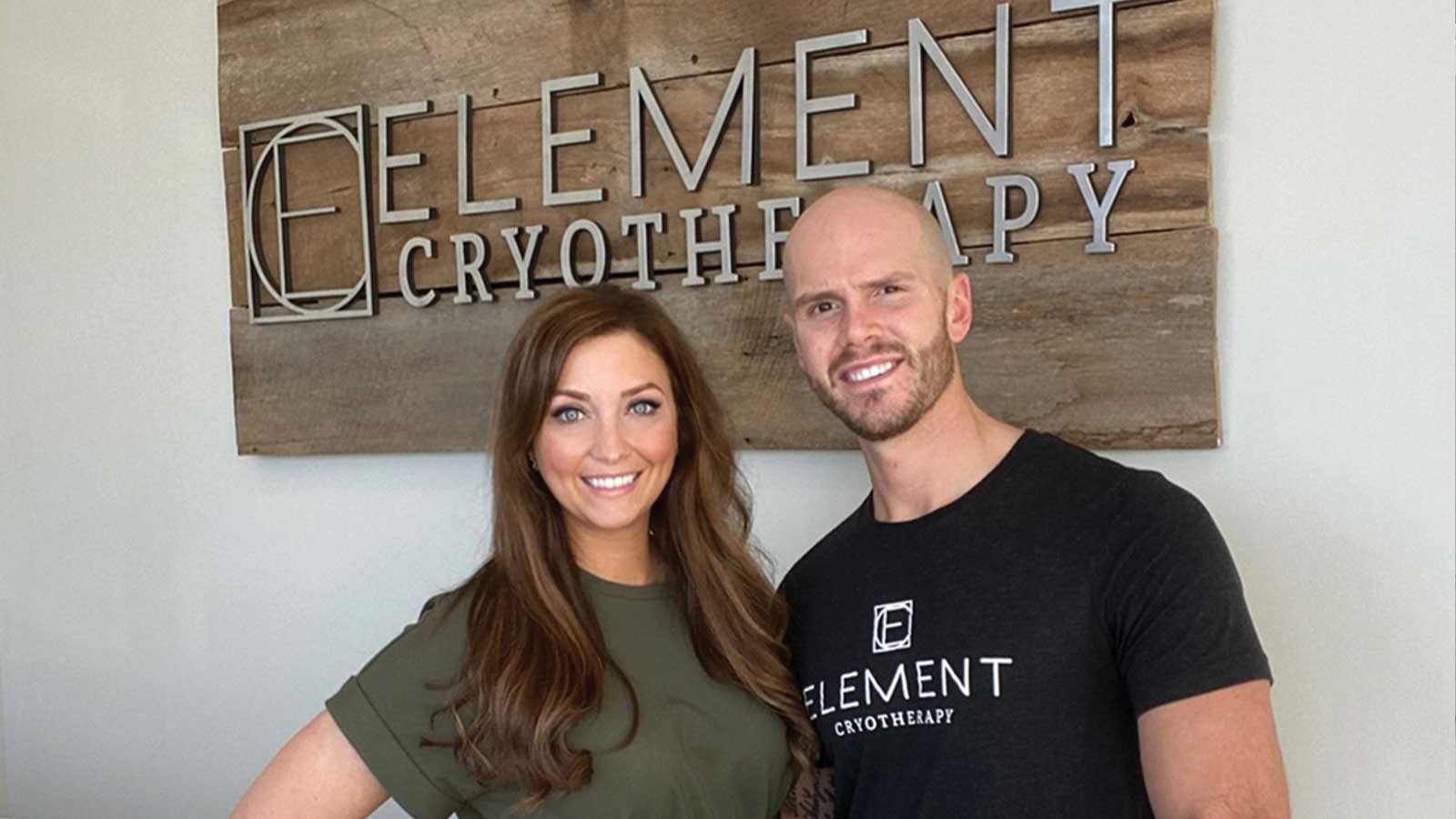 Matt and Claire Taylor bring cryotherapy to Columbia.
Matt and Claire Taylor, husband and wife, have always had a passion for fitness, health and wellness, and finding natural, alternative healing methods. After hearing several positive reviews about cryotherapy and learning that MU's athletic department has two cryosaunas, they decided to take a road trip to St. Louis to experience the frozen sensation for themselves. Once they tried it, they knew they had to bring their own cryotherapy business to Columbia.

"No one in Columbia offered it, and being an entrepreneur, I knew it was a good thing to jump on while I was young," Matt explains. On February 11, 2019, after almost a year of planning, they were finally ready to open the doors to their own clinic: Element Cryotherapy.

Cryotherapy is a modern therapy method where the client is exposed to sub-zero temperatures, or as Claire says, "cold therapy." This type of therapy, Claire explains, is much more effective than ice baths because it gives a better, and more immediate reaction, which is why it has become so popular since its creation in 1978.
At Element Cryotherapy, Matt and Claire offer whole-body cryotherapy. In this treatment, the client is directed towards a small dressing room where they will change into a robe, socks, booties, and mittens. Once dressed, the client steps into a compact cryosauna that surrounds them with liquid nitrogen that has been converted to a vapor. They remove the robe, leaving the booties and mittens on to protect their extremities from the cold.

The cryosauna uses the vapor to help reach the sub-zero temperatures that are crucial to this therapy. Claire explains that these temperatures can reach anywhere from –180 to –250 degrees Fahrenheit. The client will stay in the cryosauna for three minutes to help decrease whole-body inflammation. An Element Cryotherapy team member stays with them throughout the treatment to manage the chamber and to ensure they are comfortable during their entire session. While they're surrounded by the hyper-cool, nitrogen vapors, Matt explains that "the blood is getting oxygenated with fresh nutrients and it [can help] heal areas faster."

This therapy has an extensive list of benefits. It reduces whole-body inflammation and helps with mental clarity by boosting "feel good" hormones. It improves the quality of sleep, relieves muscle soreness, and assists with recovery.

This treatment can also help manage symptoms of autoimmune diseases, a factor that intrigued Matt and Claire even more. Claire lives with multiple sclerosis and she's found that cryotherapy has aided in managing her symptoms. She explains that by doing cryotherapy, she has noticed her physical and mental symptoms have nearly subsided. If she begins to feel her brain fog again, she knows it's time for another treatment.

"For us, we see a lot of clients with autoimmune diseases and chronic pain," Matt explains. "It helps reduce the pain naturally rather than having to rely on medication."

Within the next two years, Matt and Claire plan to expand their cryotherapy business by opening another location in Columbia, or by expanding into other markets in Missouri. Claire explains, "It's been so wonderful. It's not just about running a business. We get to build personal relationships with our clients and we become friends with our clients in the process."