Dishing on Columbia's Gluten-Free Eats & Drinks
Photos by Keith Borgmeyer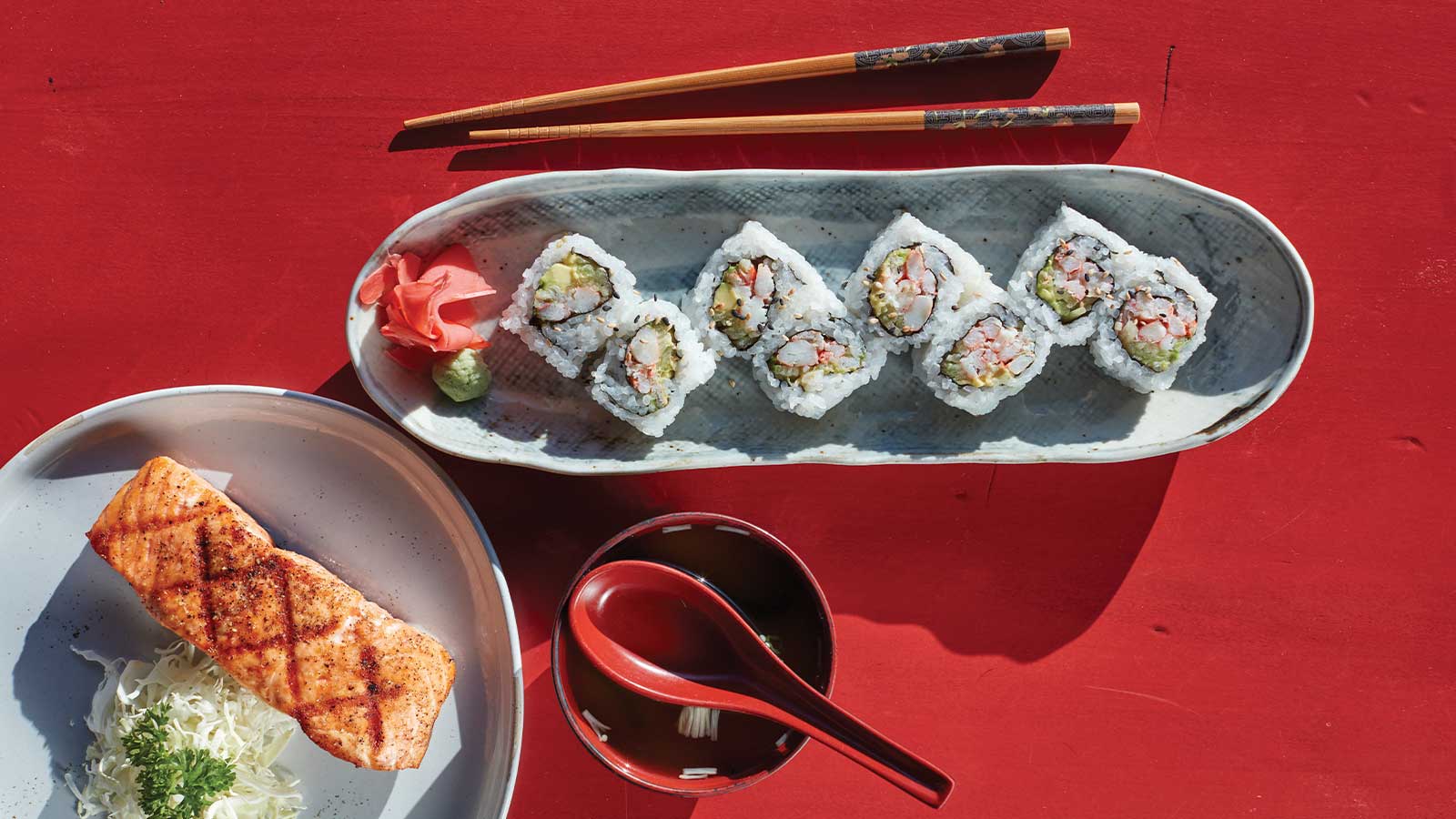 Celiacs can have their cake and eat it, too.
Editor's Note: The following story depicts the author's unique journey to eating gluten-free foods that don't flare up her symptoms at restaurants that take precautions to avoid cross contamination. Please let your server know of your food allergies or dietary restrictions before ordering these items. Each person is unique and might react differently, so please consult your allergist or physician if symptoms occur.

It's early 2018, and it's been about a year since the onset of my symptoms. Eating, and dining out, has lost its luster. Daily, a multitude of symptoms plague me, including bloating, brain fog, breakouts, constipation, fatigue, irritability, migraines, and a sudden lactose intolerance.

I sit restlessly as my allergist joins me in the examination room. Thump. Thump. Thump. My heartbeat pounds through my ears, warming them as she begins to speak. She delivers phrases I don't want to hear, such as "celiac disease," "gastrointestinal damage," and "no cure."

Thump. Thump. Thump. My heartbeat begins to steady. The silver lining for my diagnosis is that there is, in fact, a diagnosis. All the pain, discomfort, confusion, frustration have a reason: celiac disease.

"Stay as far away from gluten as you can," she says. These words ring in my already-burning ears.

But how can I abandon such an integral part of my identity? My paternal grandmother taught me how to bake a plethora of cookies and cakes. I'm Russian on my mother's side; many times, I've scoured her babushka's pre-Cold War recipe book from Moscow. A few of my favorite recipes: milk lapsha, a sugary egg noodle pasta; kulich, a sweetened traditional brioche-like roll; and vareniki, sour cherry dumplings.

The common denominator of all of my youth: gluten.

Gluten is a protein found in wheat, barley, rye, and malt. When consumed, gluten can cause inflammation in those with sensitivities and can damage the small intestines of people like me. There's no magic pill or potion to preemptively consume to prevent or minimize gluten's effects on a celiac body.

I thought, for the most part, that having celiac and being gluten-free would derail the routine of my life. Dire to me was just thinking about eating gluten-free in the heartland. Missouri, known for its wheat- and barley-based breweries, it's ooey, gooey butter cake, and the infamously fried toasted ravioli, on first inspection, didn't seem like a gluten-free haven, especially compared to my native California.

I have since eaten these thoughts.

I often think back to that day where I sat anxiously awaiting my diagnosis. Fast forward two years, and I am thriving, and so are my taste buds. I invite you, my fellow celiacs and gastronomy aficionados alike, to pull up a chair with me and dine on some of Columbia's best gluten-free eats.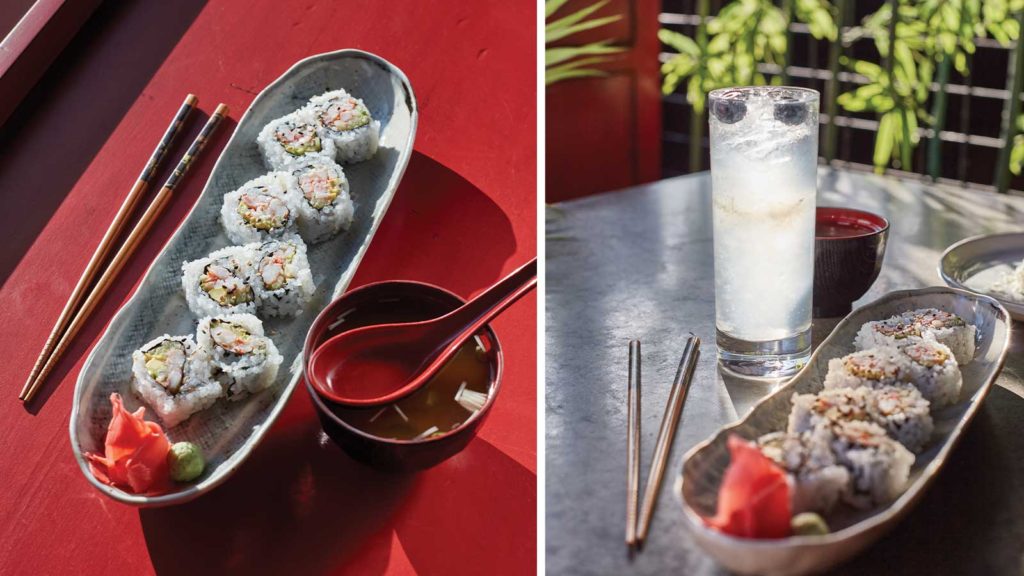 Cheers to Kampai
First stop on our gluten-free passport: Kampai Sushi Bar and Grill.

Kampai is Alley A's trendy sushi bar and grill with a menu full of Asian fusion eats and Japanese classics alike, such as savory chicken gyoza dumplings, fresh sashimi, and tempura udon. I pull back the black cloth noren and cross the threshold to arrive halfway across the world to Columbia's little slice of Japan's cuisine.

In Japanese, kampai means "cheers." Naturally, once seated, I glance at the drink menu. Those seeking tradition should try the hot, well-balanced Gekkeikan sake. Order the aromatic Sayuri Ngori unfiltered, chilled sake for notes of floral lily and hints of grape. As for me, my cocktail of choice is the Berry Crush, a mix of gluten-free blueberry vodka and Sprite, for a refreshing splash of berry. Cheers!

After ordering, I pull up the sushi list, and settle down for the evening. Here at Kampai, almost every roll can be modified to be gluten-free with simple modifications, Kampai server and bartender Grace Haun says.

My gluten-free go-tos? The California makimono roll crafted with real crab mix and crisp cucumber sans the soy sauce-marinated smelt roe garnish. For something fresh and simple on the palate, try the house Como roll without roe. Missing soy sauce? Ask your server for Tamari, a mushroom-based gluten-free alternative to bring down the heat of ginger and wasabi.

For dinner, I get a pared-down version of the teriyaki-marinated, fresh, wild pacific salmon Sake Yaki that does not compromise on flavor. I simply request the salmon lightly seasoned and without sauce.

"We're totally fine making changes and substitutions to items on the menu to make you comfortable," Grace says. "We want people to come back and enjoy a nice meal."

I enjoy the warmth and nostalgia of dining at Japanese grills in California, and the salmon and its accompanying white rice take me back as I slurp down a cozy bowl of savory miso soup. By this point, I am full and content knowing my meal has been as celiac-friendly as it has been delectable.

"Art [Wuttisak, the owner] is pretty picky about the ingredients we get, where they come from, and that they're consistent," Grace says. "That's part of why we can say things are gluten-free all the time, because of the quality of ingredients we have."

But it's not time to leave the sushi bar just yet. For my final flavor experience of the day, I order the sweetened green tea ice cream for dessert. The sugary creaminess blended with matcha is an electric grand finale for my taste buds. Perhaps I saved the best for last.
NEXT UP: Spicy Samurai roll with gluten-free shrimp pad Thai, a house special prepared with gluten-free noodles and a special sweet and spicy sauce, and the Zipang sparkling sake.
PRO TIP: Hungry for lunch? Stop by for a bento box special where each variation can be modified gluten-free.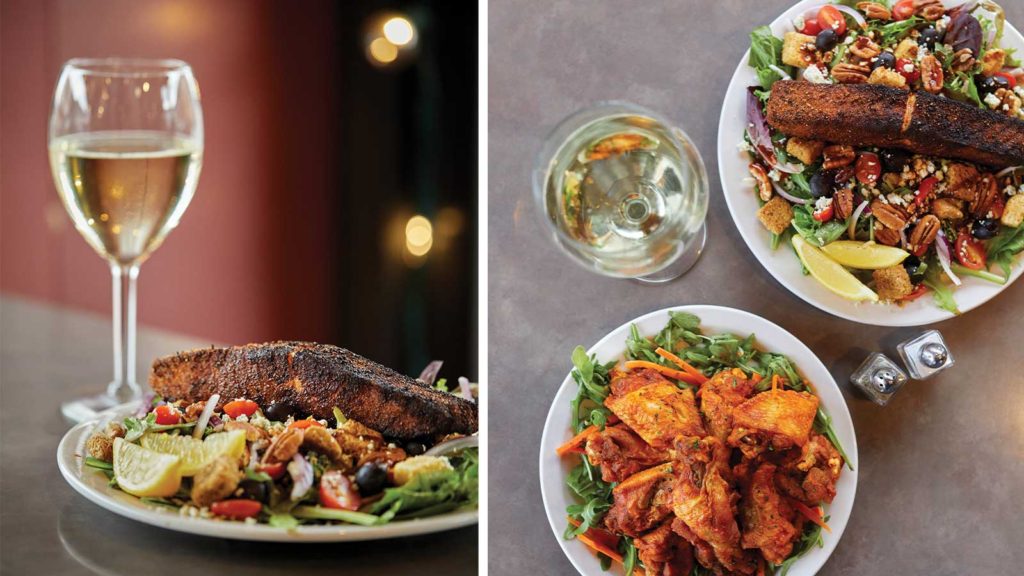 Plateful of Tellers
If you've wandered through the shops of downtown or participated in the Ninth Street Shuffle from the Blue Note to Shakespeare's Pizza, you've seen the lights, eats, and drinks that is Tellers Gallery & Bar. Twenty-one years ago, when co-owners Deb Rust and Robin Weatherford opened up their casual, vibrant eatery, bar and gallery, they needed a name for their business. Deb, who speaks fluent German, suggested teller, the German word for "plate." And since then, the funky, friendly spot has lived up to its name.

I snag a seat by the windows to get a front-and-center view of downtown Columbia's energetic heart. The art and creativity that comprises The District mirrors the American flare of the eats and drinks I'm about to order.

Today is Thursday, which means wine night. I order a delicately sweet, sparkling glass of Centorri moscato. If you prefer to gulp a tart cider, I recommend the effervescent Crispin Pacific pear, a certified gluten-free cider flavored with ripe pears and a subtle aromatic earthiness.

My fiancé orders a plate of wings for the table. It's been years since I've been able to eat some wings. I slink into my seat and rejoice as I munch on these tossed brown sugar barbecue wings that I've dipped in homemade buttermilk parmesan dressing.
"The food is designed so that there is hopefully something for everybody," says Robin. "It's all fresh, it's all homemade." Robin stands by her plates, and for good reason.

If you, like me, came to Tellers for the atmosphere, you will definitely stay for the food. For dinner, I order the creole salad with blackened grilled chicken or salmon without croutons. This colorfully ornate dish is an absolute party on my palate, an addicting explosion of spice and traditional Creole flavors. The tangy vinaigrette marries well with the spiced chicken or salmon, while veggies and pecans freshen the dish. This is one meal I never want to end.

After all the spice, it's time for dessert, but I don't need to consult the menu. I order the bittersweet chocolate mousse with fresh raspberries and no whipped cream. "It was one of the desserts we made in the beginning, and it was so popular that we decided to always have it," Robin says.

The decadent mousse is heaven in a glass. The silkiness of the mousse melts in the mouth. You won't need to share this one.
NEXT UP: Caesar salad sans croutons with blackened salmon and sweet potato chips paired with a chilled glass of rosé.
PRO TIP: Tellers' dessert menu rotates weekly and adds new flavors of crème brûlée.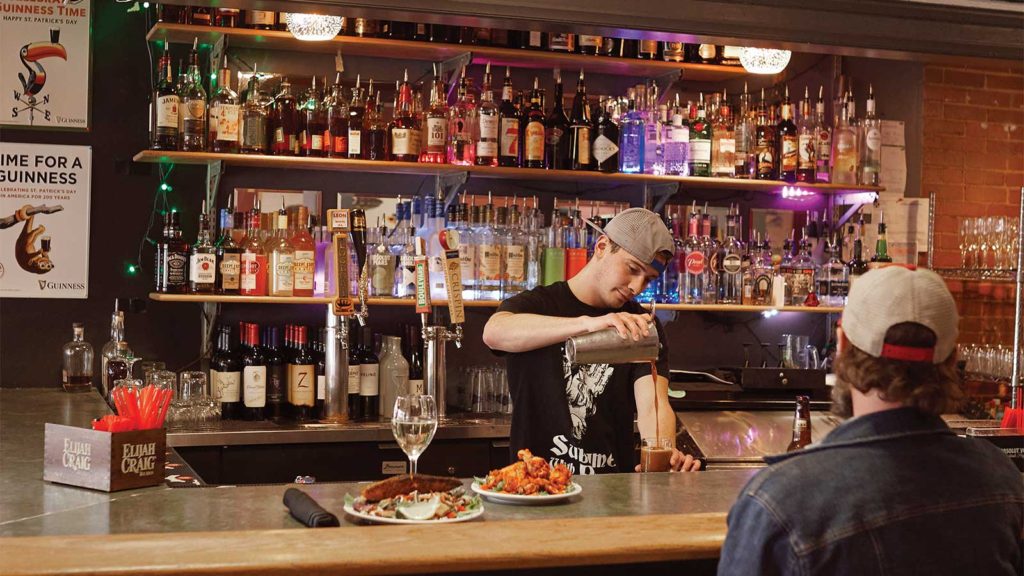 Not all of these eateries are dedicated gluten-free facilities, but their lengthy gluten-free and celiac-friendly menus are sure to fool your taste buds.

THE BEST OF THE REST

CC's City Broiler
Dietary restrictions should never hinder you from enjoying the finer things in life. And by the finer things, I mean hand-cut aged steaks, fresh seafood, and fine wines. For a night out on the town, head on over to CC's City Broiler. Celiacs can ignite their palate with stuffed salmon dressed with a beurre blanc sauce, tender filets, and a choice of several made-from-scratch side dishes, including lobster mashed potatoes and signature salads.
Jazz Kitchen
Eating gluten free is always a reason to party. Head on over to New Orleans-inspired Jazz: A Louisiana Kitchen for dinner and a (jazz) show that feels like the French Quarter. Jazz features a full gluten-free menu, including crisp mixed veggie salads and Cajun charbroiled oysters and blackened proteins. Half-priced bottles of select wines on Madburg Mondays keep the party flowing. When you're ready to satisfy that sweet tooth, ask your server about any gluten-free desserts.
Range Free
What I dub the queen of Columbia's comfort food. Other dietary restrictions besides gluten? No problem. Almost everything on Range Free's menu and all the decadent confections behind the glass are prepared without the top eight food allergens at this gluten-free facility. Start the morning off right with the waffle, a vegan Belgian-style waffle topped with a mixed berry compote, or sprinkled glazed donuts. Dining here is reason enough to celebrate, and don't forget to inquire about their specialty allergen-friendly cakes for your next festivity.
Sycamore
This upscale, vintage venue is home to several gluten-free finds on its New American fare menu. If you're feeling boozy, ask your server about Sycamore's signature sweet red wine. For your entree, take your pick of barbecue pork tacos, wedge salad, and breadless sandwiches. Make sure you save room for some after-meal treats. The flourless chocolate cake is heavenly, while the creamy yet refreshing vanilla crème brûlée will not disappoint.
GLUTEN FREE TREATS
Deviled Eggs
44 Stone's deviled eggs are just like grandma used to make — just ask to leave off the crostini that comes on the side.
Cupcakes
Chocolate cream cheese cupcakes. What more do we need to say? Find these allergen-friendly delicacies in the dessert case at Range Free.

Froyo
Relieve that sweet tooth with Yogoluv's frozen yogurt flavors, such as cotton candy or cake batter. Top your froyo with fresh berries or rainbow sprinkles.

Pancakes
Start your morning off right with Nourish Café and Market's allergen-friendly pancakes and strawberry sauce. Who knew broccoli could taste so sweet?

Pizza
Cauliflower crust? More like cauli-power crust. Order Shakespeare's Pizza's cauliflower crust for a gluten-free take on its traditional pie.

Ramen
Jina Yoo's Le Bao features a gluten-free veggie ramen that's sure to warm the soul of any celiac.
Smoothies
For a gluten-free energy boost, order Main Squeezes' Curious George banana and peanut butter smoothie. Your inner child will thank you.