Photos by Keith Borgmeyer
Curated experiences are what guests can expect at Günter Hans.
Across from Ragtag Cinema, in the alley off Hitt Street, Günter Hans reveals itself by way of a gas-lit lantern and the aroma of baking dough.

Inside, multiple generations coexist over steins of beer you may struggle to pronounce. But that's okay. Günter Hans is not the place where watery domestics are tolerated.

Günter Hans specializes in rare and hard to find European beer. That dough smell? It's from the bretzels, made fresh by hand each morning. Everything served at Günter Hans has a taste and artful skill that demands to be savored.

It's not uncommon for guests to comment they're reliving their trips to Europe.

"They'll say, 'We had this beer, and I don't remember what it was, but it was like from this town, and it tastes like this, do you have that?'" says owner, founder, and 20 Under 40 alumna Lydia Melton. "Maybe we can't get that one beer from that one small town, but we will be able to get something remarkably close."

Günter Hans isn't a restaurant or a bar, nor is it a kind of common hybrid that you'll find — restaurant by day, bar by night. Borrowing from Western European countries (think eating German bratwurst at a Parisian cafe table under London bus signs), Günter Hans is something entirely its own.

Lydia has adopted a more European philosophy by avoiding excess and doing what she does exceptionally well. This responsibility for authenticity and quality has grown since Günter Hans has expanded its space to their new Barrel Room.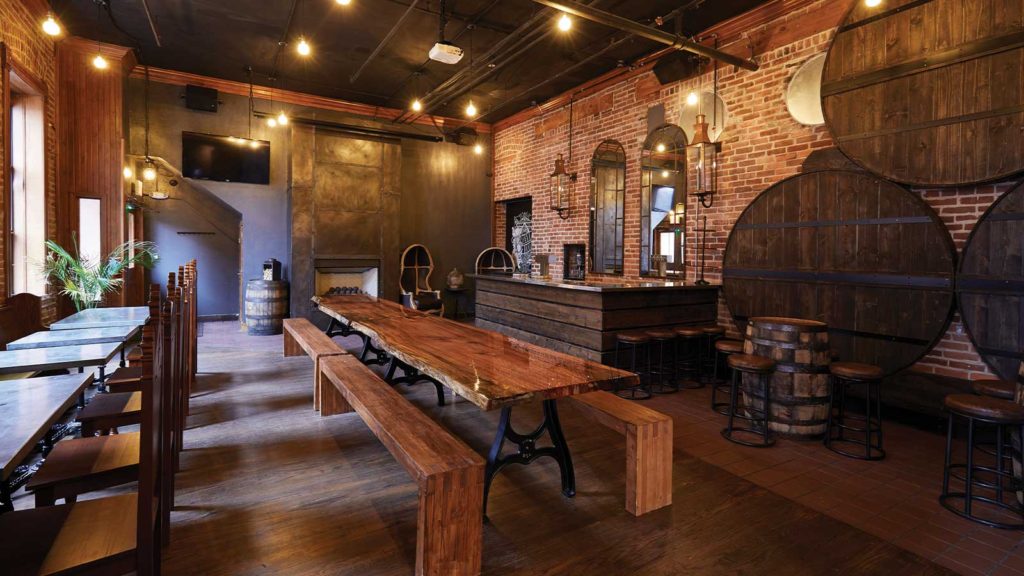 Barreling Down the Door
"I still remember the flying tacos with the sharp teeth all over the walls," says Kylie Evans, Günter Hans' experience curator, of the room's former look.
Kylie calls the Barrel Room her work baby. She's been cradling the project since her start date, three weeks before construction began.

"We talked to the landlord and said, 'Well, if it ever makes sense for [our neighbor] to give up that backroom, let's have a conversation and talk about what that would look like,'" says Lydia.

In February 2019, the opportunity arrived to take the room. While their neighbors had an excess of space, Günter Hans was facing overcrowding and turning away guests. Construction began in early June.


Now, Kylie works every day in the new Barrel Room, planning upcoming events and reservations. The new space can accommodate up to 65 guests.

Kylie says the expressions of awe across guests' faces when walking in for the first time is irreplaceable.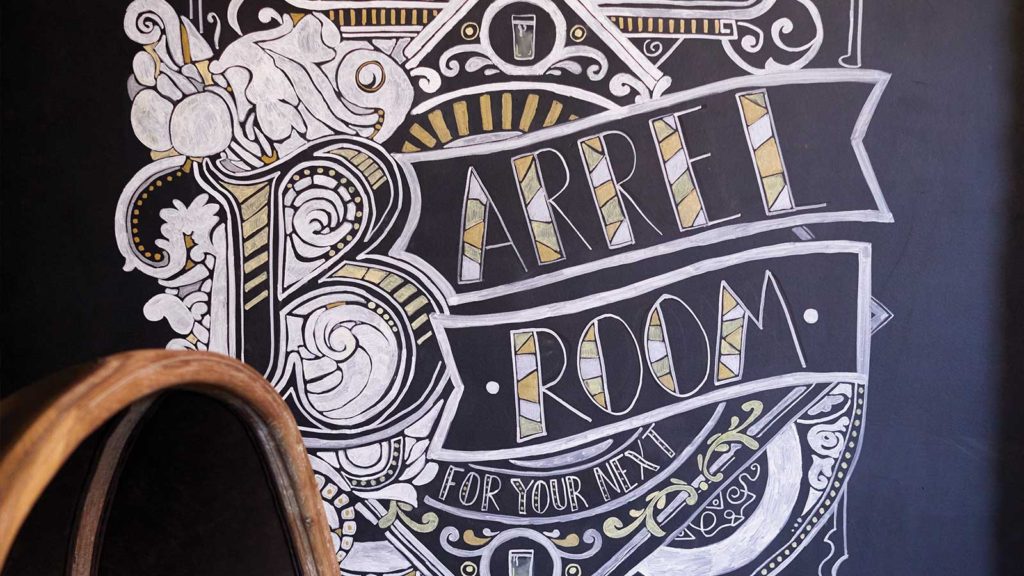 "It's just a humbling and reaffirming feeling," says Kylie. "It lights that fire within that, 'Yes, we do have this asset that nobody else in town has.'"

The room had the design challenge of joining a European theme with historical assets of an American modern industrial space. The final result was the warmth and intimacy associated with a European café and the cool-newness of an American pub. But the room's success did not come without the prescribed amount of blood, sweat, and tears.

"It's funny. When you asked what people's reactions are like coming in here, I have flashbacks to what it was like to get it, because we DIY'd a lot," says Lydia.

The long wooden table and benches in the Barrel Room were constructed by Lydia's woodworking enthusiast husband, Colby Melton, from two giant slabs of sycamore found in St. Charles. The acid-treated metal fireplace was inspired by the ever-dependable Pinterest. New Orleans-inspired gas lanterns are dotted throughout the room, warming the space both physically and visually without the fire hazard.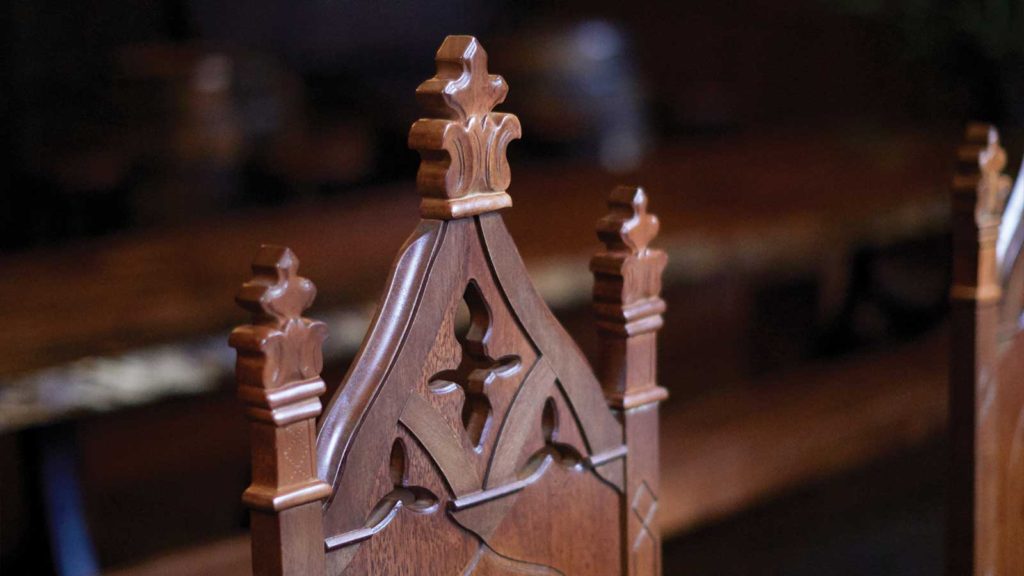 Gothic chairs from an online Catholic supply store and a revitalized church bench make up a large portion of the seating. They're pushed up against handmade zinc tabletops that each will age with an individual, unique patina.

Two pieces of wooden art hang to the right of the wood-paneled bar. The carvings are antique plaster molds brought back from Europe. Like giant stamps, these molds were pressed into walls to create texture.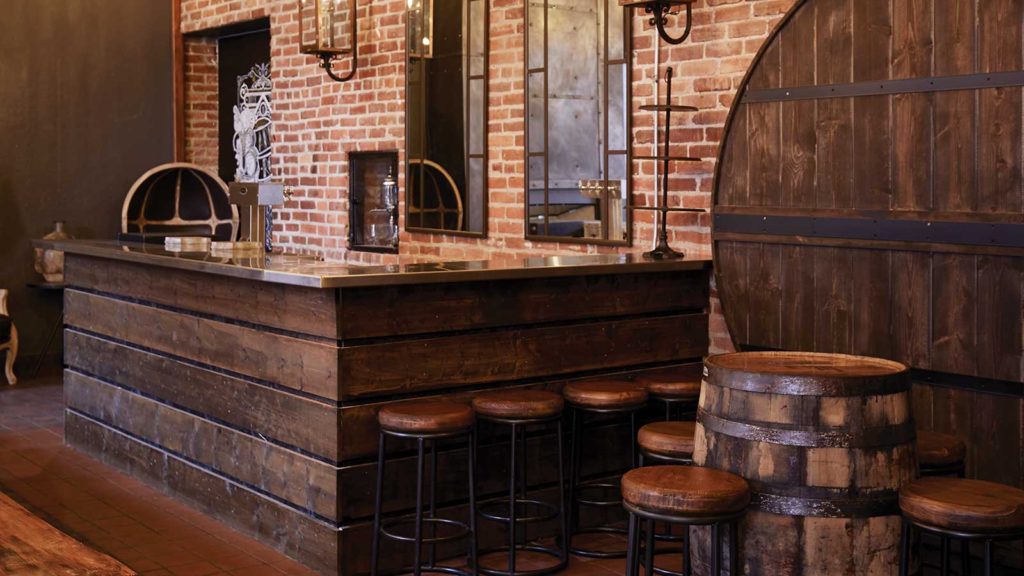 A Curated Experience
"Our focus is building curated experiences," says Lydia.

The Barrel Room is like no other space in Columbia, so offering experiences like no other in Columbia is a given.

Food is an influential part of those experiences. Günter Hans' entire menu is made by hand to emulate the artisanship one could experience while touring Europe. Reservations at least ten days in advance give guests access to expanded menus, including a menu for brunch and dessert.

"Our priority is doing what we're doing now very well as opposed to doing too much and not being able to give people the attention they deserve," says Lydia.
To maintain as authentic a European taste as possible, ingredients or products are imported from Europe or sourced from a U.S. supplier with high standards. If you give notice beforehand, almost anything is possible.

Günter Hans plans to collaborate with other local makers and businesses. Events such as Pints 'n' Pups with Lizzi and Rocco's, Ophelia's Plant Killers Anonymous workshops, and stein painting with the Mud Room are already in talks. Their first pop-up with Ophelia's and Amplified Productions, a local jewelry maker, was a success.

An absinthe fountain and table-top service is planned to be rolled out in 2020. That's one of the appeals to Lydia about entrepreneurship: the opportunity to push the envelope and do more. With a dedicated team behind it, Günter Hans' possibilities are endless.