Photos by Keith Borgmeyer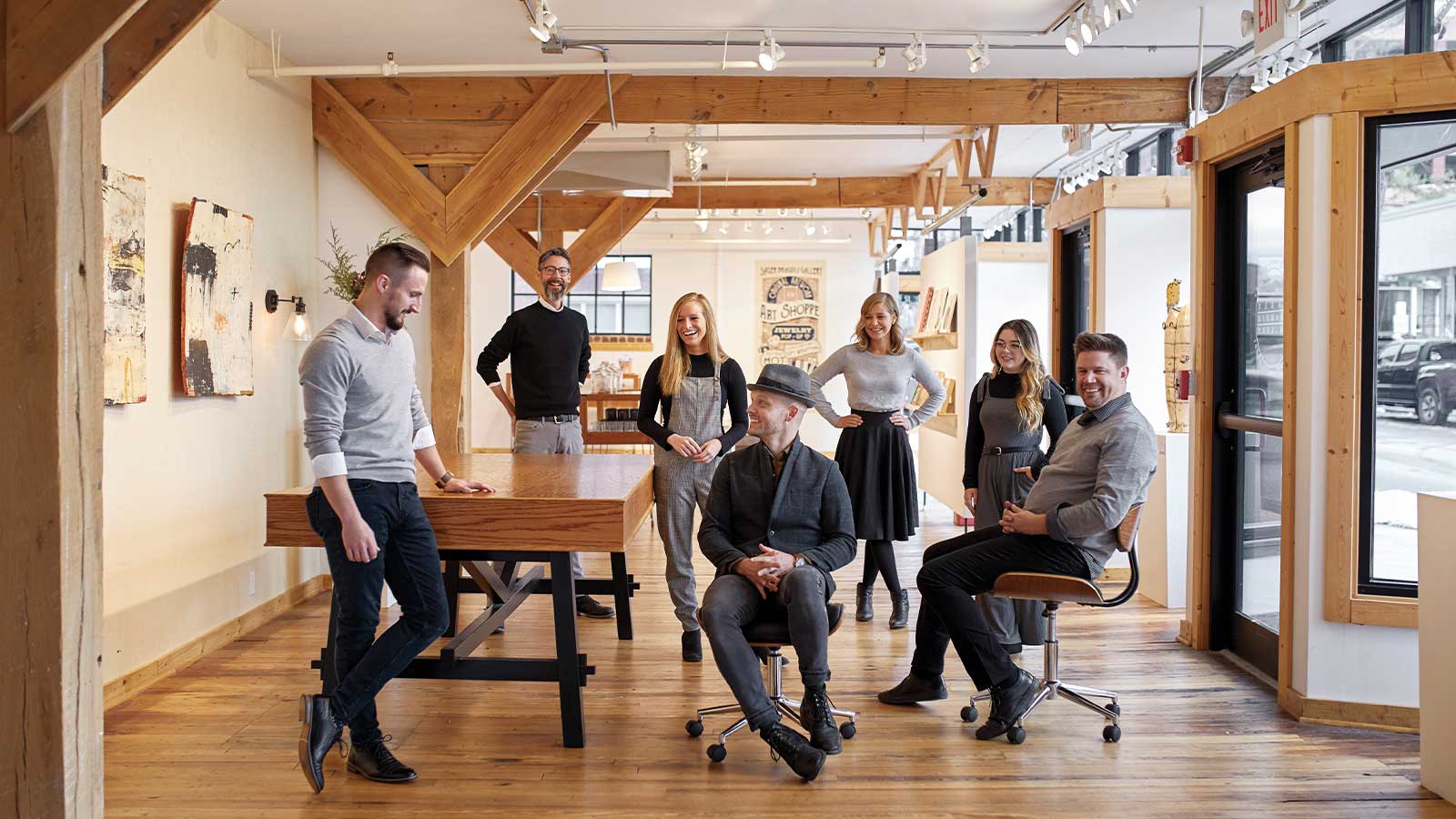 Sager Braudis Gallery expands its space to create robust programming.
"I think that visual art is an imperative for all communities," says Joel Sager, a 20 Under 40 alumnus. "I grew up in a small, rural town, but knew from an early age that I wanted to be an artist. I'd visit an art gallery twice a week and I felt tethered to something that made me different. I could meet people that were like me and see things that interested me. That is why I opened Sager Braudis."

Now in its sixth year of operation, Sager Braudis Gallery, which Joel co-owns with Scott Braudis, has evolved to create more engaging opportunities for the community to view their contemporary artwork through a variety of initiatives, including extending their gallery space and introducing the artist residency, internship, and membership programs. Through these initiatives, Sager Braudis has shown that they are honest champions of connecting the Columbia community to visual art.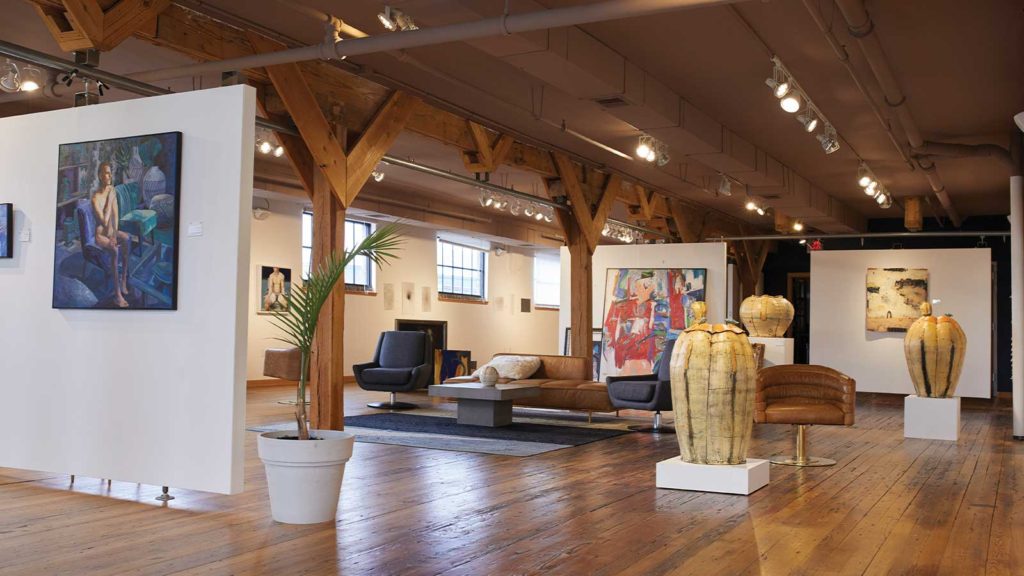 Widening the Aperture
Expansion for Sager Braudis has always been an inevitable project, says Joel. When their former neighbor, Studio Home, moved further west of town, they expanded the gallery, adding an extra storage room and creating a client room.

As the gallery embarked on a three-month expansion project that ended in April of 2019, they knew that they wanted to increase their physical scope to allow for new programming initiatives.

"One element of the expansion was to make our programming more robust through additional, separate exhibits that we run through the space, or through larger curated exhibits," says Joel.

Hannah Reeves, the gallery's director and curator, adds, "We have our semiannual special exhibit, which runs through the entirety of the space, and we've also started a quarterly rotation of exhibits of collections and collectible work of mid-century artists and art, historically significant pieces that we can rotate out to make smaller collections. We also have a quarterly catalogue that accompanies these collections."

The client room is where the gallery brings in clients to discuss what artwork they are looking for, whether it's an individual inquiry or a client buying artwork for a business. There is also a library, which is a combination of the gallery staff's books and donations from the community.

The library is open to the public, and some of the art history books have accompanying artwoWrks from the gallery's historically significant exhibits. Members of the community can read about artists like Mary Abbott and immerse themselves in one of her sink paintings, giving them an intimate experience with her artwork.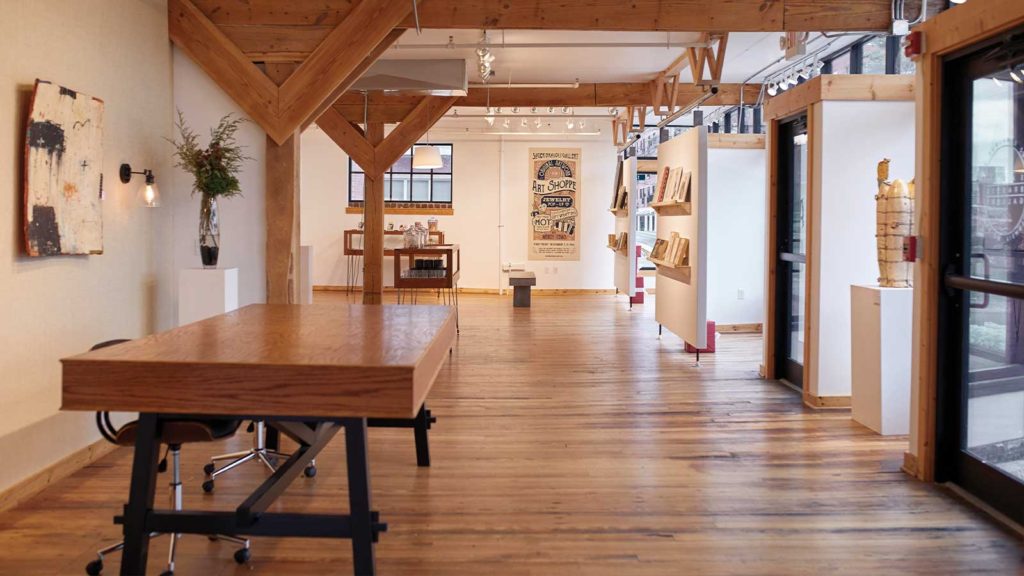 Pouring into Artists from All Over
The artists' residency program was recently created and introduced to the public. It was created as a platform to nurture artists and give them the opportunity to create art in Sager Braudis' space, exhibit it, and sell it to potential clients.

"When creating the residency program, we wanted to give artists a free space to work. As an artist, the biggest thing is room and board, where you can work, and the time. So, we felt that this [program] would be a good thing to offer. We opened applications to the country and the rest of the world and got many submissions," says Joel.

The selection process for the residency is democratic. The gallery's staff collectively reviews an applicant's portfolio and curriculum vitae. They then critically discuss the applicant's fit with the gallery's aesthetic and how they can contribute to and maintain the gallery's curatorial voice.

Artist residencies will run on a quarterly basis. The gallery has currently selected eight artists — two for each quarter in 2020. The gallery's space allows for two artists, who are paired based on their availability and how their work combines in media, to have a shared studio space that comes with a storage room and bathroom.

"We have a great mixture [of artists]. We have some Columbia artists, but one of our first residents is from Cuba and we also have another artist coming from Montreal," says Joel. "This will be a great mixture of our immediate community and the broader art community, and it's an opportunity to bring new work to Columbia."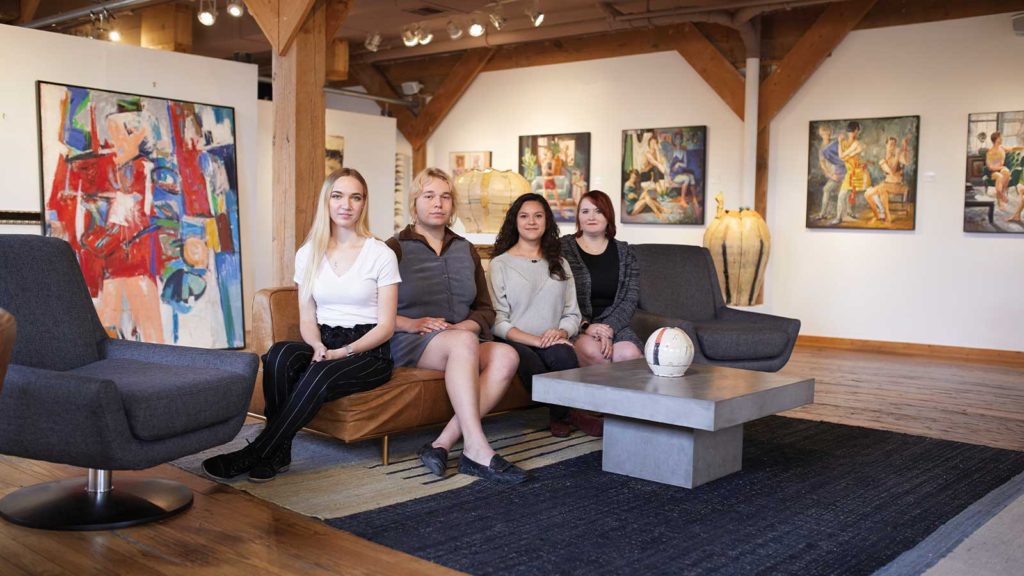 Making Art a Personal Journey
Prior to joining Sager Braudis's staff as the gallery's director and curator, Hannah taught art classes at MU and ran a contemporary art gallery through the school's art department. After leaving her job at MU, she wanted to stay connected to their art department and the student workers she had mentored, so she designed an internship program for local college students that would give them curatorial experience while in college.

The hands-on program, which also has a curricular component, was designed by Hannah and MU's art department head.

"Our program includes researching artists, weighing in on artists who send in work, sifting through the gallery's collections to curate shows that are unique to the intern's curatorial voice, and learning how to set up contracts with new artists and work with artists already represented by the gallery," says Hannah.

As the interns learn to contextualize artwork based on their artistic preferences, they are given opportunities to put up shows, promote them, and give talks like any professional curator would do.

Sager Braudis has also created membership programs, where individuals can have more intimate experiences with the gallery. Outside of access to discounted gallery merchandise and exclusive happy hours, the gallery's membership offers many kinds of programming.

Their Benefactor membership, which is the upper-most level, includes a membership lapel pin, a bottle of your favorite beverage stocked for gallery visits, a signed limited glycée by a Sager Braudis artist, a swag bag, 10% off gallery merchandise all year round, invitations to private preview parties, monthly members-only happy hours on First Fridays, and a complementary catalogue reserved for Benefactor members each exhibit.

As Sager Braudis continues to display a variety of artwork, they have shown that consuming art can be a special, internal experience with oneself. Through their programming, they are proving that art can have a deeper personal meaning.
Sager Braudis Gallery
1025 E. Walnut St.
573-442-4831
sagerbraudisgallery.com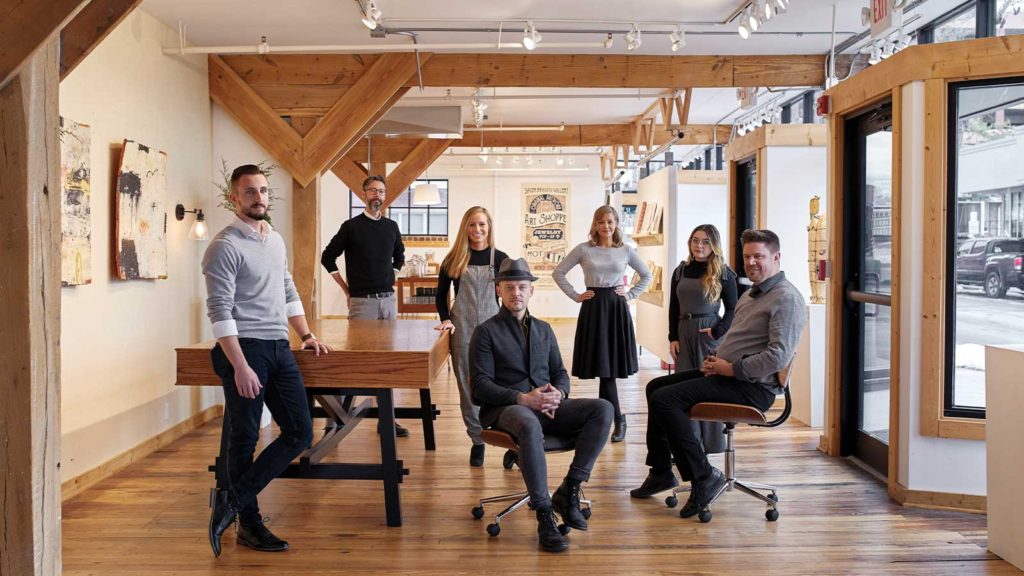 Staff, pictured above from left to right: Dan Boes, Jonny Pez, Rachel Trout, Joel Sager, Hannah Reeves, Brianna Bogucki, Scott Braudis.