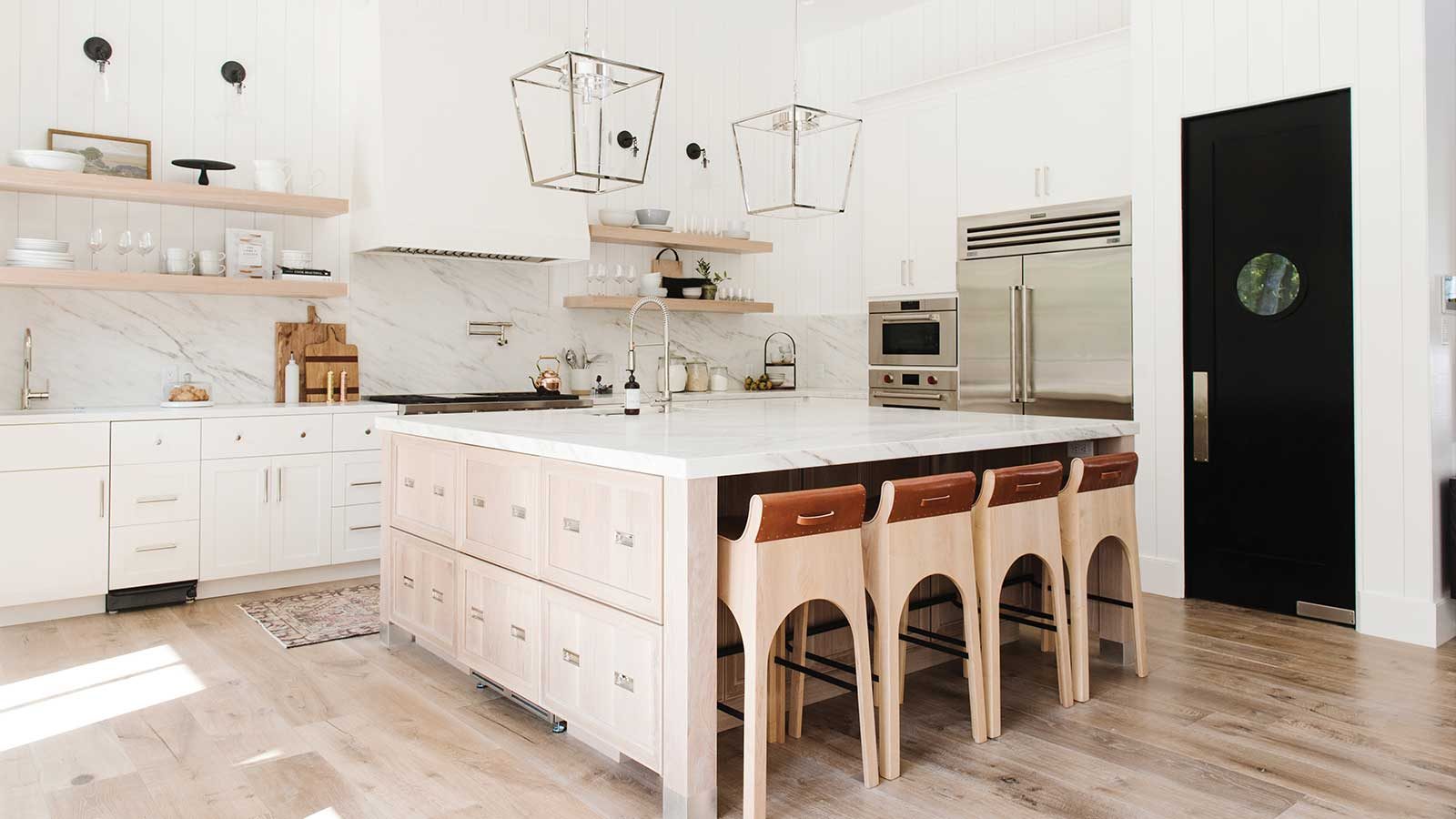 CMC Manufacturing Inc. pushes the boundaries on rock countertops and celebrates 20 years in business.
On the outskirts of east Columbia sits an unassuming countertop manufacturer that is pushing the boundaries of their craft and sending their work all over the country.

Once focused only on residential laminate countertops, CMC Manufacturing Inc. has made a name for themselves — in both the residential and commercial worlds — for natural stone, quartz, and solid surface countertops.

Look over their impressive resume on their website listing some of their largest commercial projects and you might see a few names you recognize: Arrowhead Stadium, Jimmy John's, MU, and many more.

But it's not just the quality of what they sell that earns them business; they regularly take on projects their competitors won't because of the complexity, says CMC's founder Mike Wilson.

Take the reception desk pictured to the right, for example. CMC used thermoformed quartz panels to form the reception desk of a high school near St. Louis. Essentially, they bent the quartz to form it into the shape they wanted. This type of project takes high-performing machinery and highly-skilled employees.

It's their employees, in fact, that Mike and Operations Manager David Rapoff are most proud of as they reflect on the company's 20-year history.

"We've done a lot of really neat things, a lot of projects. Those are rewarding when you complete them, everyone's happy, and it turned out the way the architect or the homeowner wanted it. But I agree with David," says Mike. "I think the biggest accomplishment is continuing to grow and employ as many people as we employ and create a good place to work, a good environment. You can validate that by the people who've worked here for 13, 14, 15 years."

Starting with only three employees, CMC now employs around 80 people between staffers in their solid surface and stone shops (where the counters are fabricated), installers, and office personnel.

David also adds that, during the recession, not only did all of their 52 employees keep their jobs, but they also hired people and raised wages when many in their industry were forced to let people go.

How were they able to do this? David credits the diversity of their projects in both the residential and commercial sectors.
Diversifying Projects
In 1999, CMC only offered laminate countertops, but two years later, they expanded into solid surfaces. That change opened a door to the commercial countertop sector.

Their first large commercial project — Sprint World Headquarters Campus in Overland Park, Kansas — came in 2003. From there, their work in the commercial sector has only grown. It now makes up 60% of their business.

But they haven't left the residential sector behind. They still work with general contractors in the Columbia, Jefferson City, and the Lake of the Ozarks area to cut and install residential countertops, but you won't find any laminate in their showroom.

David estimates that 98% of their residential countertop work is with rock (natural stone or quartz) and the other 2% is solid surface. David and Mike attribute these numbers to the lower cost of rock surfaces, which are now cheaper than solid surfaces because the cost of the machinery has become cheaper.

"We're putting granite in houses under $200,000," Mike says. "It's just what the builders have to do to compete, and the cost has come down significantly because of the machinery."

Because of the demand for rock surfaces, CMC expanded their rock shop by 10,000 square feet on two different occasions, with the most recent expansion being completed last year.
Putting It Into Perspective
To understand the scope of business that CMC runs, let's look at the numbers.

On average, they install countertops in six to seven kitchens a day, with the average kitchen being 60 square feet. When Jimmy John's was going through a growth spurt a few years ago, CMC completed countertop orders for 10 to 15 individual stores per week.

"The franchise stores and restaurants are nice, because they tend to be repeat top sizes and shapes, so when we're doing 10 to 15 orders a week, we gain efficiencies. We don't have to reprogram [the machines] every time," says David.

On a daily basis, they have the capability of processing 20,000 pounds of stone or quartz. An average slab weighs 800 pounds, Mike says. On a yearly basis, 3 million pounds of granite and quartz get delivered to them.
Pondering the Future
When thinking about CMC's future, Mike and David want to continue investing in machinery, employees, and their customers.

"We want to continue to update our technology. We need to continue to move digitally with some things that we're doing because you're always going to be pinched in the industry. There's always going to be somebody trying to do something cheaper than you," says David.

In order for CMC to be able to pay competitive wages and benefits, along with having top flight machinery, they have to continue in their efforts to be more efficient and effective with what they're doing, he adds.

Mike agrees. He says they want to increase their customer satisfaction by improving their lead time and speed, and he wants to focus on trying to be a better manufacturer overall.
CMC Manufacturing Inc.
270 N. Rangeline Rd.
573-443-8677
cmcmfg.com

1999
CMC starts with three employees as a residential laminate countertop shop.
2001
The company expands into solid surface countertops.
2003
CMC takes on their biggest commercial project, the Sprint World Headquarters Campus in Overland Park, Kansas.
2004
The company moves to their current location and starts the stone shop with 30 employees.
2015
CMC expands their stone shop's footprint and buys new equipment.
2019
The company celebrates 20 years in business and employs around 80 people.