Providing Mid-Missouri with the Best Fleece
Photos by Tiffany Schmidt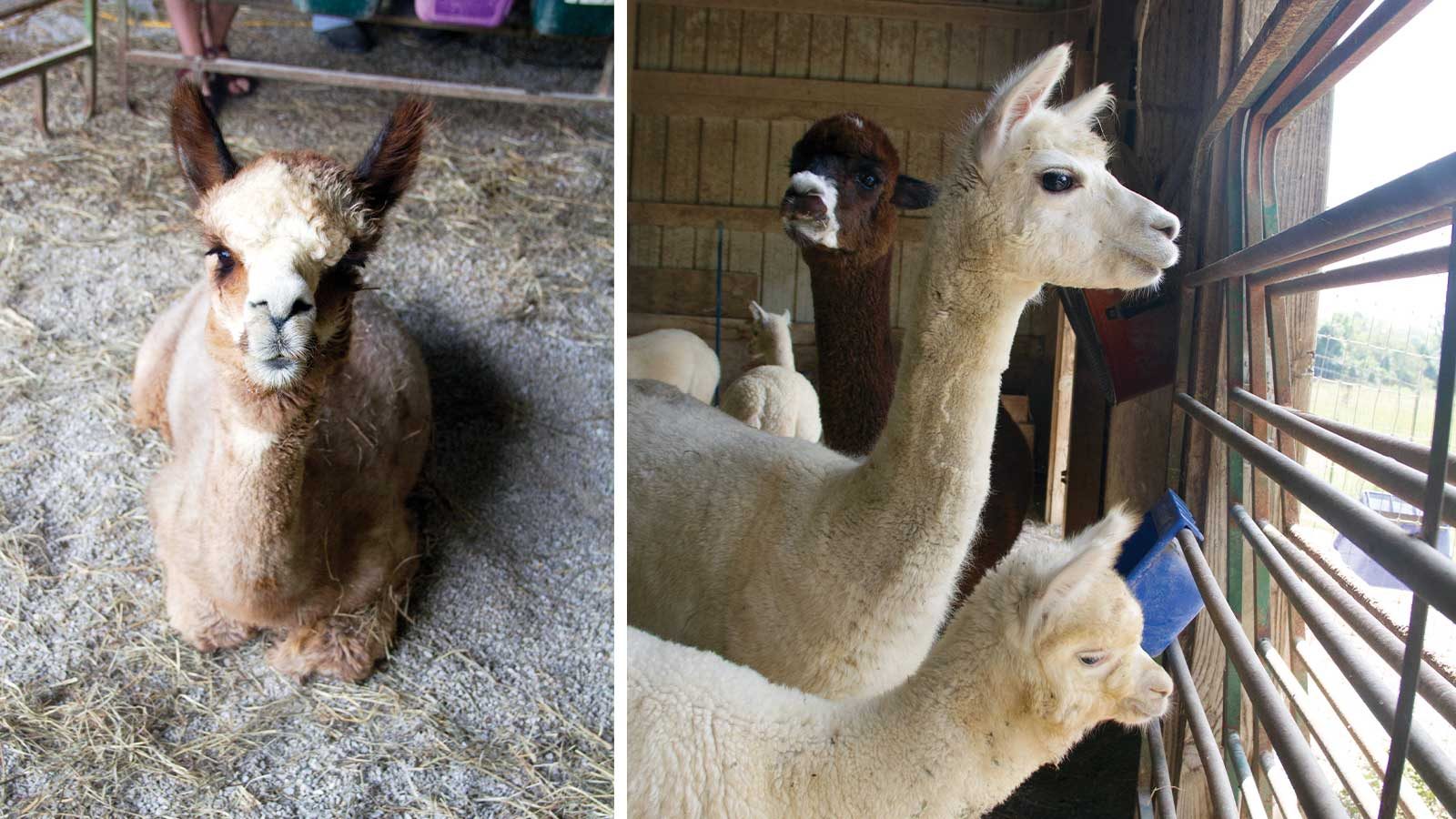 A look into the business of Columbia's only alpaca farm.
On the last Saturday and Sunday of September, many alpaca farmers across the country participate in the famed National Alpaca Day. They open their farm gates to the public and showcase the alpaca herds they are raising and the products they weave from the alpaca fiber.

Like many towns, Columbia is fortunate to have a local alpaca farm, Curly Eye, where people can go and marvel at the beauty of alpacas and possibly leave with a sweater or two.

Mary and Gary Licklider, owners of Curly Eye, have been raising alpacas for almost 17 years. The then newly retired couple acquired some land and were in search of something productive to do with their extensive acreage. Initially, they leased it for cattle rearing. However, their experience was unsatisfactory, and they quickly grew dispassionate about catering to cattle.

"Cattle are big animals and they chew things. They pull grass from the root and this is hard on the land," Mary recalls.

While searching for a different farming venture, Mary met a llama farmer at a county fair in Minnesota. Llamas are alpacas' genetic cousins, so naturally, Mary encountered the latter and consequentially developed an interest to raise the 20-animal herd that she and her husband now own.

"I have experience with fabrics and textiles, so when I saw them [alpacas], I knew they were the real deal," Mary says.

In addition to the alpaca farm, the Lickliders opened a fiber studio, Heartfelt Alpaca Creations, where Mary and three other women participate in the millennia-old tradition of processing alpaca fiber.

The alpaca business has emerged to be efficient and easy-to-manage for the Lickliders. Alpacas are low maintenance animals and this, combined with their high-quality fiber, allows for a good return on their investment.

"Alpacas live very lightly on the land. They have efficient digestive systems and pads instead of hooves, meaning you don't get much chewed up land or erosion," Mary shares. "The animals are also sweet-natured, and it takes us only 30 minutes a day to care for them."

The simplicity of taking care of alpacas is also suitable during the harsh Missouri winters and summers.

In the winter, the alpacas naturally keep themselves warm with their breathable fleece, which is thrice as warm as wool. They also keep their feet protected from the snow and ice by mostly sitting in the barn.

Summers, however, are more challenging. "The summer is more stressful because you need to sheer them all the time or they will die," Mary says. "However, this is not enough by itself. We have fans running in the barn from April to September and when the heat gets worse, I go out once or twice a day and spray the alpaca's bellies with water." Alpacas have a certain kind of vasculature in their legs and bellies, which likens their cooling process to holding an ice pack to human skin.

Alpacas are environmentally sustainable. "Alpacas are a green livestock and easy on the land. They also don't consume a lot. For a herd of 20, we use a bale of hay a day," Mary raves. "Their manure is nicely balanced, with less nitrogen, so it doesn't burn garden plants."

Curly Eye is the Licklider's enjoyable retirement venture. It is financially viable and the amount of fiber the alpacas produce is what Mary can handle processing. The business brings them joy and as Mary jokingly mentions, has allowed her to keep up with the times and engage with Facebook more.