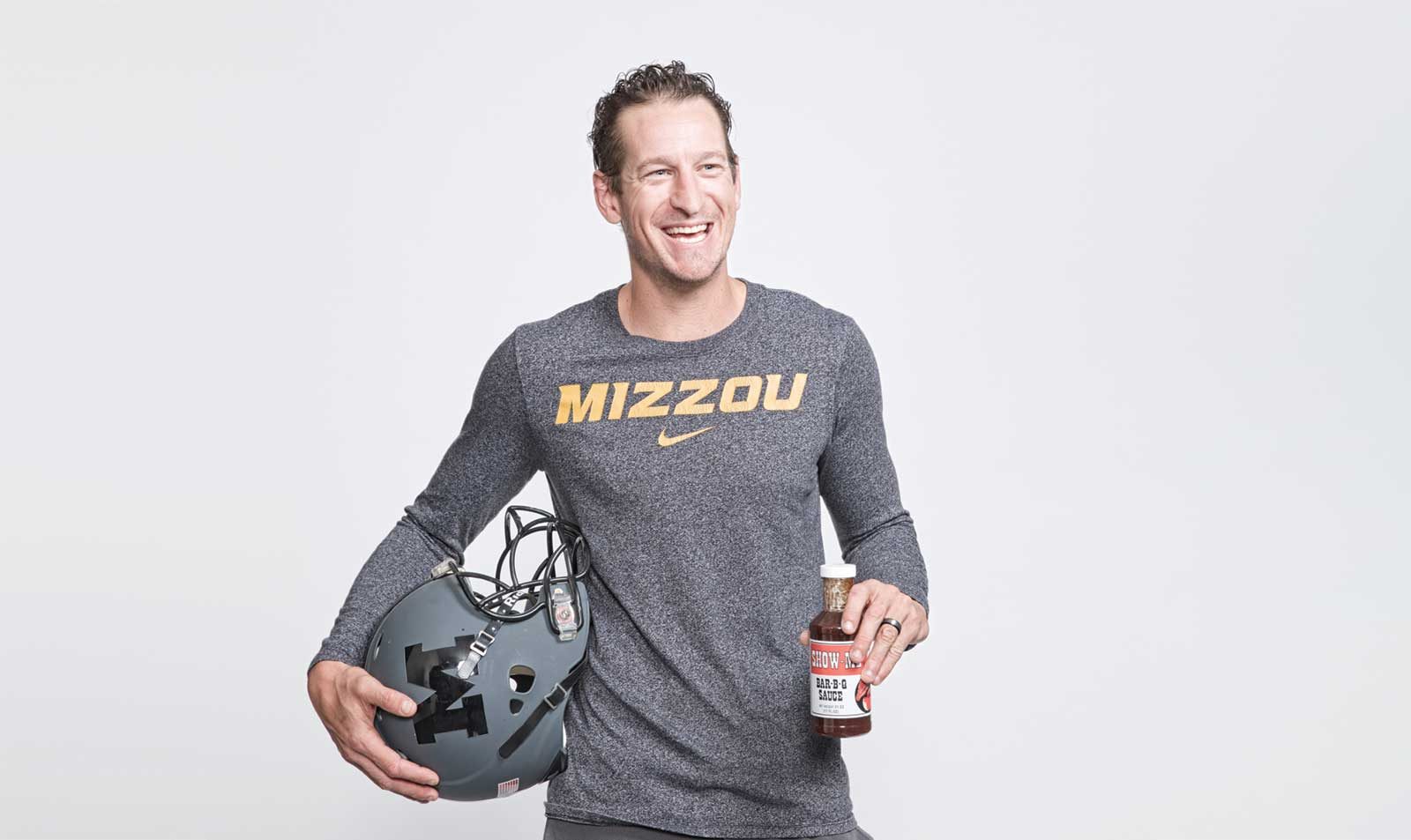 Three former Mizzou athletes take what they learned from their sport and apply it to the professional world.
Mizzou's 20 NCAA Division I sports programs require extreme and varied physical skills from 550 athletes across the university. Consider the elite cardiovascular capacity of cross-country runners and swimmers, or the gravity-defying grace of gymnasts; there's the brute strength of football linemen and wrestlers and the keen hand-eye instincts required in baseball, softball, basketball, and tennis.

But when Tigers transition from the playing field to the professional realm, they uniformly credit the lessons learned in athletics for successes elsewhere in life. Team dynamics, time management, competition, effort, discipline — all are elements required to run a successful business.

Here are three Mizzou alumni who took those lessons and applied them to barbecue sauce, hunger relief, and home construction, respectively.
Kickin' Sauce
Goals have always been a part of Tanner Mills' life — be they of the soccer, field, or career variety.
In 2007, Tanner left a full-ride soccer scholarship at Columbia College to pursue his dream of playing football for the Mizzou Tigers. The walk-on placekicker made the roster. He also made lifelong friends.
"We worked so hard within the program that you would lay yourself down for any of those guys," says Tanner, a Columbia native. "That bond we created was really special, and it lasts beyond football and college."
Tanner again pushed in his chips when he swapped an insurance career for entrepreneurship. An avid golfer, Tanner met his future business partner Enrique Fuhlage in 2014 at the Club at Old Hawthorne's Stampede tournament. Enrique was working in production for Show-Me Liquid Smoke Bar-B-Q Sauce, the legendary local product from the Columbia home of the late Harry and Lina Berrier.
"I started working with Enrique in the mornings. We realized — being task-oriented guys — that getting our stuff done early meant time to play golf in the afternoon," says Tanner, who was essentially running the operation with Enrique when Lina's health declined in 2013. "Come to find out, my grandfather, Thomas Mills, had been Lina's voice coach at MU."
Lina and Harry did not have children, so when Lina passed in 2016, she left the company to Tanner and the Fuhlage family (Enrique and his parents, Clark and Luisa). Enrique now runs production, while Tanner handles "whatever needs to be done," including product development and working with retailers.
"Dr. Berrier perfected the recipe and we are forever grateful for his mastermind," says Tanner of the former MU College of Veterinary professor who concocted the condiment in 1975. "What sets us apart is our history and how we do business. Any Joe Shmo can contact us and we'll send him some sauce along with a self-addressed-stamped envelope for payment. It started with Dr. Berrier passing it out to family and friends, and he trusts them. "
The company moved the production factory to Rocheport in 2016, and has since added a spicy sauce (Show-Me Heat) and a series of dry rubs (All-purpose, BBQ, Caribbean and Heat) to the repertoire.
Tanner, a barbecue fan and a bit of a culinary mad scientist in his own right, says he is always coming up with new ideas. But he is careful to temper the flames of inspiration with a pair of mantras.
"Slow and steady wins the race, because sticking to our roots will always benefit us," Tanner says. "And 'What would Harry do?' It seems cliché, but it's true. This is something we're fortunate to be a part of and it's something we enjoy. We want to stay humble."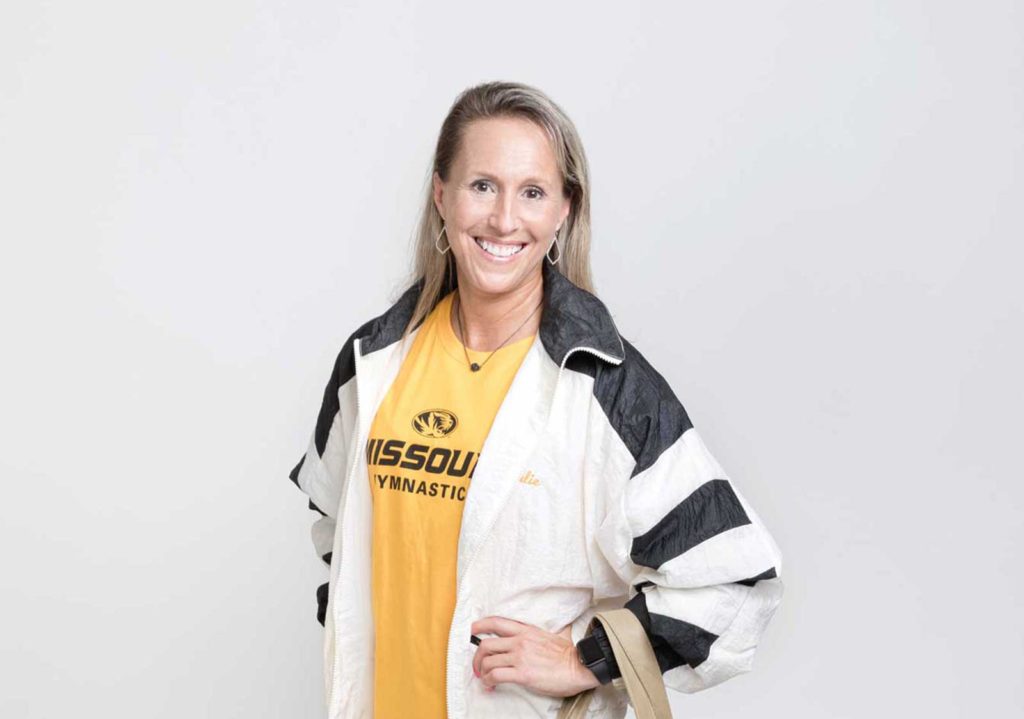 All Around Champion
As one of the most decorated gymnasts in Mizzou athletics history, Julie Dorn had the moxie to master multiple events. A three-time All-Big Eight performer, the Minnesota native excelled in the vault and floor exercise, won Conference Female Athlete of the Year in 1991, and became the program's first two-time All American.

That ability to deftly transition between routines has served her well outside the gymnasium, too. Julie is currently the director of development at the Food Bank for Central & Northeast Missouri, a regional hunger relief network that distributes 30 million pounds of food annually across 32 counties.

Julie has found her place, but it took a while to stick the landing.

"Gymnastics is different than basketball or football in that you can't just go to the rec center and play pick-up. You just stop," says Julie of the malaise she felt after graduating. When former Mizzou athletic director Joe Castiglione offered her a graduate assistant position, she was more than a little excited. "I accepted on the spot."

Julie performed various duties for Mizzou Athletics while earning her master's degree in education. She especially enjoyed answering phones for the Mizzou coaches show "Tiger Talk," during which she would field calls for radio host Mike Kelly, basketball coach Norm Stewart, and football coach Bob Stull.

"People figured out that we would screen the calls, so they would make up a question and then change their question when they got on the air," Julie says. "They would go rogue, and sometimes it was a bit shocking."

In 1994, Julie took a job in Kansas City with the Big Eight Conference, which later became the Big 12 and prompted a move to Dallas. While there, she served on the committee that orchestrated the conference's first football championship, but Julie eventually got back to her Midwestern roots as director of special events for the Kansas City Chiefs.

Ten years after welcoming her daughter, Regan, into the world, an "out-of-the-blue" breast cancer diagnosis forced her to draw upon her competitive grit once again.

"It was that fight-or-flight instinct because I was literally fighting for my life," says Julie, who underwent two surgeries and radiation before receiving a clean bill of health. "I rediscovered old lessons from my days competing."

These days, Julie lists "mom" as the best job she's ever had — although helping to feed 100,000 Missourians a month is pretty fulfilling, too.

"It's easy to get up in the morning," Julie says. "It's incredibly gratifying to know that every day you're making a difference in the lives of people in your community."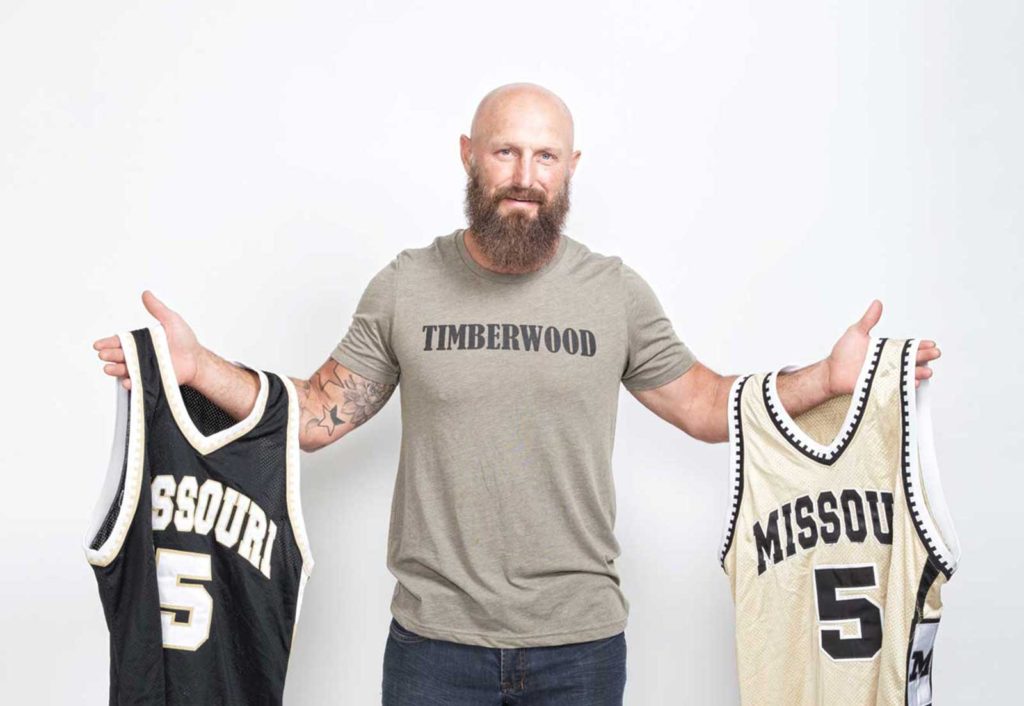 From Deadwood to Timberwood
With a grizzled beard and hands weathered from construction work, Jason Sutherland looks more like a man forged in the Black Hills of South Dakota now than he did 22 years ago as a clean-shaven kid draining threes in the Hearnes Center.

That arena, the former home of Mizzou basketball, is where Jason scored most of his 1,194 career points, where he never lost to Kansas, and where he went undefeated in Big Eight play (home and away) as a member of the 1993–1994 Tigers.
But Jason wouldn't have made it to Columbia from Spearfish, South Dakota — just north of historic Deadwood — if not for a gravel-voiced legend from the Show-Me State.

"Coach [Norm Stewart] called to recruit me, and my best friend sitting in the room asked who it was," Jason says. "I was like, 'I don't know, some Norm Stewart guy.' He liked the way I played hard, competitive basketball. A player in his own mold."
It's no surprise then that Jason's post-basketball career has taken him to construction. As co-owner of the custom home and remodeling outfit Timberwood Homes and its sister landscaping company, Outdoor Solutions, Jason revels in the hands-on labor.

Unlike many firms that subcontract most of their work, Jason and his colleagues do the building — minus HVAC, electrical, and plumbing — themselves.

"I'm working on a custom home right now for some people out of St. Louis, and they remembered how intense I was on the court," says Jason. "They said, 'You build houses the same way.'"

Jason left Mizzou holding school records in consecutive free throws made, with 39, and a career 3-point field goal percentage of 46.6. Although Jason never played in the NBA, he did play professionally in Germany and Italy, where he once played against current Mizzou basketball coach Cuonzo Martin.

These days, Jason and his wife, Jennifer, spend most of their time keeping up with their 9-year-old daughter, Sidney, a competitive swimmer, and 3-year-old Lincoln, "a pretty good Spider-Man," Jason says. The Sutherlands vacation at their cabin in Deadwood, and Dad will even deploy an occasional pearl of wisdom from Stormin' Norman.

"Listen to what I'm saying, not how I'm saying it," says a chuckling Jason, remembering a hard-headed interaction with his old coach. "I guess that's why they say you get wiser with age."