Sniffing Their Way to a Win
photo courtesy of Elizabeth Dinkins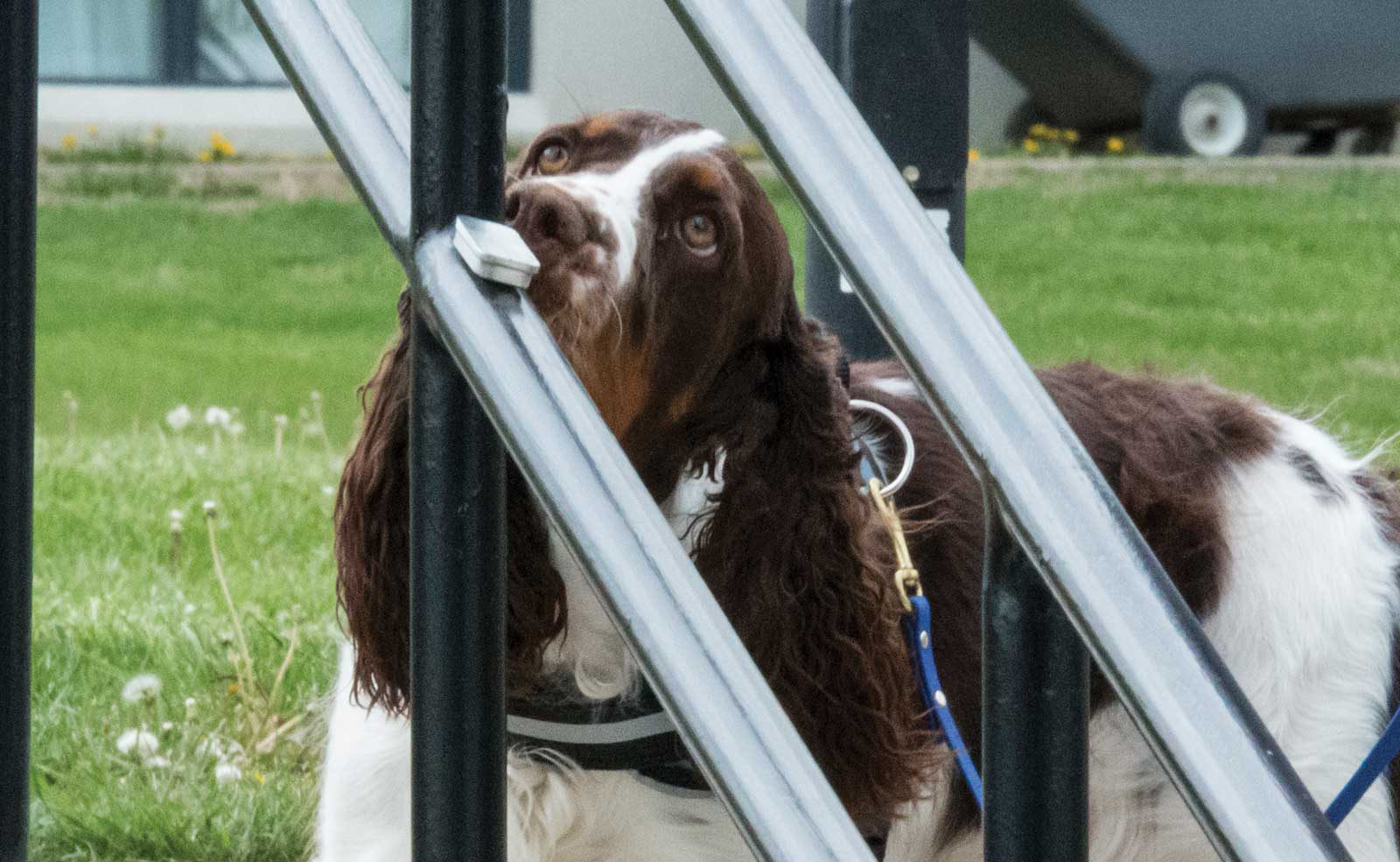 Columbia Canine Sports Center offers scent-based competitions.
A dog, a rat, and three PVC pipes enter a straw bale maze . . .
No, it isn't a start to a bad joke, but instead the components for a canine sports competition called Barn Hunt. Created by Columbia resident Robin Nuttall, Barn Hunt is a scent-based canine competition that trains dogs to move through a straw bale maze in order to sniff out a rat. Columbia Canine Sports Center, or CCSC, is one of the few places in Mid-Missouri that offers classes that specialize in Barn Hunt, along with Nosework, another scent-based sport.
Elizabeth Dinkins, CCSC instructor and administrator, explains that the Barn Hunt competition is like "hide-and-seek for the dogs." For the novice level, three different tubes – one empty, one containing litter, and one containing a rat – are camouflaged and hidden throughout the straw bale maze. Elizabeth emphasizes that the tubes are "very safe, heavy duty PVC pipe with airholes drilled in it" to keep the rats safe. Since the tubes are camouflaged, the dogs have to work harder to find the rat by scent instead of sight. The dogs must also climb up onto a bale and go through a novice level tunnel in order to complete the course.
CCSC also offers classes and hosts trials, or competitions, in another scent-based sport called Nosework (pictured above). The sport was first developed by the National Association of Canine Scent Work, or NACSW, and as Elizabeth explains, uses the same process that the military and police use to train their dogs to find explosives and drugs.
Instead of training dogs to smell out explosives and drugs, however, the sport uses three essential oils – birch, anise, and clove – as target odors for the dogs to seek out. During competitions, dogs are placed in different locations with an object containing the target odor, like an animal hide, and they must find it.
"The ability to smell is so highly developed in dogs. Way more than us. They are naturally born to do it," says Elizabeth.
CCSC owners Kathy Echols and Virginia Huxley first became interested in Nosework 10 years ago. They quickly became NACSW certified instructors, and CCSC is still one of the few places in Mid-Missouri that offers the sport classes, says Elizabeth.
Along with Barn Hunt and Nosework, CCSC also offers various puppy, obedience, and agility classes that run in six-week sessions. Elizabeth says that puppy classes tend to be the bread-and-butter classes for CCSC. In these classes, puppies work on basic skills like socializing, impulse control, barking, and building relationships.
"Our primary goal is to help owners have a better relationship with their dog," says Elizabeth.
Lately, CCSC has had to overcome its own challenges in order to continue providing canine classes to the community. In January, their building collapsed under the 17 inches of snow that hit Mid-Missouri. Since then, CCSC has hosted classes at three different locations: a small building at the CCSC site, Trowbridge Livestock Center at MU, and a student's garage.
CCSC has been making the most of the situation, Elizabeth says. "All-in-all it's sad and has been a big pain to deal with, but nobody was hurt. We lost very little equipment, which was good. It's mostly just the frustration."
CCSC is in the process of getting a new building and is hoping to have it open soon.