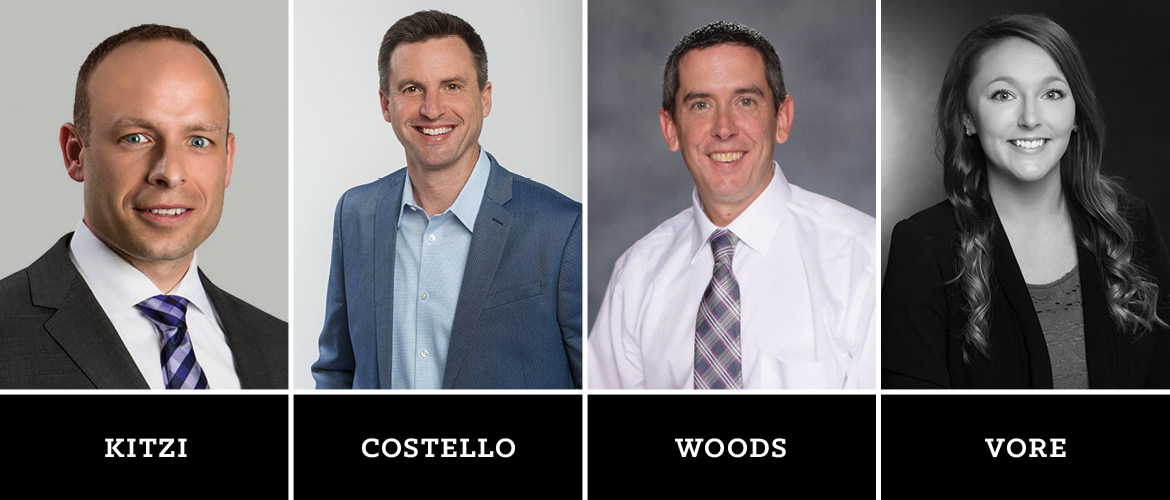 Matt Kitzi
Armstrong Teasdale named corporate services partner Matt Kitzi as managing attorney of its Jefferson City firm. "Matt is a highly accomplished attorney and will be an effective manager of our Jefferson City operations given his government and public service background," says managing partner David Braswell.
Bill Costello
Convergence Financial, an investment and financial planning firm, welcomes Bill Costello to their leadership team as vice president. Costello has worked in Columbia and built relationships with members in the community for over 20 years.
Matt McCormick
Columbia Chamber of Commerce President Matt McCormick is one of the newest members of one of the most prestigious groups in the Chamber of Commerce industry, the Chamber of Commerce Committee of 100. McCormick is one of 12 new members that consist of chamber executives from across the country. McCormick and other CCC100 members will advise the U.S. Chamber's board of directors, enhance lobbying and coalition work, recommend programming, and strengthen outreach to the business and chamber communities.
Seth Woods
Assistant principal since 2015, Seth Woods has now been promoted to principal of Beulah Ralph Elementary School. He earned a bachelor's in mathematics and a master's in secondary education mathematics at Truman State University. Currently, he's working toward his doctorate in education leadership and policy analysis at MU.
Hannah Vore
Hannah Vore has been promoted to manager of the Rock Bridge bank branch of Central Bank of Boone County, where she will handle sales management, customer service, and daily operations. Vore has been with the bank since 2013. She earned a business administration associate's degree from Moberly Area Community College.

Lisa Ford-Brown
After working as interim dean since July 2018, Lisa Ford-Brown, PhD, has been named dean of Columbia College's School of Humanities, Arts, and Social Sciences. In addition to almost two decades as a faculty member at Columbia College, she's been a key contributor to "DK Guide to Public Speaking," a public speaking textbook.
Jeff Guinn
LGI Business Advisors President Jeff Guinn became a certified Value Builder advisor after attending a Value Builder conference in Dallas. Since 1986, he has brokered and valued Mid-Missouri businesses. He has valued more than 2,000 businesses and brokered more than 300 business sales.
Alex Timberlake
Timberlake Engineering added Alex Timberlake to their team. He will be a project engineer working remotely from Colorado. He will design HVAC, electrical, and plumbing systems for commercial buildings.
Atiyyah Ellison
Battle High School introduced Atiyyah Ellison as its new head football coach. He's been at the school since its opening. Ellison played at MU, was drafted by the Carolina Panthers, and played in the NFL for six years.
Jessica Quick
After three years at KSDK-TV in St. Louis as an on-air meteorologist, Jessica Quick has been named chief meteorologist for ABC 17 News. "I know I have huge shoes to fill," she says. "Sharon Ray was amazing and she was an amazing role model for me, so I'm hoping to follow in her footsteps and lead the team in a good direction