photo by Madison Loethen
by Kelsie Knerr, Registered Dietitian, Boone Hospital Center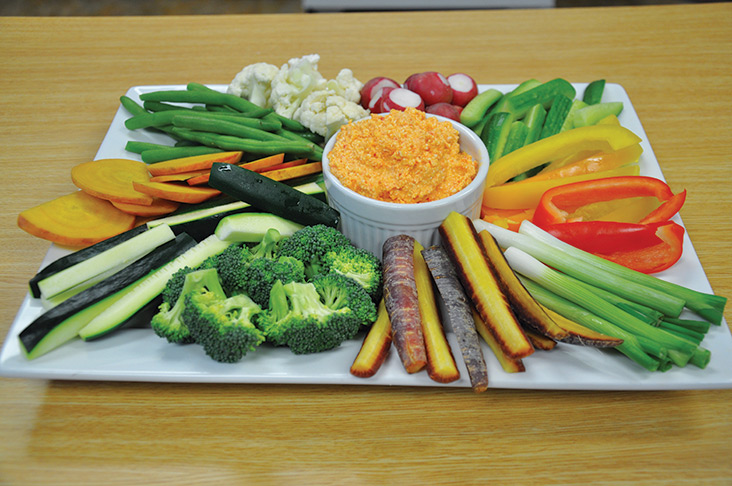 Brighten up your crudités platter with gorgeous eye candy and flavorful dip.
Healthy appetizers can seem like an oxymoron, and "healthifying" popular fried, cheesy, and rich apps can be quite the killjoy. As a registered dietitian, you might expect me to convince you to switch to low-fat cream cheese in your next buffalo dip, but instead I want to encourage having a different mindset about appetizers for your next get-together.
Instead of seeing veggie trays as a last-minute, prepackaged something you grab from the store, start giving them a little more of the attention they deserve. Call your veggie tray something fancy, like a crudités platter. Crudités are raw vegetables, cut into small pieces, sticks, or thin slices, and usually served with some sort of dip.
Most of us want to be healthier, but part of our problem is that we make "healthy" so unattractive. Eating foods that are lower in calories or higher in fiber may be what gets you to start eating more vegetables, but to spark a new love for them, consider shifting your vocabulary around these "healthy" foods.
For example, fresh vegetables are gorgeous eye candy that can lighten up a heavy party plate. Hand-select some out-of-the-ordinary options that add elegance and intrigue to your platter. Visit the produce section and see what looks fresh and affordable. Appeal to taste buds with a variety of colors and textures.
Think about what draws you to the foods you really love — the comfort they bring, the traditions they remind you of, their mouthfeel and flavor. I get it, most veggies don't bring us the same kind of satisfaction as a slice of chocolate cake, but vegetables have so much inherent beauty and value that often goes unnoticed. Tell your guests about how you buy the baby zucchinis at the farmers' market because they're so tender or how you love the bigger carrots because they seem sweeter to you than the mini pre-cut ones.
Also, put more thought into your dip than opening a bottle of ranch. Consider the way the flavor and texture of your dip complements the veggies. This feta vegetable dip recipe (sidebar) is fast and easy to prepare and offers a rich flavor to complement your colorful crudités platter.
We could all use help steering away from today's diet culture, and it's much more fun to find ways to learn to love vegetables rather than treating them as something that we "should" eat!
Feta Vegetable Dip
Recipe by Kelsie Knerr, RD
Ingredients:
7 ounces feta
1 medium roasted bell pepper (you can use the jarred variety)
2 garlic cloves, minced
1 tablespoon olive oil
Optional: Add crushed red pepper flakes to taste.
Instructions: 
Blend all ingredients together in a food processor.
Tip:
If you need to prep ahead, most cut vegetables store well when wrapped in damp paper towels and then sealed in plastic bags.