photos by Keith Borgmeyer
Robin and Alex LaBrunerie's home plays host to an eclectic art collection and festive parties.
Walking into Robin LaBrunerie's home off Stewart Road feels like walking into an intimate museum.
The rooms on the main level boast color-blocked walls that showcase a variety of art styles and periods. Warm tones of gold and brown make way for royal blues and light purples, followed by lime greens and electric yellows as you near the sun room. Chinese relics, wooden antiques, sculptures, vintage tea sets, and watercolor paintings are tied together with the muted colors and patterns of "old" rugs from Afghanistan, Pakistan, India, and Morocco. Each space evokes a new emotion.
The result is a feeling of warmth and acceptance, leaving the desire to slowly explore, taking in every nook and cranny of the 1939 home and its contents.
The artwork in the living room is displayed by color palette. Many of their favorites were done in the '30s, '40s, and '50s.

One wall features a mid-century abstract painting, and another showcases a series of silhouettes and portraits representing different evocations of people.

Robin's older sister is a collector in Texas and always a source of inspiration; several of the living room pieces were gifts from her. Other focal pieces were purchased from Melissa Williams Fine Art, Doug Solliday Antiques, and Studio Home.
A docent for the MU Museum of Art and Archeology, Robin and her husband, Alex, purchased the home in 1999. Robin admits that creating a tribute to the art they love was not their original motivation.
"I thought this would be a great house for our kids to grow up in," says Robin. "There are all these little hiding places. We used those so much. This was the best hide-and-seek house ever."
The couple was also drawn to the neighborhood and the old-growth trees. "I love the charm and character of the old houses," Robin says. "And we loved the yard. The yard is amazing."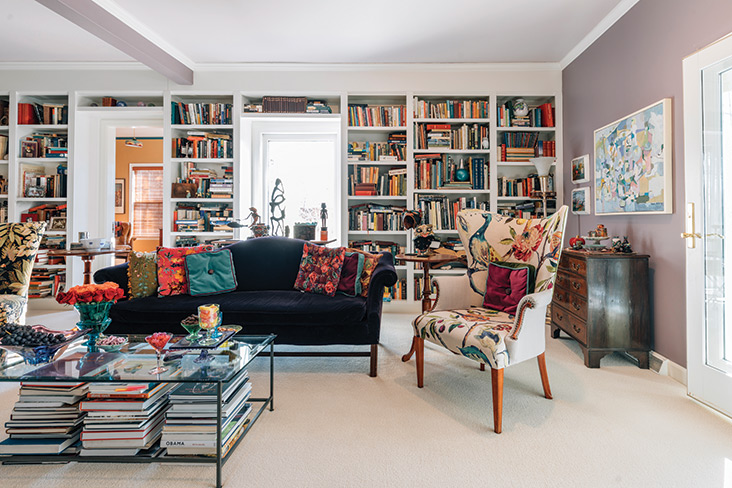 The family room is Robin's most comfortable room and features Midwestern art, Chinese relics, and an extensive book collection that evokes a sense of hospitality.
As their kids grew up and left, however, Robin and Alex's home has evolved into a showcase for their art. The progression seems inevitable, as their first conversations upon meeting were talks of poets and painters.
"The best thing about this house is that it has so many different rooms, and that's kind of perfect for me," Robin shares. "We have so many different styles and periods of art and relics that we like, so I've been able to find a spot for all of our collections."
Those collections have expanded with each antique mall, flea market, and estate sale she visits and every gift she receives. "I shift everything when I find a new piece of art," Robin shares.
The sun room was inspired by artist Claude Monet and incorporates the happy colors of blue and yellow into the house.
Robin says the space has also evolved into a party house. Whether it's small appetizer and cocktail parties on Friday nights for friends, a big Halloween party, or formal dinner parties, Robin and Alex love to host.
"The flow is good. It can hold a lot of people without it feeling crowded because there are different spaces for people to be, but they're still visible to each other," she explains. "And it has a bar!"
Once a social worker, religious education director, food writer, and development officer, Robin believes her house is as eclectic as her background. Thanks for following along as she guided us through rooms on the main level, sharing what inspired her most along the way.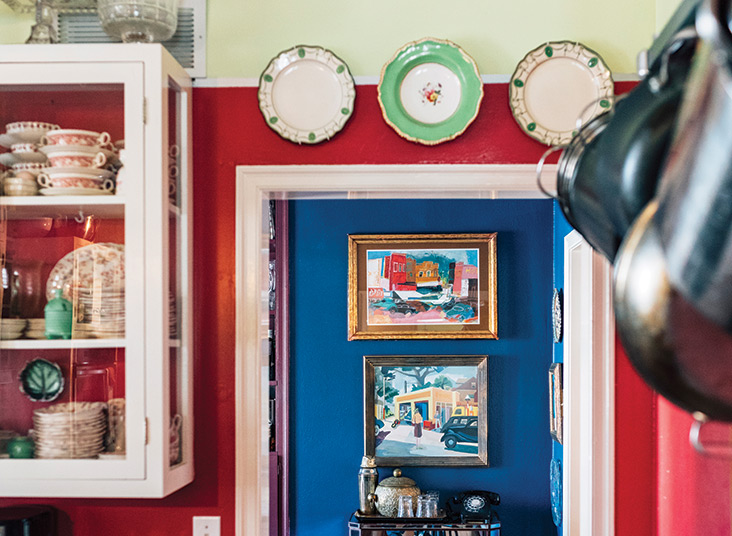 The kitchen and bar showcase fun colors and more whimsical art, including paintings by several local artists.
The study includes an eclectic mix of art, incorporating a wall of portraits and an abstract painting by local artist Jennifer Wiggs.

Much of the mid-century furniture came from the Chicago apartment of Robin's grandfather.