CYSK: Christina Kelley & Michael Marcum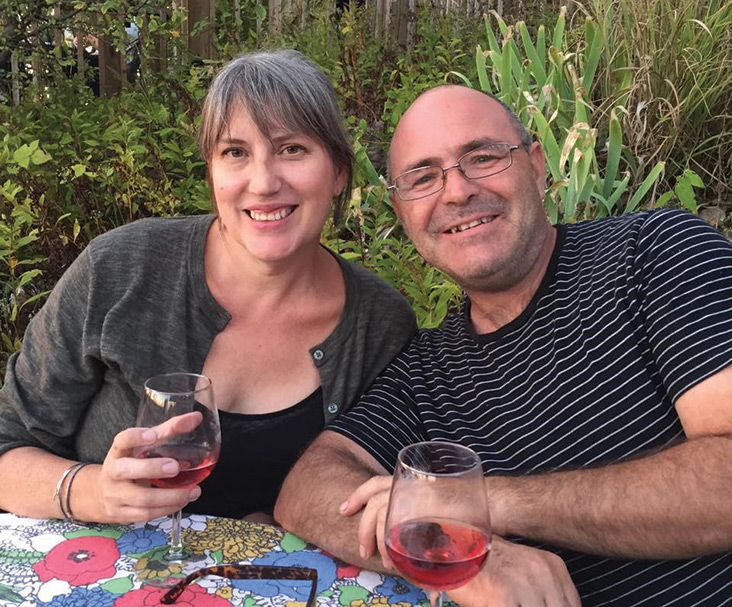 Christina Kelley and Michael Marcum share a love for art, downtown, and the True/False Film Festival.
How did you meet?
We met through a mutual friend.
What was your first date?
Our first date was on New Year's Eve at Shattered.
What do you like to do in your free time?
Christina: I love to spend an afternoon cooking.
Michael: Riding motorcycles with my son, Jack.
What is the key to a lasting and healthy relationship?
Not spending every second together. It's good to have things to talk about at the end of the day.
What is the best quality of your partner?
C:  His easy-going nature. He lets things roll off his back, and he walks the dogs.
M:  Her no-nonsense approach to things.
What is unique about your relationship?
We rarely argue.
How would you describe your relationship in one word?
M:  Magical.
C: Hahahah!
What's your favorite place you've traveled to together?
We have traveled a lot!  One of our favorites though was Tintagel Castle in Cornwall, England.
What is one thing people don't know about your spouse?
C:  Michael was really sporty in high school. He played football, ran track, and wrestled.
M: Christina loved being pregnant.
What are some of your favorite outdoor activities?
Camping, floating, and canoeing.
How long have you been together?
It will be 25 years on December 31! We have been married for 21 years.
Tell us about your family.
We have two kids — Jack is 19 and Elsa is 14. We also have a zoo! There are Eduardo and Zuko, the dogs; Pippin, the kitty; Marcel, the bunny; and Griselda, a dove we found on the sidewalk.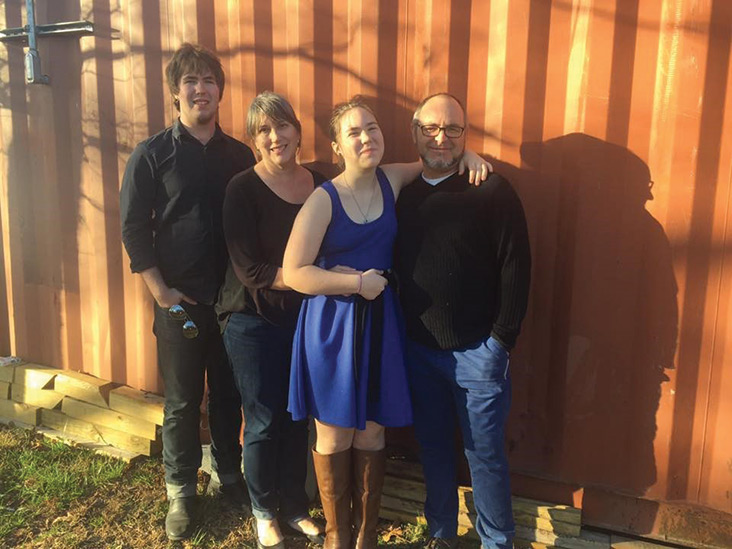 How does business play into your relationship dynamics?
That's hard!  We both have multiple jobs. We own Makes Scents. Christina works full-time at the shop and does most things. Michael pays the taxes and helps take out the trash. We both work for True/False Film Festival. Christina is the merchandise coordinator, and Michael does art and works on the production team. Michael's full-time job is with Brake Printing. He does welding and art on the side at Double M Metalworks. Christina helps out as a retail buyer at Les Bourgeois. There is a lot of juggling, but we make it work.
What has been your favorite project to work on together?
When we bought Makes Scents, the first order of business was to move it back downtown. The move and opening that space was the best!
What brought you both to Columbia?
C: I came to Columbia from St. Charles to go to MU. My parents made me come to Columbia. I wanted to stay in St. Louis, but once I got here, I never left.
M:  I moved to Brookfield from Yuma, Colorado, to work for my uncle. My friends and I would come to Columbia for fun, and then we moved here.