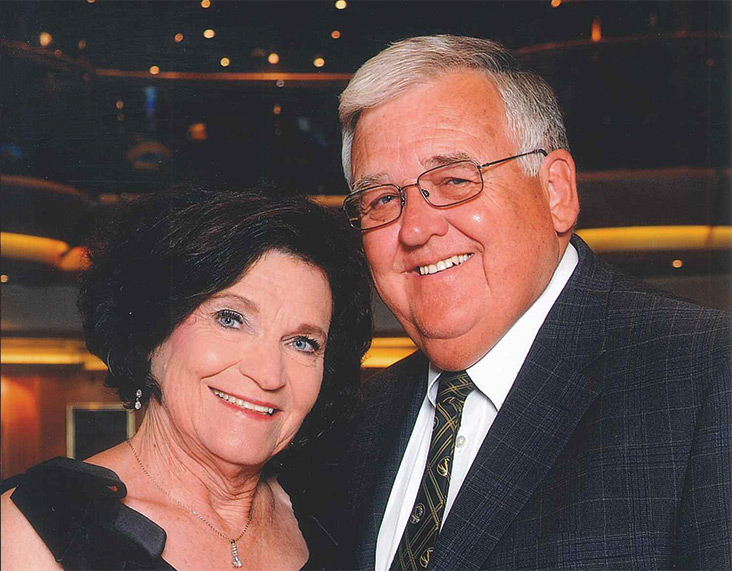 Elton and Nancy Fay value their independence and their togetherness.
How did you meet?
Elton: A mutual friend, Pat Basset, arranged our first date, so I met Nancy when I knocked on her door and introduced myself.
Nancy: Our first date was dinner at Los Bandidos. We've been together almost 33 years.
What is unique about your relationship?
E: Both of us were well established in our chosen professions before we met. She married me and my 5- and 8-year-old children, so she had a major adjustment from a single lifestyle to a rather hectic home and activity schedule immediately after our wedding day. It's amazing she survived!
N: I was quite independent when we got married, and Elton has given me the space I need. I have continued to have my own checking account — and it works!
What is the key to a lasting and healthy relationship?
E: Sharing life with an unselfish person who loves her creator as much as I do and who loves to serve others. I'm fortunate to have found that person in my bride.
N: Participating in some activities together, like teaching Sunday School, while each having our own interests that we pursue individually.
What is the one thing people don't know about your spouse?
E: She went to a one-room schoolhouse from first to eighth grade. She was both the top of her class and the bottom of her class for many of those years.
N: He has been involved with Missouri Boys State for 53 years.
What brought you both to Columbia?
E: Nancy grew up in New Melle, Missouri, and graduated from MU. She began work as a laboratory scientist at the VA hospital before joining Boyce and Bynum Labs, where she worked until her retirement. After graduation from William Jewell College, I attended the MU School of Law and remained in Columbia, joining Philip A. Grimes to establish Grimes and Fay, now Grimes, Fay and Kopp LLC.
What makes you most proud of your partner?
E: She loves MU sports and looks forward to attending sporting events. For that, I'm really fortunate.
N: He loves to be around kids; it keeps him young!
What does the future hold for the two of you?
E: We hope to complete our goal of attending away football games at all the SEC schools. We're five short at this time: Florida, Alabama, Auburn, Mississippi State, and Ole Miss. We plan to get Alabama checked off this fall. We both look forward to seeing our grandson in heaven.
N: Travel! We are getting old, so we must do it soon!
What's your favorite place you've been together?
E: I'd call it a tie between Alaska, Hawaii, the Rhine River cruise, and a trip hosted by the family of one of our Rotary exchange students in southern France.
N: The Rhine River cruise and the bike trip through Germany, Austria, and Switzerland.
What is your favorite restaurant in Columbia?
E: A tie between the original G&D Steakhouse and Tony's Pizza.
N: Flat Branch Pub on the patio.
Tell us about your family?
E: Our son, Garett, and his wife, Jenny, live in Las Vegas. Our daughter Erin and granddaughter, Chloe, live in Portland. Our daughter Whitney does civil litigation in Kansas City. We have two dogs and two cats.
What are the best aspects about your partner?
E: She is a beautiful person inside and out. If something needs done, ask Nancy. I'm blessed to be able to share our life journey together.
N: He is a thoughtful person and always looking for ways to help others.