Curating Columbia's Galleries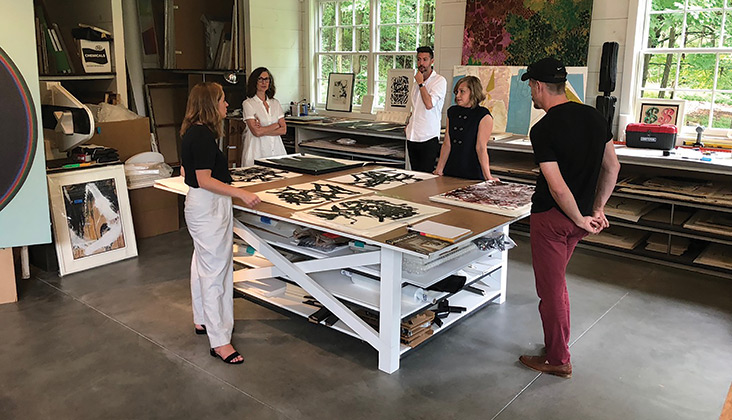 Local galleries choose artwork that embodies their particular aesthetic.
Bluestem is a quintessential gallery: white walls, meticulous and creative displays, and a subtle scent of something fresh and herbal. The Bluestem partners have filled the gallery with selected works by over 300 artists, but the overall feeling is spacious, serene, and light. How do they do it? Paula McFarling, a new partner in the gallery, says, "We're here at all hours doing the behind-the-scenes work."
To curate their gallery, the partners at Bluestem attend craft fairs and visit studios. They also look through digital photo files that they receive, and if they think the work may be right for Bluestem, they request samples to examine in person. Every object they choose has to meet high standards of workmanship and creativity, and two of the three partners must agree on any choice they make.
But when a customer like myself walks into Bluestem, there's such a relaxed atmosphere that it's easy to be misled about the hard work, focus, discrimination, and discipline that goes on behind the scenes.
At the Sager Braudis Gallery, Joel Sager laughingly told me, "There are five of us working incessantly to make our gallery appear effortless."
The work scheduled at the Sager Braudis Gallery is especially complex right now because the staff is already in the process of carefully choosing each piece for the next Masters Exhibit in December. The Masters Exhibit has such a great following that Director Hannah Reeves feels both excitement and pressure. "We have looked in person at over 2,000 original works so far, trying to find the right paintings that will both embody the spirit of mid-century art and speak to our customers and our community."
The staff at Sager Braudis (pictured above and below) and the staff at Bluestem have an unusually good justification for trusting their art choices, since every staff member at both galleries is a practicing artist.
Curating for my own gallery is different because the art I sell is not contemporary and because I have the instincts of a collector, not an artist. If a painting is hanging in my gallery it is because I find the work irresistibly intriguing. It needs to have a beautiful 'surface' with accomplished brushwork and unusual color relationships. The technique needs to be confident and the whole approach inventive and complex. In addition, I want the artist's biography to include numerous one man shows, museum acquisitions, juried shows, and prizes.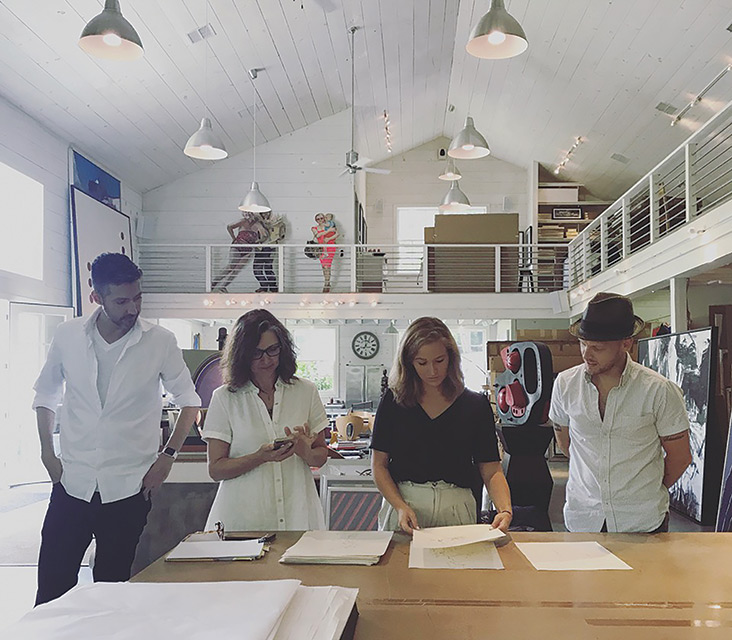 From left: Jonny Pez, Amy Meyer, Rachel Trout, and Joel Sager.
Coming Up at the Galleries
Sager Braudis
November Exhibit
Opening reception November 2
Artists: Raqib Bashorun, Chris Dahlquist, Benjamin Lowder, Alexandra Levasseur, Joel Sager
Masters Exhibit
Opening reception December 7
Artists: Mary Abbott, Jack Roth,
and more
Bluestem
You Light Up My Life Lamp Show
Now through October 28
Melissa Williams Fine Art &
Douglas L. Solliday Antiques
First Friday Exhibit
Opening reception November 2
Paintings by artists of the nineteenth and twentieth century.
Antiques from fine collections.